Anonymous Analytics' report on Turning Point Brands Inc (NYSE:TPB). The final version of this report can be found in a PDF format at the end of this article.

CBD and two Zig-Zags. Baby, that's all we need.
Q2 hedge fund letters, conference, scoops etc
The Quick and Dirty
TPB is the company behind Zig-Zag rolling papers. It's a highly profitable, but woefully under-covered and under-valued company.
The market is unaware that TPB is positioned to become one of the biggest CBD companies, with a network of 1.5M online customers and 155K stores. By contrast, the largest CBD pure-play is Charlotte's Web, which has its products in only 6K stores, but is valued at US$2B.
TPB is covered by only two analysts. As its CBD story gains awareness, we expect substantial market interest. Investors are thirsty for an established, profitable, and non-speculative company in the cannabis space. TPB is it.
Overview
Turning Point Brands ("TPB") is an obscure US$1 billion NYSE-listed company that operates in the Other Tobacco Products ("OTP") market. The Company does not sell cigarettes, but instead sells periphery products including rolling papers, chewing tobacco, and vapes. While the cigarette industry has been experiencing generational declines as smoking falls out of favor, the OTP market has continued to grow.1
You've probably never heard of Turning Point Brands. But you've definitely heard of Zig-Zag rolling papers. That's TPB: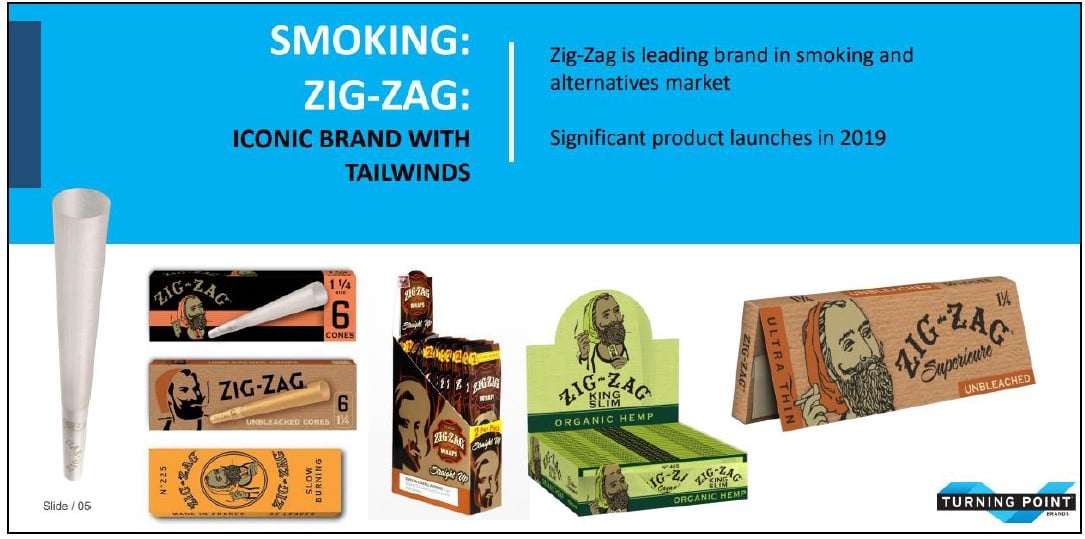 What's even more unknown is that TPB recently launched its own brand of CBD products and is positioned to become one of the biggest CBD companies in the next two years. That's not wishful thinking – thanks to its OTP business, TPB already has an established distribution infrastructure that includes an e-commerce platform with 1.5 million unique customers, and a sales force with access to over 155,000 retail stores in North America, including 15 of the top 25 convenience store chains.2
Most cannabis companies trading at nosebleed valuations are loss-making start-ups that are still trying to build out their distribution infrastructure and compliance. TPB already has the distribution, has a profitable core business with a proven management team, and has the regulatory background. If TPB traded at even a fraction of the valuation of other cannabis names, the stock would double overnight.
TPB and the CBD Market
This year, TPB established Nu-X Ventures, a wholly-owned subsidiary dedicated to the development, production, and sale of alternative products.3 Nu-X's first two launches are its self-branded CBD products and its own proprietary vaping kit.
Nu-X CBD
TPB already has an established distribution network that should be the envy of every cannabis company. By leveraging its online e-commerce infrastructure, as well as its relationships with independent retail stores and national chains, we expect TPB to become one of the most prominent CBD companies in North America by 2021.
So, how do we get there?
On 1 March 2019, TPB launched the Nu-X website and started selling self-branded CBD oils, e-liquids, and concentrates: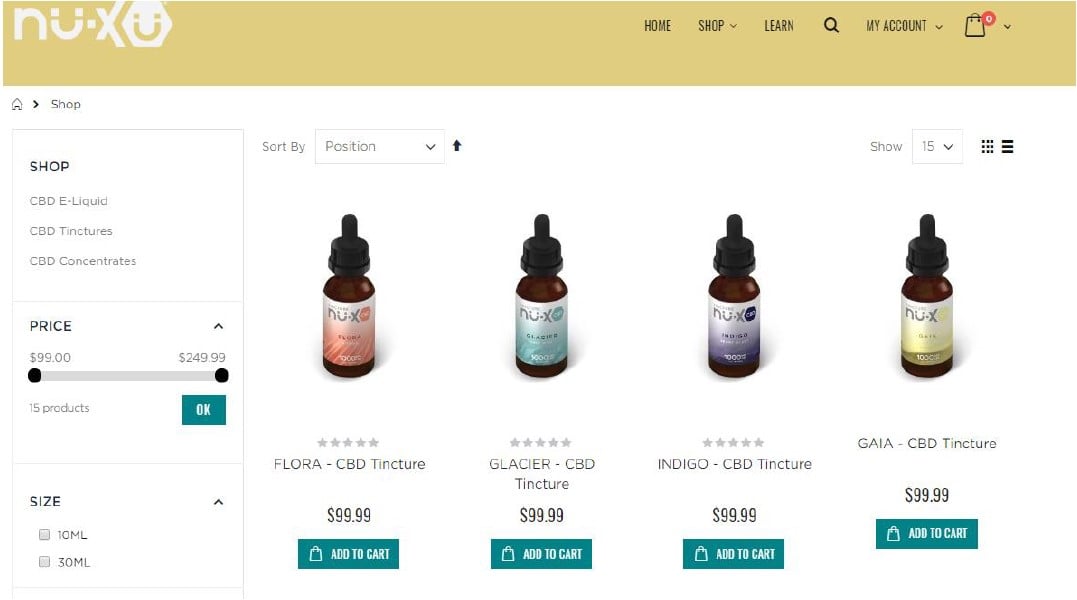 Source: https://www.nu-x.com/shop
Following initial testing of products on its stand-alone Nu-X website, TPB began rolling out CBD products on its primary online platforms in Q2 2019, including vaporfi.com and directvapor.com. TPB has built out its e-commerce platform over the last three years through the acquisition of several vape companies with substantial online presence. Today, the online B2C platform reaches 1.5 million unique customers looking for vaping products. The customer base that vapes is "extremely similar" to the customer base that is interested in CBD, according to Management.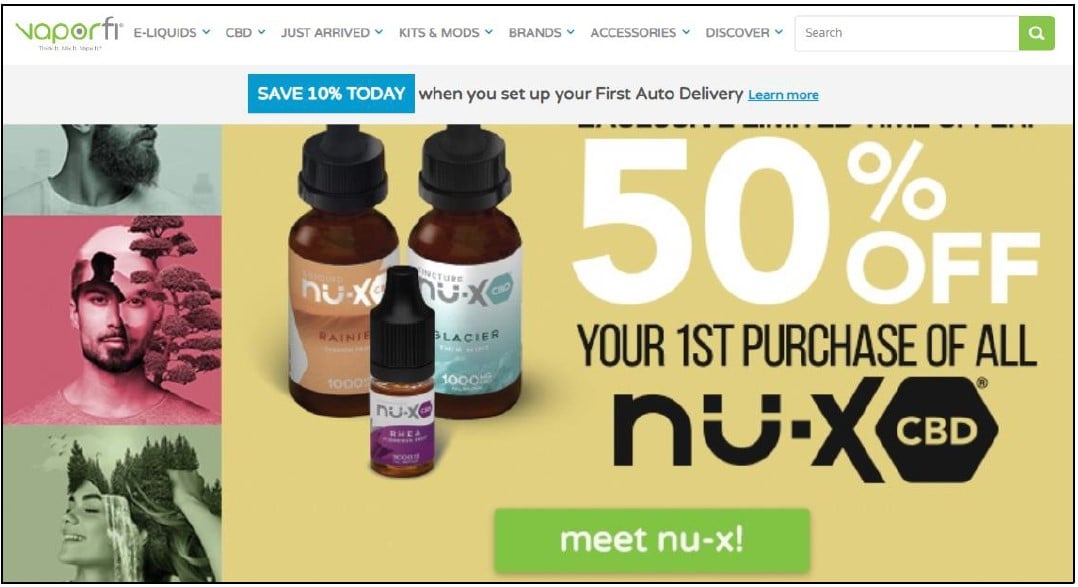 Source: https://www.vaporfi.com/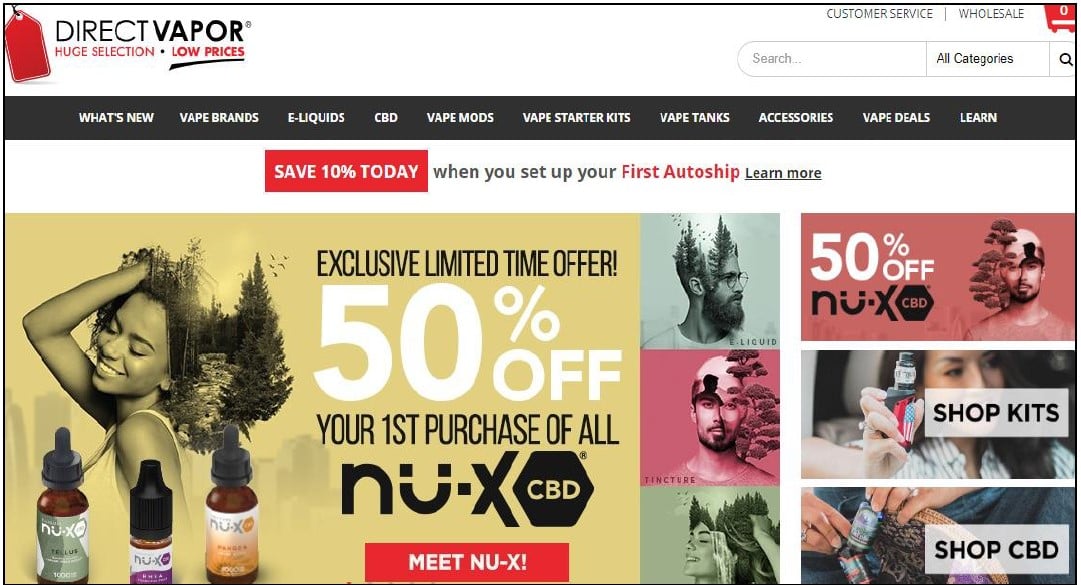 Source: https://www.directvapor.com/
Of course, vape bros are only a small subset of the total addressable market. Once TPB gathers enough sales analytics from its own platforms, the Company plans to start placing its best-selling CBD products into its network of independent and national chain stores that number 155,000 locations, including Circle K, Dollar General, and Rite Aid: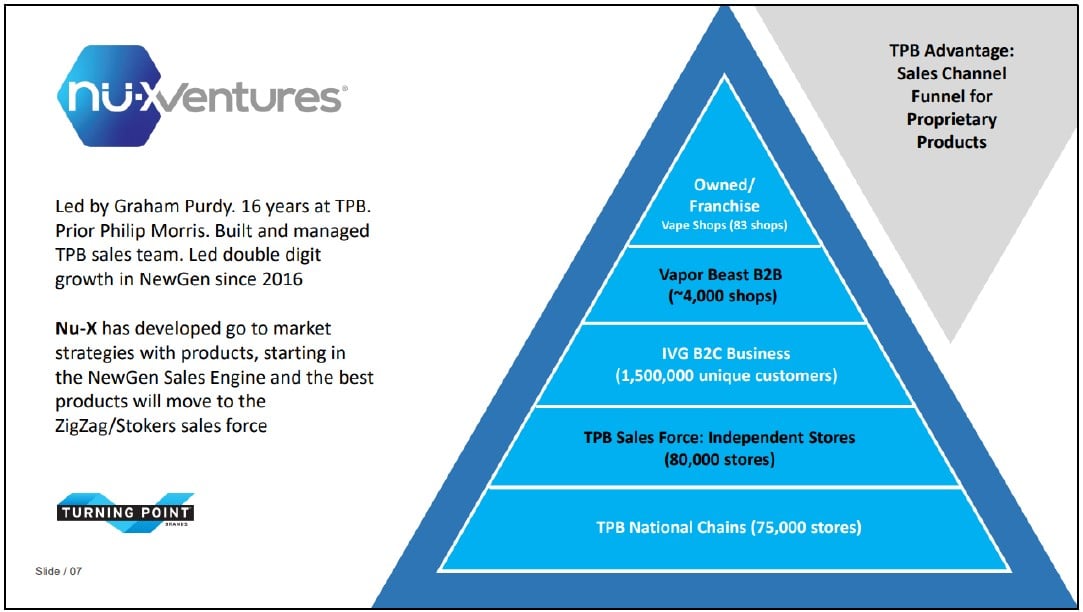 Source: 1 May 2019 Corporate presentation, slide 7
CBD is gaining mainstream recognition, and interest is rapidly growing among the general population in its purported therapeutic effects, including for the treatment of ailments like insomnia, inflammation, and anxiety. The stigma around marijuana is fading with legalization, and a whole crop of grandparents, white-shoe lawyers, and stuffy accountants are looking to CBD as an alternative to prescription drugs. This is probably not the audience that is going to go on www.directvapor.com to buy CBD products, but they probably will go to national chain stores like Rite Aid, which adds an air of legitimacy to their purchase.
At the same time, not every CBD supplier can get their product into these chains. National chain stores have reputation, sourcing reliability, and quality assurance issues to consider. They are not keen on entering the CBD space with obscure start-ups with no prior relationships, particularly because of the regulatory environment around packaging, dosing, and compliance. But those 155,000 independent and chain stores that already have a partnership with TPB through Zig-Zag and other tobacco products will certainly be much more willing to take on TPB as a CBD supplier.
In addition to having the distribution relationship that most CBD and cannabis companies lack, TPB also has a deep understanding of lab testing and proper dosing, given its background in the tobacco space. One of the biggest issues facing the nascent CBD market is that it's littered with new companies offering inconsistent products and dosage. We expect at some point for the FDA to bring in regulation around CBD, and many of the smaller companies that don't have regulatory experience will disappear.
By contrast, TPB is a professional company with extensive experience in dealing with FDA regulations and guidelines. In fact, each of its Nu-X CBD products come with a certificate of analysis from an accredited lab that provides information on compound profile and potency. This is the kind of professionalism and compliance protocol national chains want to see: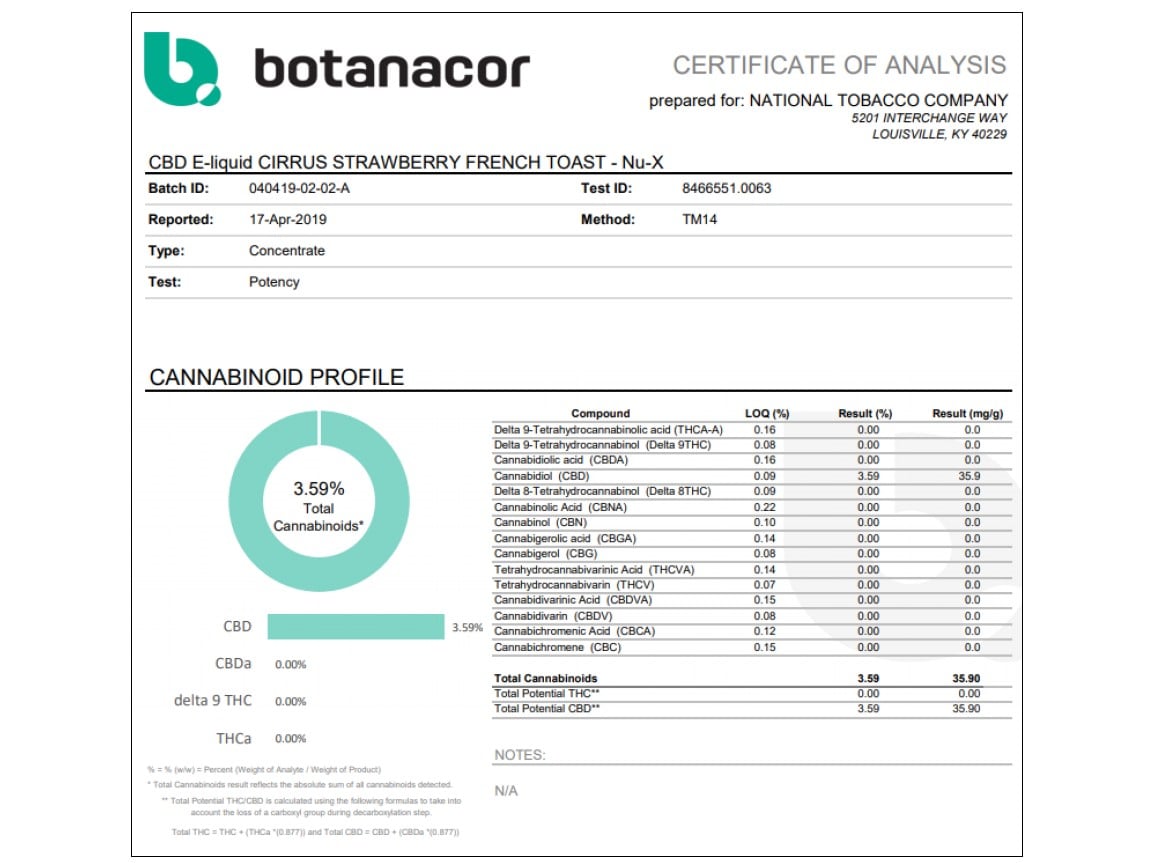 Source: Lab analysis for Cirrus CBD e-liquid
To further illustrate how serious TPB is about entering the CBD market, the Company recently asked its traditional tobacco farmers to start growing hemp,4 and last month was awarded a Processor/Handler license from the Department of Agriculture in its home state of Kentucky.5
CBD Revenue Potential
The potential for TPB here is huge and we believe the Company has the distribution infrastructure already in place to make CBD products a substantial part of its revenue mix. Many cannabis start-ups that are trading at astronomical multiples can only dream of having the same distribution network and compliance background as TPB.
Let's talk numbers.
In the first quarter of 2019, the Company generated US$800,000 from Nu-X products:
"So, the first quarter for Nu-X was a small step in a big journey that offers tremendous opportunity for thoughtful marketers and brand builders. In the quarter, we sold US$800,000 of Nu-X products and expect the sales rate to grow exponentially as we move forward in the year." - Q1 2019 conference call
This is pretty impressive revenue, considering the Nu-X products were soft-launched in Q1 and had no previous brand recognition. For full-year 2019, TPB expects Nu-X products to contribute between US$10 million to US$20 million in revenue,6 most of which we expect to come from CBD sales.7 That represents approximately 4% of the Company's 2019 revenue guidance of US$380 million to US$405 million. From there, we expect CBD sales to grow exponentially in 2020 and 2021.
The CBD market was worth US$1 billion in 2018 and is estimated to reach US$16 billion by 2026.8 That's a compounded annual growth rate of 41%. How accurate these forecasts are is anyone's guess, but we believe this estimate is supported by the fact that Google search interest in "CBD" has grown 100% in the last 12 months, and 500% in the last two years: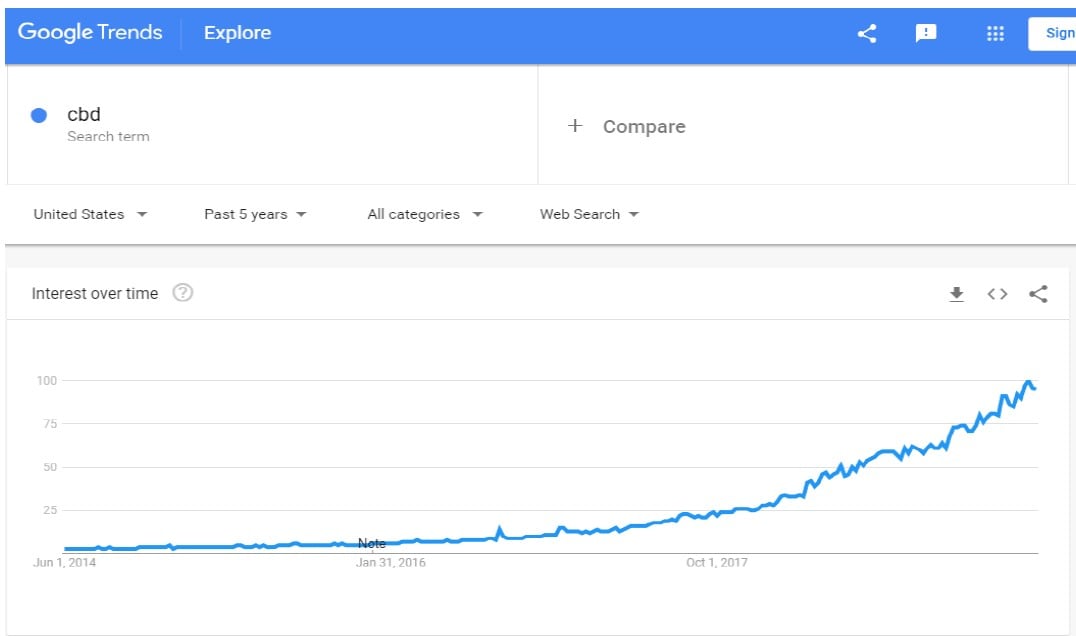 Source: Google Trends
Although the CBD market's projected growth is impressive, we actually expect TPB's CBD business to far
outpace this growth because of its already established distribution network.
For example, Charlotte's Web (CWEB.TSE) and CV Sciences (CVSI.OTC), two relevant-sized CBD pure-play companies, have both quadrupled their revenue over the last three years, and analysts expect them to triple and quintuple revenue over the next two years, respectively:
Revenue Growth of CBD Pure Plays (US$ 000s)
| | | | | | |
| --- | --- | --- | --- | --- | --- |
| Name | 2016 | 2017 | 2018 | 2019E | 2020E |
| CV Sciences | 11,060 | 20,679 | 48,244 | 80,020 | 120,350 |
| Charlotte's Web | 11,113 | 30,827 | 53,598 | 102,862 | 260,657 |
Source: Company filings, analyst estimates, our analysis.
Notably, both these companies have to build out their retail presence as they go. By contrast, TPB already has its retail relationships established nationally. If these two companies – which have to establish a new relationship for every store they enter – can grow their revenue by leaps and bounds, then what does that mean for TPB's CBD potential if TPB simply needs to leverage the vast retail network it already has?
So, what exactly is the revenue potential here?
The closest publicly-traded comparable we could find is Charlotte's Web, a ~US$2 billion market cap, Toronto-listed CBD pure-play that sells products both online, and through a strong brick-and-mortar distribution network. In fiscal 2019, analysts estimate that CWEB will generate revenue of CAD$137 million – let's call it an even US$100 million. CWEB generates approximately half its revenue online, and the other half comes from wholesalers and a variety of brick and mortar retailers.9
We'll start by comparing CWEB's online reach with TPB. CWEB's e-commerce sales are primarily through its own website. According to SimilarWeb statistics, CWEB's retail website www.charlottesweb.com gets about 465 thousand visitors a month. By contrast, TPB's two main B2C e-commerce platforms, www.vaporfi.com and www.directvapor.com together get over 1.8 million visitors a month, representing approximately 4x as much traffic.
TPB has the audience reach and e-commerce engine to outsell CWEB online. But online sales are only secondary for TPB. Management has made it abundantly clear that the end goal is not just to sell CBD online, but to go mainstream in traditional stores:
"Our back half of the year [2019] plan includes the launch of products that will round out our CBD portfolio with, in particular, emphasis on products that will be widely available in our traditional sales channel." - Q4 2018 conference call

"I'm really happy that we sell US$100 tincture bottles that have very good margins [on our websites], but that's not the future of – that's a small business for us versus how do you have a Turning Point Nu-X CBD product in 150,000 or 200,000 Zig-Zag stores." - Q1 2019 conference call

"… our traditional retail sales force is exceptionally effective. We expect the sales force [to] provide a meaningful differentiation as compared to our competitors in the place of not only RipTide but also mainstream CBD distribution." - Q1 2019 conference call
The real engine of TPB's CBD ambitions will be its brick-and-mortar retail network. For example, according
to CWEB's IR website, its products are available in 6,000 retail locations:
Charlotte's Web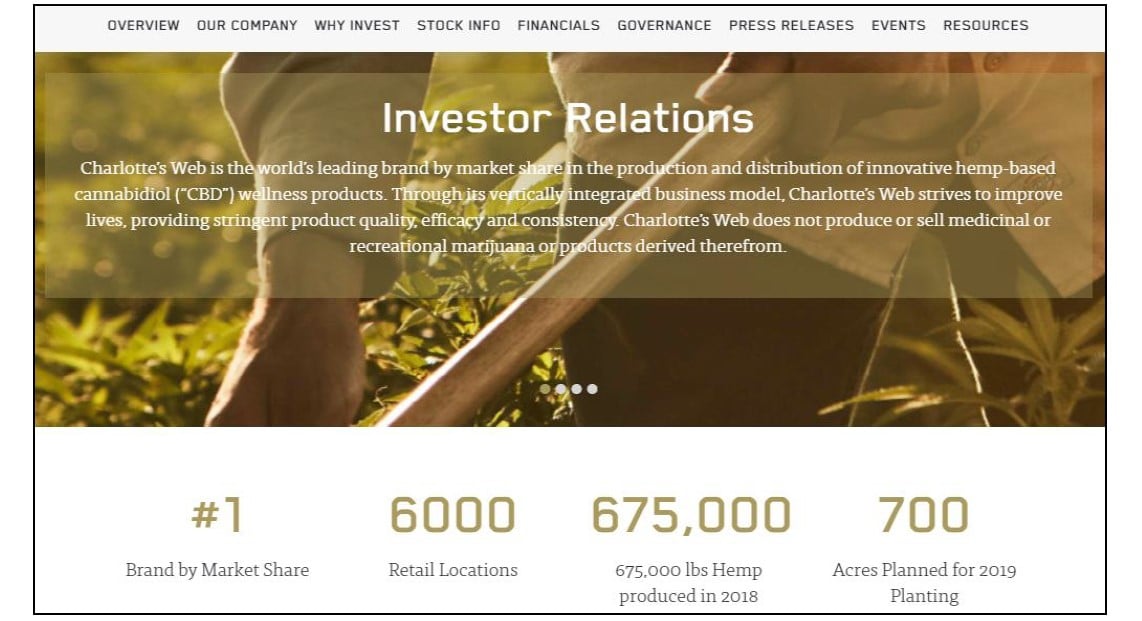 By contrast, TPB has a network of 155,000 traditional retail stores, or 25x that of CWEB. For our analysis, we won't assume that TPB can put CBD into all those retail stores, because we find blue-sky scenarios in research reports obnoxiously optimistic.
And more to the point, it's highly unlikely that every one of those 155,000 stores that sells Zig-Zags is also going to want to sell CBD, either because they are in a jurisdiction where the laws are unclear,10 or just to be conservative, or a myriad of other reasons. Who knows?
But we think it's reasonable – if not entirely conservative – to assume that if TPB is looking to introduce its CBD products to its retail network in the back half of 2019, then by 2021 the Company can match CWEB by selling in at least 6,000 of its stores, which represents less than 4% of its retail base. Assuming the same online/off revenue mix, and per store sales figure as CWEB, that means TPB could generate US$100 million of revenue in 2021 from self-branded CBD products. US$100 million in CBD sales would represent 20% of TPB's revenue mix by the end of 2021, by our estimates.
All in, we are assuming that TPB generates the same amount of CBD sales in 2021 that CWEB is expected to generate this year, despite having 4x the online traffic and 25x the retail base. To be more conservative, we are assuming no same-store organic growth between now and 2021. Frankly, nothing in our analysis is incredibly outlandish or so demanding as to be unlikely. Yet, for all this, CWEB trades as a US$2 billion company, while TPB is valued at US$1 billion based purely on its current OTP business.
Once the market understands this story, we expect TPB's CBD business to be valued by at least as much CWEB is today, if not more. CWEB needs to build every retail relationship it has, whereas once TPB penetrates 4% of its retail base, it will still have additional opportunities for the remaining 96% of its network. Even if we cut CWEB's current US$2 billion valuation by half and value the entire company at US$1 billion, that still means TPB's share price will potentially be worth double as it ramps up its CBD business.
Why Does This Opportunity Exist?
You: Great, TPB has entered the CBD space and it's going to double its share price. But why does this investment opportunity exist, and why has the market missed it?
Us: TPB is an extremely under-covered name that is not on the radar of the invest community. The most recent Seeking Alpha article on TPB was published in December 2018, before the Company even launched its CBD business. Furthermore, TPB is currently only covered by Cowen and B. Riley FBR. One is a second-tier broker, and the other is a shop we've never heard of with less than 300 twitter followers.
By contrast, Bloomberg data shows that cannabis companies of comparable market size are covered by an average of nine brokers each, including prominent firms like BAML and RBC Securities:
Cannabis Company Coverage
| | | |
| --- | --- | --- |
| Name | Market Cap (US$ M) | Analyst Coverage |
| Charlotte's Web Holdings Inc | 1,950 | 6 |
| Trulieve Cannabis Corp | 1,240 | 5 |
| Organigram Holdings Inc | 1,020 | 11 |
| MedMen Enterprises Inc-CLB | 1,300 | 6 |
| Hexo Corp | 1,335 | 16 |
| Green Organic Dutchman | 710 | 5 |
| CannTrust Holdings Inc | 698 | 13 |
| Turning Point Brands | 1,000 | 2 |
Source: Bloomberg
As TPB's CBD story gains traction, we expect substantially more coverage from Wall Street, and far more interest from investors. Most cannabis companies with broad sell-side coverage are still highly speculative and loss-making. We believe investors are thirsty for a company in the cannabis space that is exceptionally profitable, well established, and has a history of delivering results. TPB is that company.
Oh Yeah – TPB Has Other Stuff, Too
While the focus of this report is the CBD potential, it's important to recognize that TPB is already a very successful, profitable, and growing business in the OTP space. In fact, the Company's growth and execution is a case study on Management's ability to build brands and effectively distribute products.
TPB operates three lines of business, namely Smokeless segment, Smoking segment, and NewGen segment. The Smokeless segment consists primarily of Stoker's brand chew tobacco and moist snuff. The Smoking segment consists of Zig-Zag papers and cones. These two segments are TPB's core business that continue to grow and spit out cash. The NewGen segment manufactures and distributes e-cigarettes, e-liquids, and vaporizers, led by the Vapor Beast brand: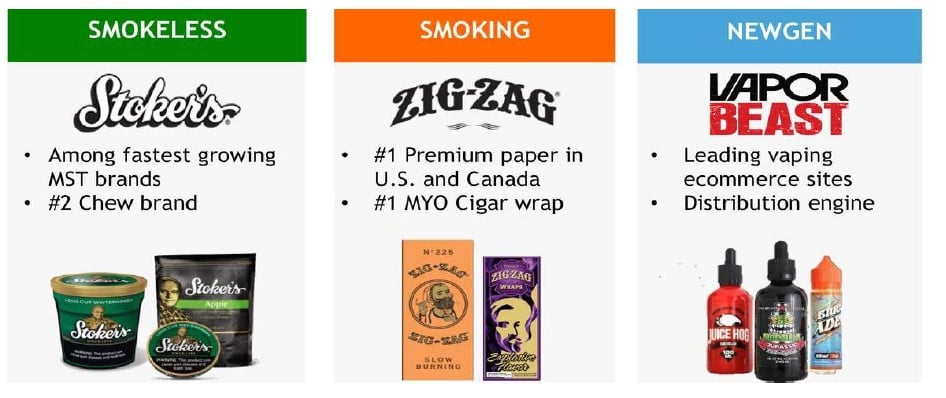 The Smokeless and Smoke segments have traditionally been the primary revenue generator of the Company. But in 2017 and 2018, TPB made a series of acquisitions aimed at considerably expanding the scope and reach of its vaping business. Accordingly, the NewGen segment has exploded over the last two years, and in the most recent quarter, accounted for nearly 50% of revenue: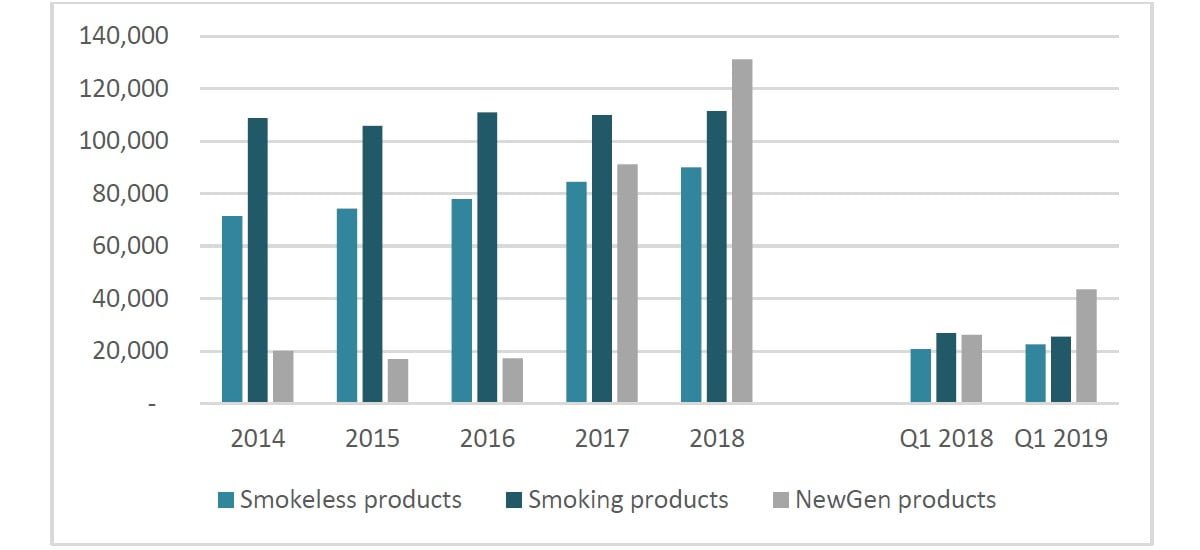 Source: Company filings, our analysis
NewGen
Prior to 2017, TPB's revenue from vaping products was minimal and accounted for less than 10% of sales. Most of these sales were through traditional wholesalers using the same salesforce TPB relies on for the distribution of its Smoke and Smokeless products. Following a series of acquisitions in 2016, 2017, and 2018, TPB positioned the NewGen segment as the new growth driver of the Company, and in the process established an e-commerce platform with a focus on selling directly to retailers and end-costumers.
Specifically, TPB acquired four vape companies with strong online presence that collectively supply thousands of independent vaping shops, which TPB previously did not have relations with. These acquisitions are the backbone of TPB's NewGen segment. This is also the online distribution engine that TPB is using to sell and receive feedback on its CBD products, before introducing them to its traditional independent and national chain stores.
Here is a quick review of the four acquisitions:
Date
Name
Consideration
Valuation price
Platforms
Details
30-Nov-16
VaporBeast
US$27 million
0.5x revenue 4x EBITDA
vaporbeast.com
Operates B2B e-commerce platform and distributes to 4,000 indy vape shops
30-Jun-17
VaporShark
US$4 million
0.4x revenue 5x earnings
34 self-branded corporate and franchised retail stores
Miami-based manufacturer and marketer of proprietary vaping products to 1,000 indy vape shops
30-Apr-18
VaporSupply
US$4.8 million
0.15x revenue 0.8x gross profit
vaporsupply.com
Operates B2B e-commerce platform, and manufactures and distributes vaping products to 1,400 indy vape shops
6-Sep-18
International Vapor Supply (IVG)
US$24 million
0.5 revenue 4.9x EBITDA
vaporfi.com southbeachsmoke.com directvapor.com
Operates large B2C e- commerce platform with

1.5 million unique customers
Source: Company filings, our analysis
A recurring theme with TPB's acquisitions is that they are purchased at incredibly favorable multiples and are immediately accreditive. Many smaller, but otherwise successful vaping companies do not have the compliance in place to deal with the evolving FDA regulatory environment and are eager to get scooped up. TPB can go in, buy smaller operators for cheap, and build on their already established platform with in-house expertise in marketing analytics and FDA compliance. This creates substantial efficiencies and cross-selling opportunities. It's regulatory arbitrage at its finest.
RipStick
As part of the Company's expansion into the vaping business, TPB designed and developed its own proprietary pod-based vapor system called RipTide (featuring the RipStick vape pen). This product was launched in Q1 2019 under the Nu-X umbrella: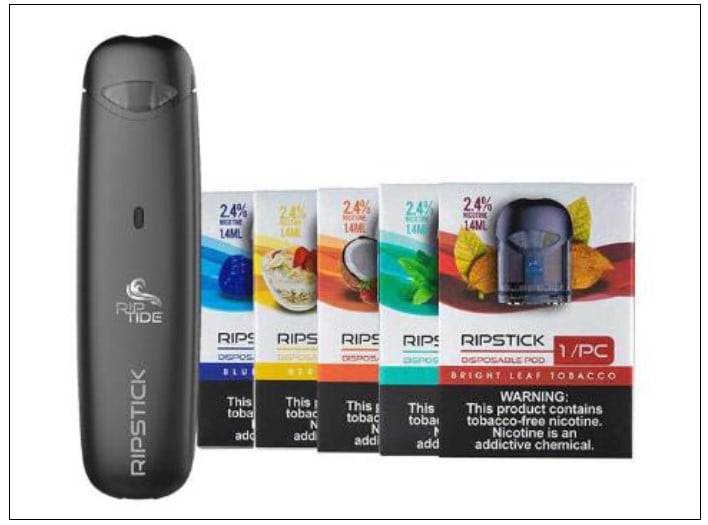 Source: The Internets
Until recently, TPB was the exclusive distributor of V2 e-cigarettes in the US. In October 2018, VMR Products LLC, the supplier of the V2 e-cigarette, was acquired by Juul for US$75 million, and the distribution agreement with TPB was subsequently terminated. 11 V2 e-cigarette accounted for approximately US$8 million of TPB sales in 2018.12
TPB launched the RipStick on its online properties in Q1, and is now accelerating the rollout to its brick-and-mortar locations. Based on Management commentary, we expect the RipStick will replace lost sales from the V2 e-cigarette. We also believe that RipStick will have higher margins than the V2 e-cigarette because it's an internally manufactured product.
NewGen Margins
The four vape acquisitions helped TPB gain a distribution network that has propelled the NewGen segment to account for nearly 50% of revenue from less than 10% in the span of two years. Moreover, the acquisitions allowed TPB to expand from distributing primarily at wholesale, to distributing direct-to- customers online, where the Company can capture incremental margins.
Since Q1 2017, NewGen gross margins have expanded from 24% to 34%, driven primarily by the IVG B2C acquisition in late 2018: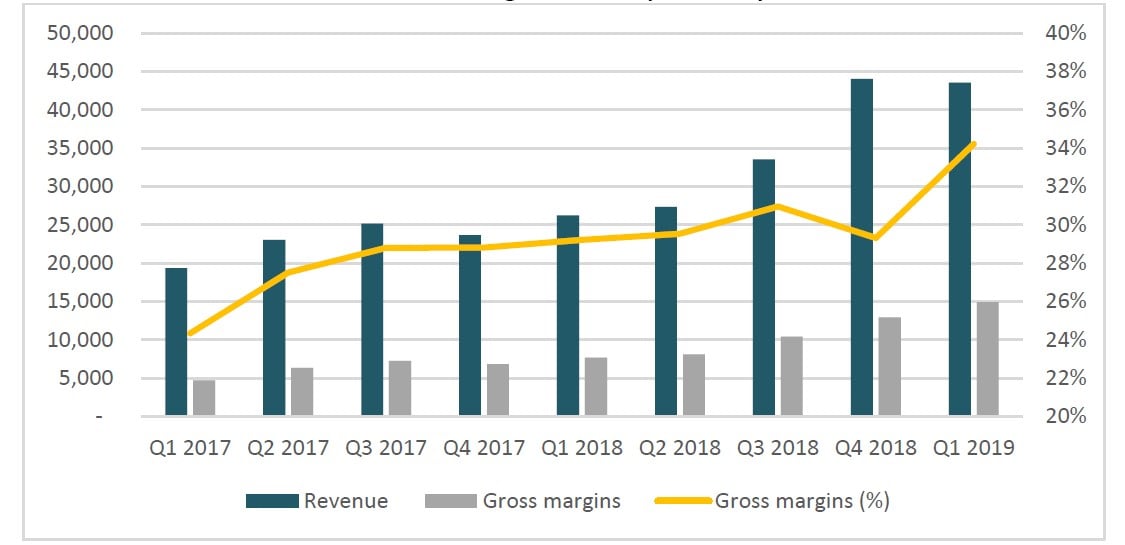 In the short term, we believe NewGen margins will continue to expand through the year as the Company integrates its recent acquisitions, consolidates production, and cuts costs. For example, in Q1, TPB shut down its California facility and consolidated distribution in Kentucky, where UPS has their hub.
"Looking now at TPB infrastructure, by the end of the third quarter we expect to have completed our vapor integration efforts thereby unleashing improved margins through consolidation and efficiencies." - Q1 2019 conference call
Smokeless/Smoke Segments
Finally, we come to TPB's core Smokeless and Smoke segments. While not as sexy, these two segments are the Company's income engine and generate the vast majority of cash flow, which has helped TPB pay down debt, initiate dividends, and expand into new products. More importantly, the growth of the core business against much larger competitors is testament to Management's ability to build out its CBD business.
Smokeless Segment
Revenue from the Smokeless segment is derived from the sale of chew tobacco and moist snuff tobacco.
The segment is driven primarily by Stoker's brand chew tobacco: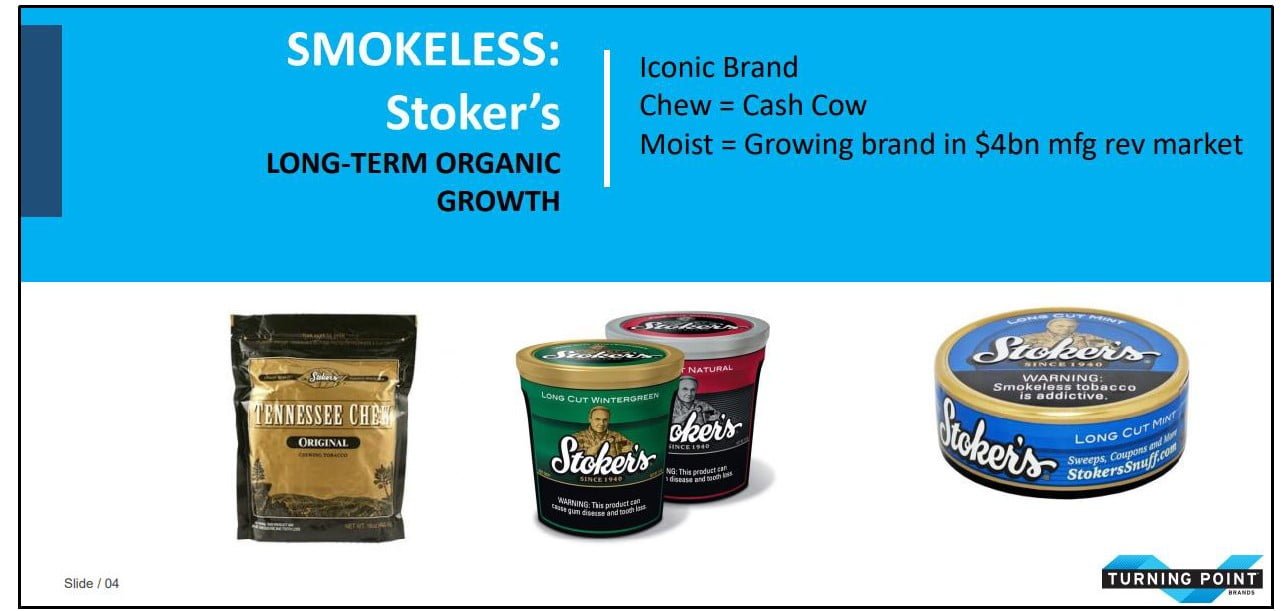 Source: Company presentation, 1 May 2019
TPB acquired the Stoker's brand in 2003, and grew it to the number one discount and number two overall chew tobacco brand.13 From 2014 to 2018, TPB grew its market share of Stoker's chew tobacco from ~15% to 19.2%. This growth in market share is considerable given that TPB competes in the chew tobacco space against industry giants, including Altria and British American Tobacco.
In the process of taking market share, TPB grew its Smokeless segment revenue from US$71.5 million to US$90 million, while maintain gross margins greater than 50%:
Smokeless Segment Analysis
| | | | | | |
| --- | --- | --- | --- | --- | --- |
| (US$ 000s) | 2014 | 2015 | 2016 | 2017 | 2018 |
| Revenue | 71,465 | 74,293 | 77,913 | 84,560 | 90,031 |
| Gross margins | 53.1% | 51.9% | 49.8% | 50.5% | 51.6% |
| Gross profit | 37,925 | 38,521 | 38,823 | 42,703 | 46,490 |
| Stoker's Chew market share | n/a | 15.8% | 16.8% | 17.9% | 19.2% |
Source: Company filings, our analysis
While cigarette sales are declining, the smokeless market has continued to grow. Just last month, Altria spent US$372 million to acquire an 80% stake in the nicotine pouch business of Swiss tobacco company Burger Sohne, in a further bid to diversify away from cigarettes.14 We believe this acquisition is tacit acknowledgement by Altria that the smokeless market is where growth is.
Smoke Segment
Revenue from the Smoke segment is derived from rolling papers, cones, and cigar wraps under the Zig-Zag brand. TPB licenses and sources the Zig-Zag brand from France-based Bolloré, and is the exclusive distributor in the US and Canada: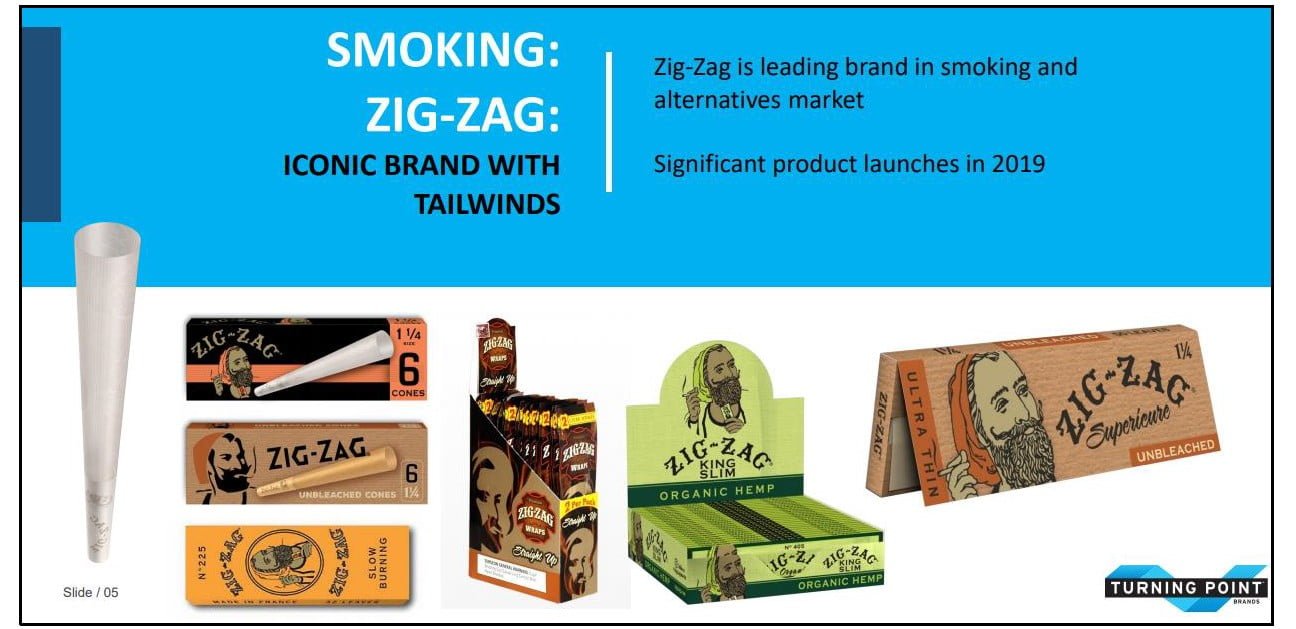 Source: Company presentation, 1 May 2019
Between 2014 and 2016, Smoke segment revenue grew slightly and margins expanded considerably. However, in 2017 and 2018 revenue growth stagnated as competitors introducing hemp and unbleached rolling papers into the market. These new offerings resonate with marijuana smokers, who are becoming an increasingly larger customer base of rolling papers as legalization sweeps through North America:
Smoke Segment Analysis
| | | | | | |
| --- | --- | --- | --- | --- | --- |
| (US$ 000s) | 2014 | 2015 | 2016 | 2017 | 2018 |
| Revenue | 108,799 | 105,898 | 111,005 | 109,956 | 111,507 |
| Gross margins | 44.7% | 49.9% | 51.9% | 52.0% | 51.2% |
| Gross profit | 48,660 | 52,842 | 57,595 | 57,146 | 57,043 |
| Zig-Zag papers market share | n/a | 32.7% | 33.5% | 32.9% | 32.1% |
Source: Company filings, our analysis
In 2018, TPB responded by introducing its own line of Zig-Zag organic hemp rolling papers, and more recently launched unbleached papers and pre-rolled cones. All these products are already showing results, and are expected to return the segment to revenue and market share growth in the second half of 2019:
"In the fourth quarter [of 2018], we further penetrated the retail universe with organic hemp papers becoming the second largest hemp SKU in the category despite being the market less than a year." - Q4 2018 conference call

"In [Q1 2019], we also expanded the new Zig-Zag cones and unbleached papers with preliminary success and strong trade enthusiasm. Each of these segments have grown robustly and we quickly found ourselves in a short stock position on the cones due to stronger than anticipated demand… Our internal data suggest that our new Zig-Zag cones could prove to trigger a meaningful shift in measured demand and category growth." - Q1 2019 conference call
Debt Analysis
TPB is an asset-light business that outsources most of its manufacturing. In 2018, 85% of net sales were derived from outsourced products.15 By outsourcing the manufacturing process, TPB can instead focus on building relationships with retailers, branding, and consumer analytics, to quickly introduce new products. Accordingly, the Company has a small balance sheet unencumbered by large annual capital expenditures and property, plant, and equipment concerns.
The most notable line-item on TPB's balance sheet is its debt. Despite TPB's recent acquisitions and its expansion into the CBD business, Management has maintained the integrity of its balance sheet and debt levels. When TPB went public in 2016, it had US$300 million of net debt and was paying US$34 million in interest. By 2018, net debt had been paid down to US$220 million, and interest expense was cut by more than half: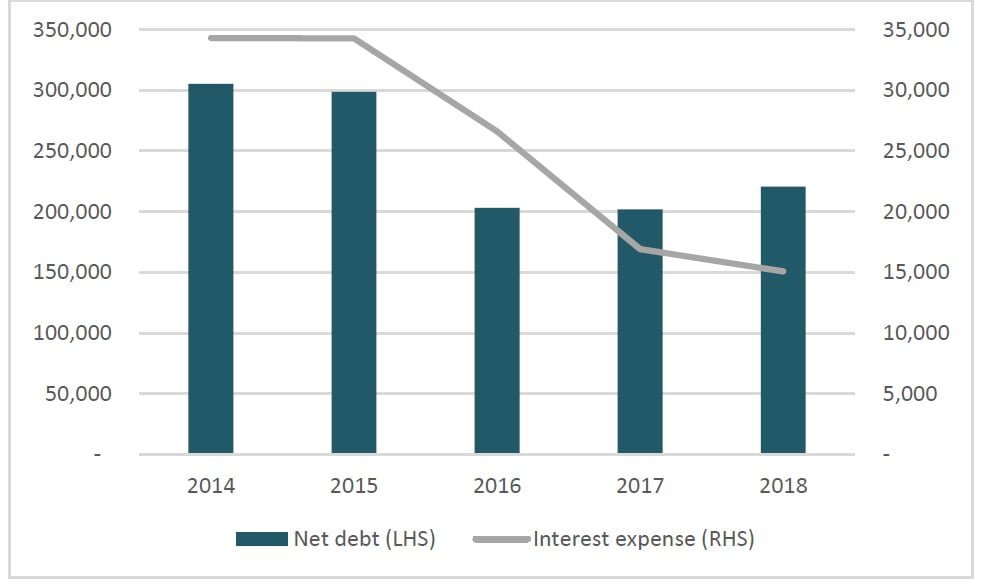 Source: Company filings
This capital discipline has even allowed TPB to initiate token quarterly dividends. Looking forward, we expect Management to continue to maintain a healthy balance sheet. Currently, net debt to adjusted EBITDA stands at 3.4x, and Management has a stated long-term target of 2.5x to 3.5x.16
Valuation
We value TPB as the sum of its three distinct businesses, namely the core Smoke/Smokeless business, the NewGen vaping business, and the emerging CBD business.
Valuing the Smoke/Smokeless Business
We think the most obvious comparable to TPB's Smoke/Smokeless business is Altria, since both operate in related markets, with a US-centric focus. Moreover, both companies have very similar margin profiles:
Altria vs TPB Metrics (US$ 000s)
| | | | |
| --- | --- | --- | --- |
| Altria | 2016 | 2017 | 2018 |
| Revenue | 25,744,000 | 25,576,000 | 25,364,000 |
| Gross profit margin | 45.0% | 46.8% | 48.3% |
| Operating income margin | 34.0% | 37.5% | 35.9% |
| TPB Smoke/Smokeless | 2016 | 2017 | 2018 |
| Revenue | 188,918 | 194,516 | 201,538 |
| Gross profit margin | 50.9% | 51.3% | 51.4% |
| Operating income margin | 36.4% | 36.9% | 35.5% |
Source: company filings, our analysis
The most obvious difference between Altria and TPB's Smoke/Smokeless business is that TPB has been growing. In 2018, the Smoke and Smokeless segments generated combined revenue of US$202 million, up 3.6% from the previous year. By contrast, Altria's revenue has been flat for years.
Looking ahead, we see multiple vectors of growth for TPB's Smoke and Smokeless segments, given the recent introduction of organic hemp Zig-Zags and pre-rolled cones in 2019, and continued growth in Stoker's chew tobacco market share, as well as the overall OTP market. We can't say the same for Altria, for which we expect flat revenue even in the best-case scenario, given cigarette volume trends in North America.
Altria trades at 4.8x 2019 revenue estimates. Although TPB has guided 2019 total company revenue growth of 13.5%, let's assume TPB doesn't actually grow this year. If we apply a 4.8 multiple on TPB's Smoke and Smokeless 2018 revenue of US$202 million, that would value the business at US$967 million. That is TPB's entire market cap currently.
Valuing the NewGen business
Considering that TPB was the exclusive US distributor of VMR e-cigarettes until this year, and VMR just got bought out in a recent transaction, we think it makes sense to value the NewGen business (excluding Nu-X CBD) relative to the buyout value of VMR by Juul.
VMR is a private company so it doesn't disclose financials. Luckily for us, it was majority owned by our old friends at Huabao International (0336:HK), a Hong Kong-listed company. According to Huabao's disclosures, VMR was a mess. It reported revenue of RMB221 million (US$32 million) for the year ending 31 March 2018, down from RMB261 million (US$38 million) the previous year. It was also bleeding losses: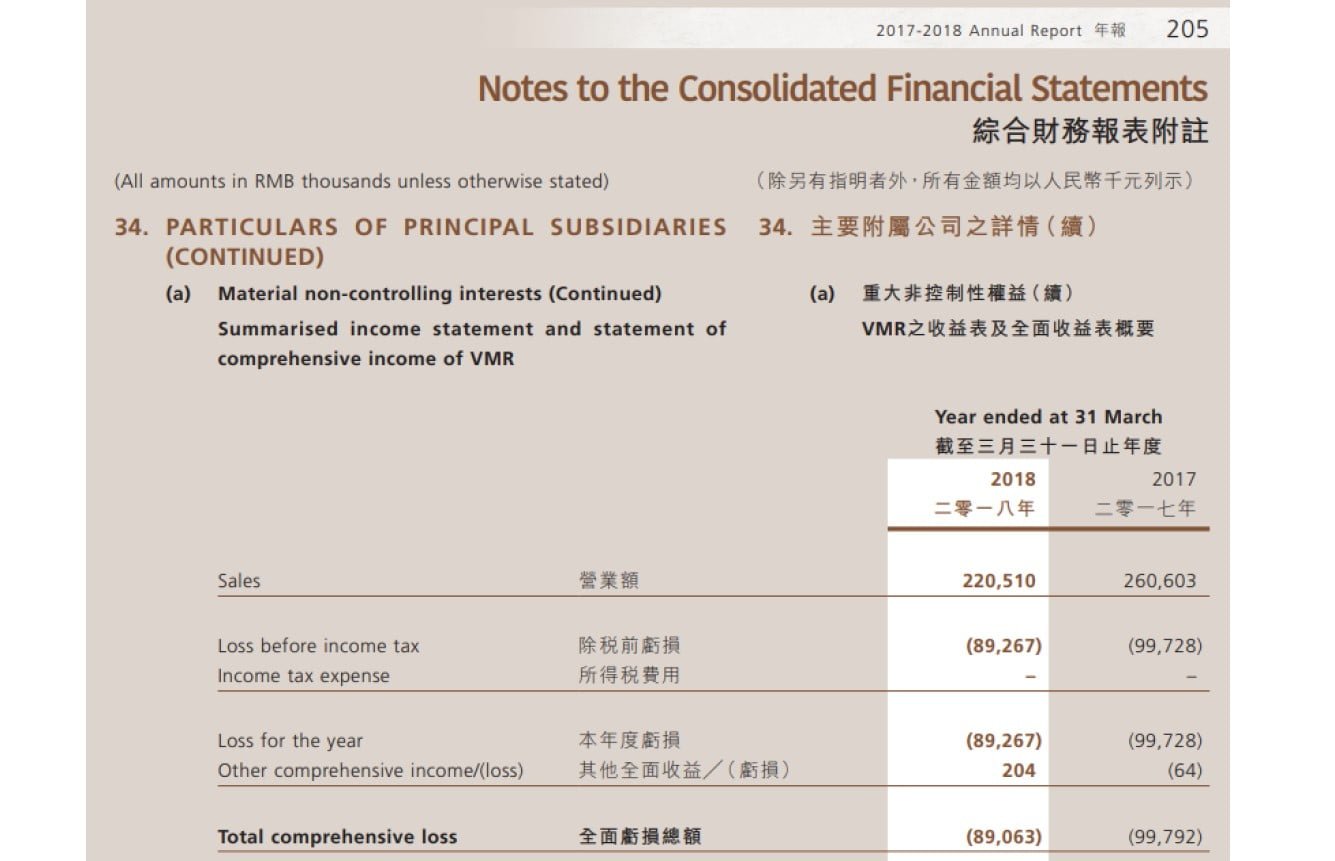 Source: https://www1.hkexnews.hk/listedco/listconews/sehk/2018/0705/ltn201807051082.pdf pg. 205
Based on these financials, VMR's price tag of US$75 million translates to an acquisition price of 2.3x revenue.
By contrast, TPB's NewGen segment is growing, has healthy gross margins, and in 2017 and 2018 generated positive operating income. In Q1 2019, the NewGen segment reported revenue of US$42.8 million.17 Let's assume no further growth and annualize that figure to get annual revenue of US$171 million. At 2.3x revenue, the NewGen segment would be valued at US$394 million.
Valuing the Nu-X CBD business
Based on our valuation, TPB's Smokeless, Smoke, and NewGen business are worth US$1.36 billion using some pretty conservative metrics, and assuming no growth. Meanwhile, the entire market cap of TPB is US$1 billion, representing 36% potential upside just on the current business alone.
Then there is the CBD kicker.
As we explored on page 10, we believe TPB's CBD business can realistically be as big as Charlotte's Web by 2021. CWEB currently has a market value of US$2 billion. Apply whatever discount you want to that, but even cutting that valuation in half would value TPB's CBD business at US$1 billion by 2021.
In our worst-case scenario, where we assume no further growth for TPB, and the CBD business goes nowhere, the Company still has 36% upside potential when compared to peers.
In our base-case scenario, where we assume the CBD business is equally successful to CWEB and apply a 50% discount to that valuation, the Company has 136% upside potential when compared to peers:
Valuation (US$ 000s)
Worst-case
Smoke and Smokeless
967
NewGen
394
TPB implied value
1,360
Upside from current price
36%
Base case (+ CBD business)
CBD business with 50% discount
1,000
TPB implied value
2,360
Upside from current price
136%
Source: Company filings, our analysis
We aren't going to bother with a best-case scenario because if you don't find a potential 136% return based on conservative assumptions enticing enough, please email us directly at [email protected] and let us know what better investments are out there – we too want to live that models and bottles lifestyle.
To reiterate, with shares currently trading at US$50, our analysis suggests potential upside of 136%, which represents fair market value of US$118 per share.
Opinion: CONVICTION BUY
Turning Point Brands report: Updated version here.