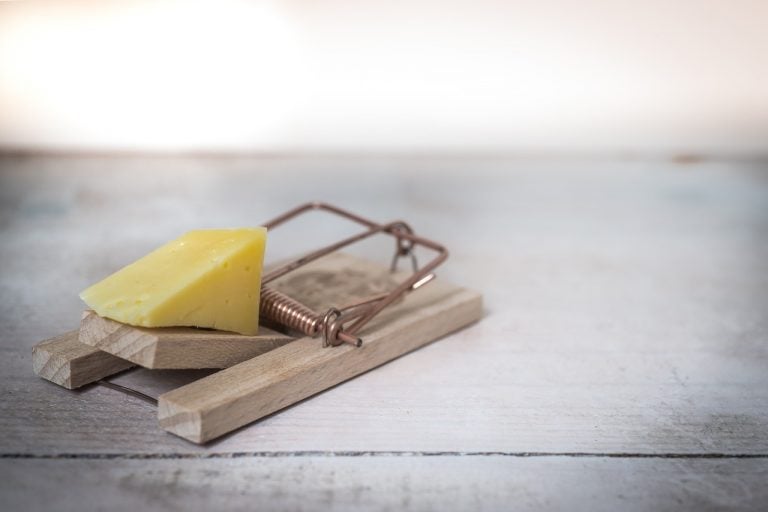 Whitney Tilson's email to investors discussing why AT&T Inc. (NYSE:T) is a value trap; YouTube's value, scrutiny, and power; My disastrous experience with a vegan diet.

1) In Tuesday's e-mail, I mentioned telecom giant AT&T (T) as a classic value trap, which led one of my readers to reply:
Q1 hedge fund letters, conference, scoops etc
[Exclusive] ExodusPoint Is In The Green YTD Led By Rates And EM/ Macro Strategies
The ExodusPoint Partners International Fund returned 0.36% for May, bringing its year-to-date return to 3.31% in a year that's been particularly challenging for most hedge funds, pushing many into the red. Macroeconomic factors continued to weigh on the market, resulting in significant intra-month volatility for May, although risk assets generally ended the month flat. Macro Read More
Hi Whitney,
Your daily letter has been a great tool for me to improve my investing skills. Today I found out that you think AT&T is a classic value trap. It's extremely unsettling for me because I'm actually setting aside a big chunk of cash for an AT&T investment if the Sprint-T-Mobile merger goes through.
Could you please briefly share with me your thoughts so I can see where my thesis went wrong? I know you are super busy so even a few words would be greatly appreciated.
Obviously, the perpetual declining wireline business and the cord-cutting trend are major areas for concern. Do you think that in a bear market/recession, these unfavorable trends will further accelerate?
In my variant opinion, the market could possibly be missing a few catalysts for the stock:
1) AT&T is actively paying down a big portion of its debt incurred from the Time Warner acquisition, boosting EPS and reducing leverage.
2) Switching to the Comcast model and bundling exclusive Warner content with the current packages to reduce churn. Also, Turner's broadcasting fees will partially offset other broadcasters' ever-increasing carry cost.
3) 5G/IoT/Wearables create new business opportunities.
4) T-Mobile will be busy integrating with Sprint and another carrier price war is unlikely in the next couple years if the merger goes through.
Thanks so much for your time in advance.
To answer this excellent question, I turned to my friend Enrique Abeyta, who knows the company and short thesis better than I do. Longtime readers may recall that he nailed Anheuser-Busch InBev (BUD) and Kraft-Heinz (KHC) in his presentation at my shorting conference last May (click here to watch it and here to see his slides). He wrote:
The quick answer is that almost every one of its business lines is currently in decline and will continue to be so for as long as I can see.
Its biggest problem is the video business, which consists of the legacy DirecTV and its U-verse product.
In the first quarter, it lost 661,000 premium TV customers, an 11% (!) annualized decline. It has 1.6 million customers on two-year price locks that expire in the next three quarters, and I think it is likely it loses the NFL after the 2019-2020 season. Here are some charts to put the fear of G-d in you...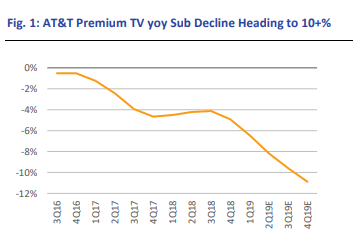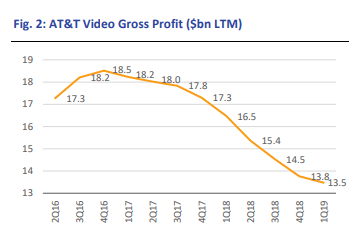 I think the inevitable decline at DirecTV, which has the highest price point and margins of any video service, will result in a $1 billion annual decrease in the Entertainment Group's EBITDA of $10 billion. I think this decline continues until EBITDA is a fraction of its current size – maybe 50%-70% lower.
As for the wireline business (which also has $10 billion in EBITDA), EBITDA and operating income were down 10% and 22%, respectively, in the first quarter. But this decline is well-known and pales in comparison to the risk at entertainment.
Mobility (wireless, which has $30 billion of EBITDA) is fine but is a low- or no-growth business that I think shrinks a little bit, but this is a VERY mature market.
In a recession, I think the cord-cutting (especially at high-priced DirecTV) will accelerate like nothing you have ever seen. This is what happened in the print business for both newspapers and magazines in 2009: Both subscriptions and advertising absolutely collapsed and never came back. It was a legacy product that people held on to out of habit more than utility (they had moved to digital). When they had to cut costs, they cut there first.
Net-net, I think 2021 EBITDA is probably -10% versus consensus expectations of flat EBITDA. In a recession, this number could be -25%...
AND I didn't even get into the real debt load and free cash flow "management." Incredible shades of General Electric (GE) here with all that.
On an adjusted and tax-normalized basis, I have dividend coverage at between 0.7 times to 1 times and going down. That is NOT good, and it should cut or eliminate the dividend immediately.
I have its 2021 net debt/EBITDA at 2.7 times AFTER its debt paydown, but another $35 billion of other liabilities in there means this number is closer to 3.5 times.
This stock is the FURTHEST you could be from a "sleep well at night" situation.
One last thing... If AT&T (fully debt-loaded) were a country, it would have more net debt than more than 100 of them!
2) I think YouTube is one of the most valuable businesses in the world – even more valuable than streaming competitor Netflix (NFLX) – for reasons I outlined in my March 29 e-mail:
YouTube could be the most valuable and durable Internet platform ever. It's the second-most trafficked website in the world, behind Google.com. It has more than 2 billion registered users visiting the site every month, with 80% of that traffic coming from outside of the U.S.
Users watch a total of 1.3 billion hours of YouTube videos every day, more than nine times the 140 million hours per day that Netflix reported last year. YouTube's average mobile-viewing session lasts more than 40 minutes, up more than 50% over the past year. (I'm not sure how this figure compares with Netflix's 71 minutes of viewing per day.)
Netflix CEO Reed Hastings noted in June 2017, "I'm not sure we are leading [the online video market] when you look how far ahead YouTube is." He later added in a letter to shareholders, "YouTube is earning over a billion hours a day of consumers' time... while we are earning over a billion hours a week."
Even better, YouTube doesn't have to pay for content. Its users provide it for free, uploading 300 hours of video every minute (though YouTube does share revenue generated from advertising and subscriptions). In contrast, Netflix must pay huge sums – an estimated $15 billion this year – to purchase or produce video content.
There is a huge opportunity to increase YouTube's profitability because Alphabet has so far been very cautious in monetizing it (which is wise, I think). Video accounts for only 15% of Alphabet's gross advertising revenue but is growing at twice the rate of its overall business. To understand the upside, consider this: YouTube hosts around 20% of the web's videos, yet only around 10% of the web's video ads.
In the U.S., YouTube currently monetizes at around two-thirds that of television, despite offering advertisers significantly better targeting. And annual revenue per user slightly trails Twitter (TWTR), despite the fact that users spend three times more time on YouTube than on Twitter.
Alphabet shareholders should hope that Senator Elizabeth Warren is successful in her campaign to break up the Internet giants. Can you imagine how much the pieces of the company would be worth if they traded separately?!
But many folks aren't aware of YouTube's value because it's owned by a much larger company, Alphabet (GOOGL). They also may be focused on the bad press YouTube has been getting recently for radicalizing young people, being a "cesspool of anger and hate," and failing to protect children.
As a citizen, I think much of the criticism is well-deserved – but as an investor, it doesn't change my view regarding YouTube's value (which, in turn, is one of the reasons I'm bullish on Alphabet's stock).
My assessment of the three key people – Alphabet CEO Larry Page, Google CEO Sundar Pichai, and YouTube CEO Susan Wojcicki – is that, while they certainly missed warning signs (likely because they were blinded by the desire for growth), they now recognize the moral, regulatory, and PR issues YouTube faces and will effectively deal with the current crisis. And I certainly don't see anything displacing YouTube...
3) Here's another angle on the power of YouTube: A vegan YouTube star went to Bali. A video of what she did there brought her platform crashing down. Excerpt:
Yovana Mendoza Ayres, 29, a professional social media influencer known as Rawvana, had made a name for herself on YouTube and Instagram by extolling the virtues of a raw and vegan lifestyle, now often referred to as "plant-based." Her YouTube channels – she has about 2 million subscribers on her Spanish language channel and another 500,000 in English – are filled with videos of her sharing vegan recipes and skin care routines. On her personal website, she sells meal plans, including a 21-day "Raw Vegan Detox & Yoga Challenge," to help people lose weight for $49...
The camera found her seated in front of a salad. Her arms dropping to cover the plate did not stop commenters from identifying a distinctly not plant-based item on her plate: fish...
In an emotional apology Ayres released on YouTube last week, she explained why she misled her fans. She changed her diet after years of significant health problems that culminated with doctors urging her to eat more food, including protein and eggs, she said.
The lifestyle of fitness, weight loss and wellness she had sold to her followers had apparently been making her ill.
I feel for this woman. I tried going vegan about five years ago and it was a disaster, even though I didn't adhere to it 100% – I jokingly called what I was doing a "Whegan diet" for "Whitney's vegan diet," but I'd guess I was 95% vegan.
I was hungry all the time and got a kidney stone, the most painful experience of my life, which my doctor thought was likely due to my radical change in diet. That was the end of that ill-advised experiment!
Best regards,
Whitney
Updated on