Walmart customers now not only won't have to worry about shopping for groceries, they won't have to pick them up from the store anymore, or even put them all away in their refrigerator. The retailer, on Friday, announced a new service in select U.S. cities allowing customers to get their groceries delivered directly to their refrigerator.
What's this new service?
Walmart's InHome delivery service will use company vehicles, while employees delivering the groceries will use proprietary wearable cameras. Further, the employees will use an undisclosed "smart entry technology," which will be controllable from a mobile phone, to enter the home.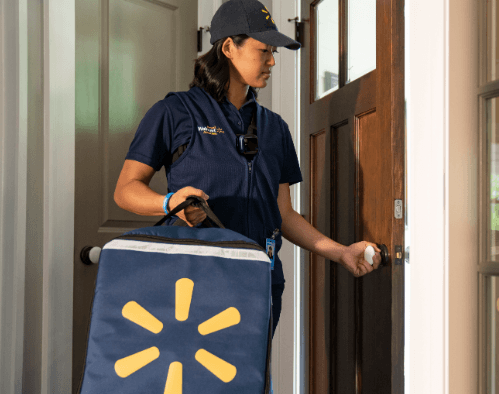 Customers, on their end, will be able to control the access and also watch the whole thing remotely. Also, they will have to buy the smart locks from Walmart to avail themselves of Walmart's InHome Delivery service, a company spokesperson told Business Insider.
Einhorn's FOF Re-positions Portfolio, Makes New Seed Investment In Year Marked By "Speculative Exuberance"
It has not just been rough year for David Einhorn's own fund. Einhorn's Greenlight Masters fund of hedge funds was down 3% net for the first half of 2020, matching the S&P 500's return for those six months. In his August letter to investors, which was reviewed by ValueWalk, the Greenlight Masters team noted that Read More
Describing the service, the company says it will take the order from "food aisle to fridge."  This new service will launch this fall in three cities initially: Kansas City, Missouri; Pittsburgh, Pennsylvania; and Vero Beach, Florida.
"Now we can serve customers not just in the last mile, but in the last 15 feet," Walmart said in a blog post. The company plans to "learn and scale from there." Going forward, the company will also allow customers to return the items purchased from Walmart.com by leaving them on the counter for Walmart's InHome representative to collect.
Walmart's InHome Delivery service is headed by Bart Stein, who joined the company last year. The team has already conducted a five-month test of the delivery program in New Jersey.
"But what if we not only cover the last mile to customers' homes but even the last few steps? What if we put their groceries away inside their kitchens or garages? Imagine keeping homes in stock like we do stores," Walmart CEO Doug McMillan said in a statement.
How Walmart's InHome Delivery service works
As to how this Walmart InHome delivery service will work, a customer will first have to place an order online for the InHome Delivery. The order will then be managed by the company's online grocery team, and handed over to the InHome Delivery associate.
Customers will get a pop-up when the delivery executive is near their home along with details like the photo of the delivery associate and some "fun facts" about the executive as well, including years of service with Walmart. The delivery associate will have to turn on the camera once they reach the customers' home in order to get access via the smart lock system.  

Customers now will be able to remotely watch the delivery via the camera attached to the delivery associate's body. Also, they will have the option to deny entry to the associate before the delivery.
Walmart has not yet revealed the delivery fee for the service. The retailer, however, says that the employees will get extensive training to ensure that they treat customers' homes with the same care and respect that they would show toward the home of a friend or family.
Also, the employees will get training in how to "organize the most efficient refrigerator." Further, employees that have worked with Walmart for at least a year will be eligible for InHome Delivery roles, notes a report from BI. Employees selected will primarily focus on deliveries. However, if they have time between trips they may be called for help with other services.
Walmart will share more details on the service later this year.
Growing focus on deliveries – why?
With this latest service, Walmart aims to take on Amazon. Both companies are engaged in a continuous battle over offering faster delivery to shoppers. Recently, both the retailers revealed plans of next-day delivery, with Walmart promising to extent availability of this service to about 75% of American consumers by the end of the year.
A point to note is that Amazon started a service similar to Walmart's InHome Delivery service in 2017, but it was scrapped a year later. Amazon, however, still has a service, called Key home delivery that delivers the package inside the customers' home, car trunk or the garage.
Retailers' growing focus on delivery is understandable considering the market size and the growth potential. As per Coresight Research, about 37% of internet users in the U.S. bought groceries online in the last twelve months. Also, the research firm estimates that 35 million more people will start buying groceries online between 2018 and 2019.
Coresight, in a survey of 1,888 adults in the U.S. this past April, found that the purchase of groceries online from Walmart increased to 37.4% from 25.5% in 2018.