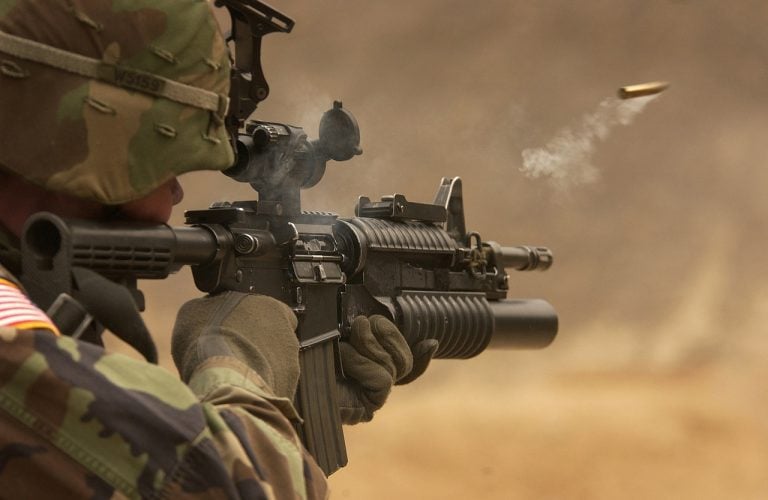 The odds of a U.S. vs Iran war ticked higher after Iran shot down an unarmed surveillance drone operated by the U.S. military over international waters. President Trump suggested it was merely a "mistake," but Tehran has had no comment on that.
U.S. lawmakers are now discussing what to do about what is generally seen as the most serious escalation between Washington and Tehran so far. It marks the first time Iran's military has directly attacked a U.S. military asset.
Here's what happened
Why The Term 'Value Investing' Is Redundant
What does value investing really mean? Q1 2021 hedge fund letters, conferences and more Some investors might argue value investing means buying stocks trading at a discount to net asset value or book value. This is the sort of value investing Benjamin Graham pioneered in the early 1920s and 1930s. Other investors might argue value Read More
According to ABC News, U.S. military officials say the drone was over the Gulf of Oman not far from the Strait of Hormuz. Iranian officials said the drone was "intruding" in their airspace, denying U.S. claims that it was shot down over international waters. Tehran also claims the drone was an "American spy drone," according to CNN.
The aircraft was surveilling the area where tankers have been attacked previously when a surface-to-air missile fired from the area of Goruk, Iran shot it down. Military officials describe the strike as an "unprovoked attack" and "an attempt to disrupt our ability to monitor the area following recent threats to international shipping and free flow of commerce."
Trump tweeted that someone in Iran had made "a very big mistake."
Iran made a very big mistake!

— Donald J. Trump (@realDonaldTrump) June 20, 2019
Tensions between the U.S. and Iran have heightened further this week after the Trump administration decided to deploy another 1,000 troops and military resources to the Middle East. Washington blames Tehran for the attack on oil tankers in the Gulf of Oman. Trump himself told Fox News last week that Iran carried out the attacks. However, Tehran denies those accusations.
This isn't the first time Iran has been accused of shooting down U.S. drones. A U.S. official told CNN that in the hours leading up to the attack on the tankers, Tehran launched a missile at another U.S. drone.
A way out for Iran?
According to ABC News, Trump seems unwilling to accept that Iran shot down the drone on purpose. During a meeting at the Oval Office, he was asked whether Washington would strike back, and Trump said they would "soon find out." He also said he finds it difficult to believe that it was "intentional," suggesting instead that it may have been "somebody who was loose and stupid that did it."
He emphasized that he thinks someone "under the command" of Iran made a mistake and did something they shouldn't have been doing. He also said it was fortunate that the drone was unmanned because that "would have made a big, big difference."
Discussions in Washington about how to respond to the strike are now underway. Lawmakers and officials attended a classified intelligence briefing from the Trump administration. House Speaker Nancy Pelosi told the media she thinks it's a "dangerous situation" and that the U.S. must "be strong and strategic about how we protect our interests." She also said she doesn't believe Trump wants to go to war.
Sen. Lindsey Graham told reporters that the U.S. must respond "with firmness and resolve." He believes Tehran will only change its behavior "if they believe Americans will put options on the table that will create pain for the regime."
U.S. vs Iran war: Tensions on the rise
Based on CNN's report, Tehran seems uninterested in accepting the way out Trump had provided. Revolutionary Guard officials said they shot down the drone to send a warning to the U.S. The head of the Revolutionary Guard said the only way for Iran's "enemies to be safe is to respect our sovereignty, national security, and the national interests of the great Iranian nation." He also said that although they don't want war, they are "completely, and totally, ready and prepared for war."
Tehran said this week that it will resume its nuclear program and speed up its uranium enrichment to 3.7%, which is more than the 3.67% allowed by the 2015 nuclear deal between Iran and world powers. Tensions between Washington and Tehran started to heat up in May 2018 when the Trump administration decided to exit the deal and begin sanctions against Iran again.
For now, the U.S. vs Iran war appears at a standstill as both sides wait to see what the other will do next.