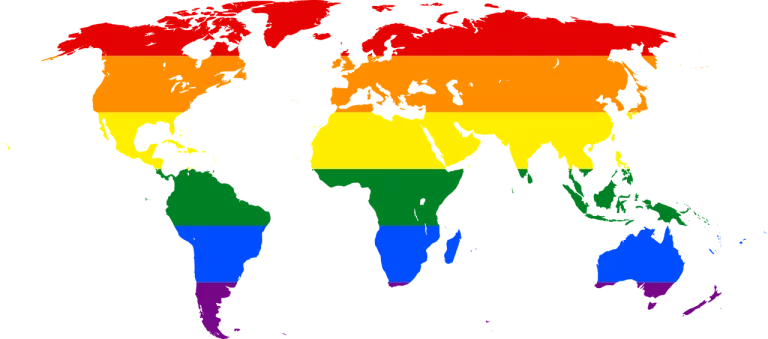 The lesbian, gay, bisexual, and transgender (LGBT) community has been demanding equal rights in several countries for years. All they want is to be treated equally by the broader society and by the law. But many countries such as Kenya, Saudi Arabia, Iran, and others have carried out state-organized killings of homosexuals. Not every country in the world is LGBT friendly. Here we take a look at the top 16 most LGBT friendly countries in the world.
The LGBT friendly countries have proper policies and institutions in place to ensure that all members of the LGBTQ community are treated equally and enjoy the same rights as others. Germany-based Spartacus International Gay Guide publishes an annual Gay Travel Index, ranking gay-friendly countries.
The Gay Travel Index ranks 197 countries across the globe based on 14 parameters such as anti-discrimination legislation, LGBT marketing, equal age of consent, marriage/civil partnership, and adoption laws. The Index subtracts points for anti-LGBT laws, religious influence, HIV travel restrictions, and murders, prosecution and death sentences to gay people.
Abacab Fund Sees Mispricing In Options As Black-Scholes Has Become "Inadequate"
Abacab Asset Management's flagship investment fund, the Abacab Fund, had a "very strong" 2020, returning 25.9% net, that's according to a copy of the firm's year-end letter to investors, which ValueWalk has been able to review. Commenting on the investment environment last year, the fund manager noted that, due to the accelerated adoption of many Read More
Three countries occupy the top spot with a score of 10. And 13 other nations finished in a tie for the 4th spot with a score of 9 each. The United States is not among the top 16. It is ranked 47th, sharing the spot with nine other countries like Thailand, Seychelles, Macao, Bermuda, Chile, Costa Rica, Croatia, Cuba, and Bosnia-Herzegovina.
The US declined from 34th place in 2017 to 39th last year, and 47th place this year. The decline can largely be attributed to President Donald Trump's attempts to "curtail transgender rights in the military," says the Spartacus International Gay Guide.
At the bottom of the ranking was Chechnya, the least LGBT-friendly country in the world. Right above Chechnya are Somalia, Saudi Arabia, Iran, and Yemen, each of which has murdered or prosecuted an LGBTQ community member for their sexual orientation.
These are the top 16 most LGBT friendly countries in the world, according to Spartacus International Gay Guide.
4- United Kingdom
4- Spain
4- Reunion
4- Norway
4- New Zealand
4- The Netherlands
4- Malta
4- Luxembourg
4- Iceland
4- Finland
4- Denmark
4- Belgium
4- Austria
1- Sweden
1- Portugal
1- Canada
The list is dominated by European nations, which have an impressive track record of supporting the LGBTQ community and promoting equality for them. Malta, a country that still bans abortion and didn't legalize divorce until a few years ago, legalized gay marriage in 2017 and introduced favorable adoption laws.
The European nation of Luxembourg legalized same-sex marriage in 2014. Its Prime Minister Xavier Bettel is the first openly gay prime minister of the country. He is also the first European leader to marry a same-sex partner while still holding the office.
Iceland is one of the happiest countries for the LGBT community. It is the world's first country to have an openly gay head of the government. Jóhanna Sigurðardóttir was Iceland's prime minister between 2009 and 2013. Finland has been at the forefront of recognizing the rights of LGBTQ people, allowing them to openly serve in the military. Finland also allows transgender people to legally switch their gender.
Sweden banned the anti-LGBTQ discrimination more than 30 years ago, and legalized same-sex marriage in 2009. Denmark has been way ahead of others in recognizing the rights of LGBTQ people. It legalized same-sex in 1933 and adopted the age of consent at 15 in 1977. Austria, another European nation, passed the same-sex marriage legislation earlier this year. Vienna recently hosted the largest gay festival in Europe.
Though Belgium started recognizing same-sex marriages in 2003, same-sex in the country has been legal since 1795. That's not a typo. It has also passed transgender and anti-discrimination laws. Portugal decriminalized homosexuality in 1983 and legalized same-sex marriage in 2010. Portugal has made significant strides since last year, when it was ranked 27th. Canada is by far the most LGBT friendly country in the world.