Third Point Partners' Dan Loeb called on Sony Corp (NYSE:SNE) to spin off its semiconductor business and list it in Japan. Loeb published a letter and a 102-page presentation in which he once more called for changes at the Japanese electronics giant, asserting that Sony should sell off its insurance business as well as stakes in Spotify, Olympus, and M3. Third Point estimates that these four investments currently account for 20% of Sony's market capitalization and that the Japanese corporation could focus more on its core businesses – gaming, music, and movies.
Third Point estimates that the semiconductor business could be worth as much as $35 billion within five years if Sony executes "on its long-term vision" outlined at its investor relations day in May. The activist compared Sony to Nestlé, another company it recently targeted through a special purpose fund, asserting that "we rarely find companies like Sony that have a depressed valuation, high-quality underlying businesses, numerous options for portfolio optimization, and a capable management team." Third Point published a website entitled 'A Stronger Sony' to detail its thesis.
ValueWalk's July 2022 Hedge Fund Update: Tiger Cub Hedge Fund Shuts Down
Welcome to our latest issue of issue of ValueWalk's hedge fund update. Below subscribers can find an excerpt in text and the full issue in PDF format. Please send us your feedback! Featuring Andurand's oil trading profits surge, Bridgewater profits from credit, and Tiger Cub Hedge Fund shuts down. Q1 2022 hedge fund letters, conferences Read More
Q1 hedge fund letters, conference, scoops etc
What We'll Be Watching For This Week
What will MiMedx' former-CEO Parker Petit do now that shareholders have rejected his demand for a return to the company's board?
Will Acreage Holdings shareholders support the proposed takeover by Canopy Growth or oppose it as advised by Marcato Capital Management?
Will HomeStreet shareholders save director Donald Voss' place on the board at the meeting on Thursday or vote in favor of his replacement with Blue Lion Capital's nominee.
Activist Shorts Update
With no new activist short campaigns disclosed last week, we're providing an insight into our latest short magazine feature, Not For Long. This month, Activist Insight Monthly spoke to German stock market regulator BaFin about its controversial prohibition of new or increased short positions in the shares of financial services and technology firm Wirecard for two months. The move came after years of campaigns at the company - including one from short seller Fraser Perring's now-defunct Zatarra Research & Investigations in 2016 - and a whistleblower account of fraud published in the Financial Times.
Hedge funds lined up to threaten legal action. Crispin Odey, founding partner at U.K.-based Odey Asset Management, one of the many activists short the firm's shares, told Bloomberg he was excited to take the market watchdog to court. Fahmi Quadir, whose New York-based fund Safkhet Capital is also short Germany's Wirecard, said in a 15-page public letter that the decision removed a "critical incentive" to investigate the true state of the company.
BaFin told Activist Insight Monthly that the suspension of short selling at the company was "necessary, legally indicated, and adequate." The watchdog said the move prevented a loss of confidence in Germany's financial market and cited the EU Short Selling Regulation. According to BaFin, the purpose of the regulation is to provide "preventive regulatory framework to be used in exceptional circumstances," meaning that short selling and similar transactions can be restricted in situations that are viewed as serious threats to financial stability or market confidence.
To arrange an online demonstration of Activist Insight Shorts, email us or view our product brochure to find out more.
Chart Of The Week
The number of Canada-based basic material companies to have been publicly subjected to activist demands between January 01 and June 14 in respective years.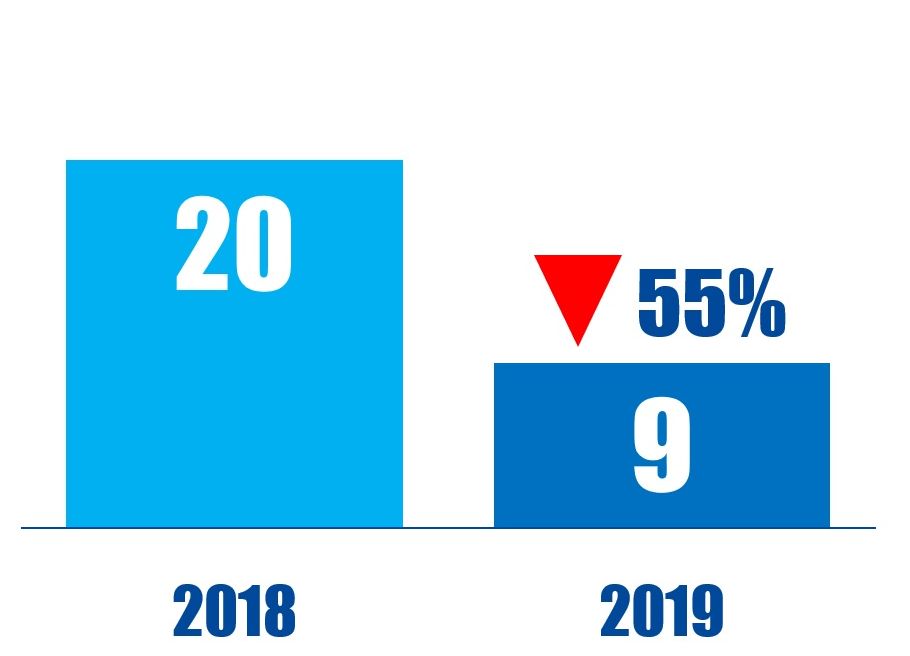 Updated on