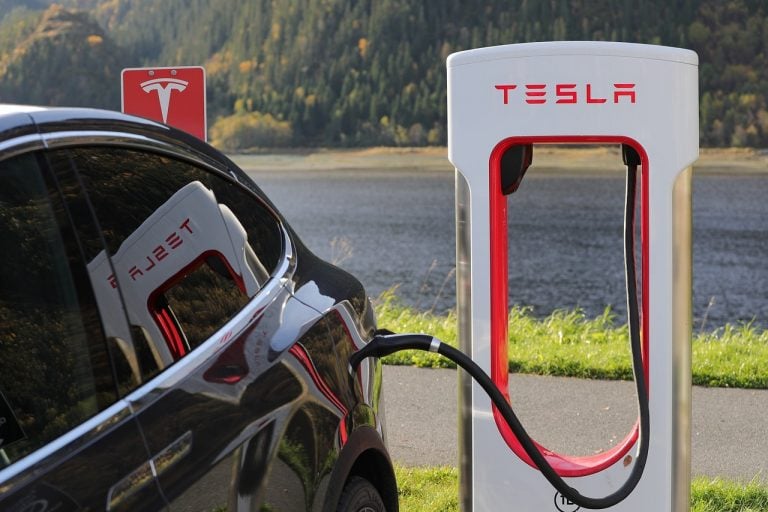 Tesla's biggest priority right now is the mass-market Model 3 vehicle. But the company is also aggressively working on a number of other products including the Model Y SUV, a pickup truck, and the new Roadster. Industry experts believe the Tesla Model Y SUV sales could be even higher than Model 3, which had received close to 500,000 pre-orders.
'The fastest way to get to volume production'
In the latest episode of Ryan McCaffrey's Ride The Lightning podcast, Elon Musk revealed that the EV maker's current "default plan" was to make the Model Y SUV at its Fremont facility in California. The hour-long podcast was recorded on May 29 at Tesla headquarters. Musk said he was skeptical about making the Model Y at the California plant, but his team convinced him that "the fastest way to get to volume production is to do the Y at Fremont."
I'm celebrating episode 200 of Ride the Lightning, my weekly @Tesla podcast, in THE BEST way possible: a 1-hour interview with @elonmusk himself! ? I can't wait to share our conversation with all of you! It airs this Sunday, June 2 @ 9am ET/6am PT on major podcast services. ?⚡️ pic.twitter.com/V0nFrU03Ir

Why The Term 'Value Investing' Is Redundant

What does value investing really mean? Q1 2021 hedge fund letters, conferences and more Some investors might argue value investing means buying stocks trading at a discount to net asset value or book value. This is the sort of value investing Benjamin Graham pioneered in the early 1920s and 1930s. Other investors might argue value Read More

— Ryan McCaffrey (@DMC_Ryan) May 30, 2019
Tesla currently makes the Model S, Model 3, and Model X at the Fremont plant, which is running at full capacity. The company produces drivetrain systems and battery packs at the Gigafactory in Nevada. Musk told McCaffrey that Tesla was evaluating the pros and cons of both facilities. Labor costs are particularly high in California due to the high cost of living.
Tesla plans to start Model Y production in late 2020 for the North American market. For Europe and China, production is expected to begin in 2021. The company is also setting up a factory in China to meet the local demand and export to neighboring countries.
Tesla deliberately kept the Model Y SUV reveal a simple affair
Tesla intends to launch the more expensive versions of Model Y first, which could cost up to $61,000 and offer a range of 280-300 miles. The base model with a range of 230 miles is unlikely to launch until 2021. It would have a starting price of $39,000. The Model Y will be built on the same platform as Model 3.
Tesla unveiled the Model Y SUV at an event in March. While Tesla's past events were big on glitz and glamor, the Model Y unveiling was a relatively low-key affair. Musk said he "intentionally didn't go all out with the Model Y reveal." He didn't want to convince people to buy Model Y instead of Model 3. "If everyone just decided to buy a Y instead of a 3, there would be no customers and there wouldn't be a Y," he told Ryan McCaffrey.
The Model Y SUV's range will be only 8-10% lower than Model 3. The vehicle's weight and shape will help it offer a longer range. That's quite impressive for a vehicle that can seat up to seven people. Musk said the company has tried to keep Model Y as similar to Model 3 as possible. Tesla has made only changes that were "necessary to achieve SUV functionality" while keeping a low drag coefficient and not increasing the front area too much.
Musk on Roadster, pickup truck, and V3 Superchargers
Talking about the next-gen Roadster, Musk warned that the electric hypercar is not the biggest priority for the company right now. It's only a "dessert." Tesla has been planning to launch the new Roadster in 2020, but we wouldn't be surprised if it gets delayed to 2021 or later. The electric vehicle maker is already taking reservations for the Roadster. The hypercar's production will be limited to around 10,000 units per year.
Musk also revealed that Tesla's upcoming electric pickup truck is "going to be pretty sci-fi." It won't look like a normal truck and it will be much more capable than other trucks. Musk pronounced that it's going to be better than F-150 in terms o "truck-like functionality." And it's going to cost a little less than $50,000 for the base model. The truck is expected to offer up to 500 miles of range and Dual Motor all-wheel-drive powertrain.
Elon Musk said Tesla would first start rolling out the Version 3 of Superchargers to locations used for long-distance travel. The company will also prioritize the replacement of the first-generation Superchargers. In short, the first-gen Superchargers on long-distance routes will be replaced first. The first generation Superchargers charge at just 75kW while the Version 3 delivers a power output of 250kW or 1,000 miles per hour.