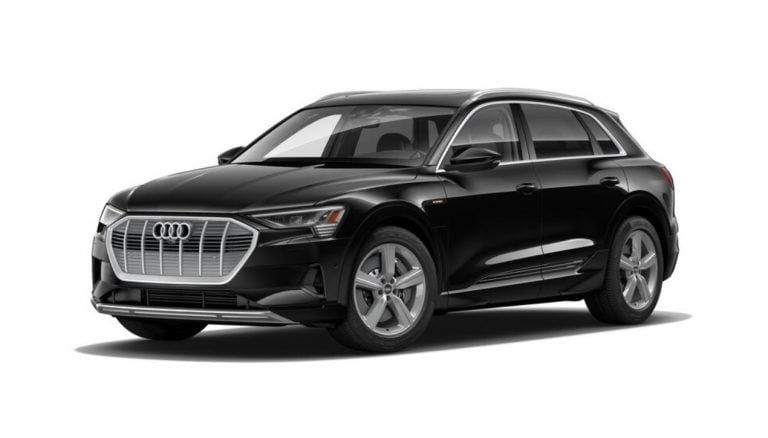 Whitney Tilson's email to investors discussing a Tesla Model S owner who test drove the Audi e-tron and plans to buy it; No White Knight Is Coming To Tesla Inc (NASDAQ:TSLA)'s Rescue; 11 very educational automotive industry videos.
1) A review of the Audi e-tron from a Model S owner:
Q1 hedge fund letters, conference, scoops etc
ValueWalk's July 2022 Hedge Fund Update: Tiger Cub Hedge Fund Shuts Down
Welcome to our latest issue of issue of ValueWalk's hedge fund update. Below subscribers can find an excerpt in text and the full issue in PDF format. Please send us your feedback! Featuring Andurand's oil trading profits surge, Bridgewater profits from credit, and Tiger Cub Hedge Fund shuts down. Q1 2022 hedge fund letters, conferences Read More
1/7

Test drove the Audi e-tron. Here are my take aways compared to the Tesla Model S 75D, which I currently own.

(1) The e-tron has a much quieter interior. No road noise, no rattles, no wind noise.

(2) The e-tron has a much nicer suspension. Tesla's ride is very harsh, imo.

— Dean Sheikh (@DeanSheikh1) June 4, 2019
Test drove the Audi e-tron.  Here are my take aways compared to the Tesla Model S 75D, which I currently own.
(1) The e-tron has a much quieter interior. No road noise, no rattles, no wind noise.
(2) The e-tron has a much nicer suspension.  Tesla's ride is very harsh, imo.
(3) The Model S has better acceleration.  But both have plenty.  The instant torque just makes both vehicles exceptionally quick compared to ICE.
(4)  The Model S large screen is better.  Easier for navigation input and the rear view screen display is useful when passing.
(5) e-tron's active lane assist is not as solid as Autopilot, but does make for fairly passive steering.
(6) e-tron's fit & finish are head and shoulders above the Model S.
(7) Assuming e-tron's paint is the same as other Audis, the quality is in another league.  The S paint is very soft and gets horrible swirls from car washing.  My previou Audi had no swirling after 4 years.
(8) e-tron uses a pre-heated battery.  Range in winter will be only slighly less than in summer.
(9) Handling on both cars is excellent, due to low CG. The e-tron did not feel like an SUV at all.
(10)  I didn't get to test e-tron's traffic jam assist.
(11) I didn't get to test the e-tron's head up display.
Items 1,2,6, and 7 are probably the biggest for me personally.
Others will want Autopilot and the false promise of level 5 autonomy next year.
One thing is for sure, the e-tron will put a big dent in both Model X and Model S sales.
2) Good points here: No White Knight Is Coming To Tesla's Rescue. Excerpt:
Summary
As Tesla's share price has collapsed in response to deteriorating fundamentals, bulls have sought alternative sources of succor.
Many investors are now clamoring for a buyout by another automaker, tech giant, or even SpaceX.
Even at its current comparatively depressed valuation, Tesla is still radically overvalued.
Auto industry bailouts virtually always happen at fire-sale prices, and Tesla has no reason to expect anything different.
If a buyer shows up eventually, it will almost certainly be when Tesla's share price has collapsed far below its still vaunted level.
3) I haven't had a chance to watch these, but wanted to pass this along from a friend:
11 very educational automotive industry videos
Mostly over the last few weeks, an unusually large assortment of excellent videos regarding the car industry were published on YouTube.  They concern, principally, these four major themes:
The car industry overall: Latest developments, China, etc.
Tesla, including the best reviews yet of the Model 3.
Reviews of the new electric car entrants from Kia, Audi and Mercedes.
Comparisons between Tesla and some of the newest competitors.
First, a view from China from an American who has been working in the Chinese car industry for a long time.  There is a long list of insights from this interview, but on the long list of items discussed is Tesla. This is probably the most bullish case I have heard for what is going on China with respect to Tesla.  Tesla bears must have some sort of response to this:
Second, the "Dean of the Auto Press Corps" for the last 25 or so years, John McElroy of Autoline, test-drives a Tesla Model 3 with "Navigate on Autopilot" or whatever it is called these days:
This is the best example yet of how to describe to the viewer what's going on in the car when you try to use this system.  It came out on the same day that the Consumer Reports verdict on the same system was rendered. The Consumer Reports story contained a lot of words, but didn't convey the "reality on the ground" as well as this video.  He is criticized for "not using it correctly" -- but that is kind of the point, isn't it? When one of the top experts in the field, perhaps the single most experienced auto reviewer alive on planet Earth right now, is accused of not using the system correctly -- then I'd say the system should not be put in front of the general public.  Read the comments and see the disconnect.
Third, Alex Dykes explains all the details of how he tests the range of all electric cars against each other -- real world testing -- and how he sees the real range of the base Tesla Model 3 version:
Spoiler alert:  Extensive testing against other EVs shows that there is one EV that's not like the others, as far as rated range (only 192 miles for the Model 3) vs real world range is concerned.  What do we make of this?
Fourth, Alex Dykes who owns a base Model 3, reviews the all-wheel drive Model 3 Performance version:
In that video, you will learn things that you have not heard in other videos.  Alex is perhaps the most detail-oriented car reviewer in the world today. He's very positive on the Model 3, but he discusses all aspects of the considerations a buyer should think about.  I can guarantee you will learn new things -- good, bad or in-between -- from watching him explain.
Fifth, Alex Dykes compares the base Tesla Model 3 against the Kia Niro EV and the 226 mile range version of the Nissan LEAF:
In this comparison-review, you will hear about things that you won't hear in any other.  For example, insurance rates. Who else researches this and compares?
Sixth, journalists were given the opportunity to drive the Mercedes EQC for the first time -- in Norway -- before it goes on sale in Europe mid-year.  Mat Watson's review is as usual very entertaining:
Seventh, Steve Fowler had just published a most glowing review of the Tesla Model 3.  Very shortly thereafter, he got the chance to drive the Mercedes EQC for the first time:
Eight, Canada's most prominent automotive journalist also gives his initial take on the Mercedes EQC:
Ninth, this is an interview with the chief engineer of Toyota's body-on-frame vehicles (large SUVs and pickup trucks).  He is an American guy based, at least for a few years, in Japan. Watch starting at the 36:45 mark, when he answers the question about whether Toyota should make electric body-on-frame vehicles -- trucks and SUVs:
His answer is what you will hear behind closed doors at the major automakers.  It's real economics, talking to real people -- not playing to the media's fascination with all things new technology.
Tenth, the Audi eTron went on sale in the U.S. market in the last week of April, when it recorded 253 units sold in that geography.  May will be the first full month of U.S. sales, so we will learn that number in early June. Here is a review from one of the most popular YouTube car review channels, TFL:
Eleventh: There is one more video that emerged on Friday May 31, with important new information on expected EV market share.  This video reports on a new Merrill Lynch EV market forecast (which is down 50% from its previous one, at least for the years 2025 and 2030, the original source of which I have not seen: (starting at the 1 minute mark)
Here is the transcript:
MERRILL LYNCH SLASHES EV FORECAST
Electric cars are very much in the news today. Merrill Lynch revised its forecast for sales of electric cars in the U.S. market, because it now believes that total EV costs are not coming down as fast as it expected. So it's slashing its sales forecast in half. It now says that EVs will reach 5% market share in 2025, down from its previous estimate of 10%. And they'll reach 15% in 2030, down from 30%. It says the average transaction price for EVs in 2025 will be $42,000, which prices them out of reach for most consumers. But it believes EVs will reach cost parity with ICEs around 2030, and based on its market share forecast, that would translate into 2.5 million EVs being sold every year in the US market.
Updated on