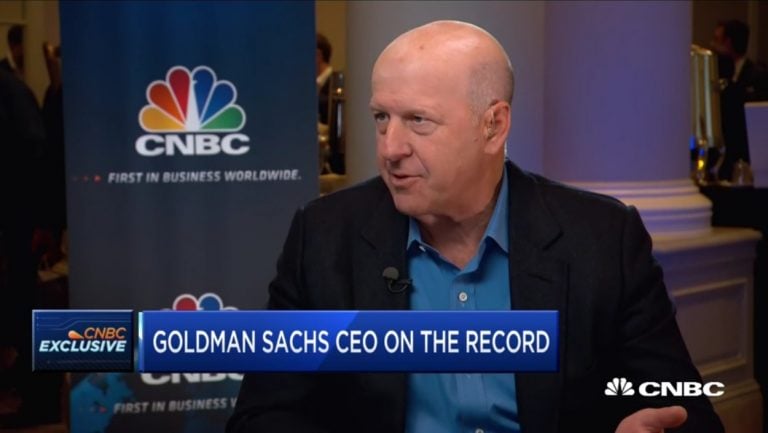 CNBC Transcript: Goldman Sachs Chairman & CEO David Solomon Speaks with CNBC's Carl Quintanilla on "The Exchange" Today

WHEN: Today, Tuesday, June 11, 2019
WHERE: CNBC's "The Exchange"
Fund Manager Profile: Zhang Hui Of China's Southern Asset Management
Historically, the Chinese market has been relatively isolated from international investors, but much is changing there now, making China virtually impossible for the diversified investor to ignore. Earlier this year, CNBC pointed to signs that Chinese regulators may start easing up on their scrutiny of companies after months of clamping down on tech firms. That Read More
The following is an unofficial transcript of a CNBC interview with Goldman Sachs Chairman & CEO David Solomon on CNBC's "The Exchange" (M-F, 1PM – 2PM ET) today, Tuesday, June 11th.  The following is a link to video of the interview on CNBC.com:
Q1 hedge fund letters, conference, scoops etc
Carl Quintanilla: banking and tech, Brian, that's what it is all about. Goldman Sachs CEO David Solomon is with us in an exclusive interview here at the code conference in Scottsdale. It's great to have you, David, thanks for your time.
David Solomon: always good to see you.
Quintanilla: you just got done presenting, or talking to Kara Swisher and Teddy Schleifer, on stage. Before we get into any of that and why you're here and Marcus and the way you're evolving Goldman. Any temperature on the quarter – on trading revenue, fee revenue or even the last couple of weeks and sort of the roller coaster we have been on?
Solomon: well, it's been an up and down quarter just from an activity perspective as we've seen sentiment shift back and forth. I can't comment on the quarter at this point, but there's no question that this has been a quarter where there have been times where asset allocators have been risk on and there have been times when they've been more cautious, and so we'll work through the next few weeks and we'll see where things come out.
Quintanilla: has the discussion of tariffs – particularly on Mexico and the way it was used for non-trade related purposes – done anything to confuse investors in your mind?
Solomon: well, I think you saw this, if you look at the last couple weeks in particular, over the last couple days, as we have kind of moved forward from the discussion with Mexico and you've seen a little bit of a relaxation and sentiment. I think the issue that is just interesting here that investors are wrestling with, is the president is using tariffs for a broader agenda than just trade and I think as that agenda broadens, it gives investors some concern. And so there is no question, watching the way the president chooses to use tariffs on a broader political agenda will have a market, will have an effect on market sentiment, risk on, risk off. And so we're watching that closely.
Quintanilla: what kind of impact?
Solomon: people don't like that. Uncertainty and dislocation is bad for risk assets. There's no question if the president continues to use tariffs for a broader political agenda, I think it can have an impact on market activity.
Quintanilla:  if he used it to perhaps nudge NATO countries to pay more?
Solomon: look, I think one of the things that is interesting here is we've got a complicated situation with china that I know there's a lot of consensus that we want to try to advance and move forward and make some progress with. But we also have, you know, some battles or skirmishes going on a number of other fronts, and I think the breadth of that can weigh on investor confidence and I think investors are watching that very, very closely.
Quintanilla: so you would rather see them be used perhaps on a bilateral basis with china and a multi-front engagement using tariffs as maybe something the market would rather see not done?
Solomon: well, I am not a big fan of the economic cost of tariffs and I think there is a real economic cost to the u.S. Economy and to U.S. Consumers. I do think that one of the things that is new and is uncertain is the broad number of ways with which the president's agenda is  potentially using tariffs and I'd rather see less of that and a more focused approach than getting us focused on china and how we're gonna resolve some of those bigger issues.
Quintanilla: you talked about china on stage a few moments ago. You know it well. You've had a jv there for fifteen years and you have been trying to get control of that. When the president says china has to make a deal, is he right?
Solomon: I think it's more complicated than that. I think that is a sound bite. I think that there are some fundamental issues of  disagreement that are very significant between US and China.  We've had a certain policy approach to china for a long period of time and we're now in a position where the world is evolved and it's important for us and I think it's important, I agree with the  president in pushing this, that we have to rebalance that. The question is, how will it happen and over what period of time? And personally while I think we can make progress potentially on certain issues or narrow issues around trade, this is gonna be a longer slog toward really rebalancing  some of these issues. And I think we're in a different place. When we've had disagreements with up-and-coming economic powers or up-and-coming, you know, world powers, it's been different. The last time we really had a conflict or a  disagreement with a very, very significant up-and-coming power was with russia and we weren't a big trading partner. Here we're a very, very significant trading partner with china and while we have disagreements, it is very, very hard to walk away from that economic relationship and how the world's economy is entwined in that.
Quintanilla: valuation - you talked about the markets a bit inside you said – I'm going to put words in your mouth here --
Solomon:  if I don't like them, I'll take them out.
Quintanilla: not a bubble, but people are willing to pay more for growth than maybe they have in past eras. Do you see discipline slipping when it comes to valuation?
Solomon: look, I talked about – some of those words, I think, were in line with what I said. When you're asked is it a bubble, that's a hard thing to respond to. I don't think we're looking at equity market valuations for tech that look like what we saw in 1999, 2000 and 2001. I do think because of the massive amount of monetary policy around the world and the fact that basically interest rates are zero or the risk-free rate is zero, less than zero in some places, people have been looking aggressively or moving out the risk curve and looking for risk assets. And people have been willing to pay a lot for growth and in that context, I think there are a number of technology companies – we're talking about that in the context about being here at the code conference – where people are really paying a lot for the future prospects of some of these businesses and that doesn't mean that it is a bubble, but it just might mean the end result they might not execute as flawlessly or in such a straight line with respect to  meeting those growth expectations and if so, the market will adjust accordingly.
Quintanilla: you were asked about the abundance of private capital and why these companies are able to stay private for so long. You said, in part, it's because there's no 6% yield on the ten-year and one day we might wake up and there will be a 6% yield on the ten-year. You believe that?
Solomon: I think that some day in history, I don't think this will be any time soon, the picture will look vastly different. So the question I was responding to in there was one about the availability of private capital and, again, it gets to this point. People are looking to move out the risk curve to find returns and I was just highlighting that if monetary policy in the world looked different, there might be a different quantity of this private growth capital available because people could find reasonable returns through other avenues, potentially with less risk. Now, I don't think that is something that is happening any time soon, but I was making the point if we woke up one day in the future and there was a 6% treasury, that the availability of private capital for new, young, growing businesses might not be as abundant as it is  today.
Quintanilla: you think that day might come when you're still in your current job?
Solomon: I have no idea when that day might come. I just think that those that say that it could never happen again, aren't probably looking at history through the same lens I would look at it.
Quintanilla:  you're here at a tech conference. Why?
Solomon: tech is just so important to almost any business, any operation at this point in time. I think about our clients around the world. No matter what business or industry they're in, they're using technology in their business to connect with their clients or customers, to deliver their products and services, to build, manufacture or improve what it is they do. Tech is just such an important part of the ecosystem that our clients are involved with. And so lots of investors out here, lots of interesting businesses out here, and it seemed like a good place to get caught up and kind of get a sense of how that is all evolving.
Quintanilla: you think you participating here moves Marcus forward in any way?
Solomon: I don't think it specifically moves Marcus forward, but we're excited about the digital consumer platform we're building and certainly, there are a number of consumer-oriented fintech companies that are out here, but I don't think my being here – it's really more of the context of our overall client platform, but we're very focused on Marcus and continuing to move that consumer platform forward and excited about what we've accomplished. We've got 4 million customers on that platform, we've brought in about $45 billion in digital deposits, we've announced our partnership with apple and the credit card that will launch at the end of the summer that's in beta and I feel good about the steps that group inside the firm is making to really build an interesting digital consumer platform for the long-term.
Quintanilla: how would you update investors on the credit card specifically, especially those who are suspicious that building a credit card is more difficult than it might seem?
Solomon: well, it's not an easy thing to do and we've been working at it for quite some time, but we're excited about the platform we have built and our partnership with apple. It's in beta right now and there are some employees at Goldman Sachs and some employees at apple that are using the card. I'm using the card -- I like the way it works. I like the simplicity and the  lack of friction when it comes to paying bills, looking at what you've spent, ease of use. And so I think it's gonna be well received. The early feedback indicates there will be a lot of interest in it when we finally do launch it later this summer. Not a lot more I can say about it at this point but we feel good about it and we're gonna make sure it's a good product for apple's customers and our customers.
Quintanilla: finally, I hate to ask you about all the calls that your strategists and research analysts make, but your chief economist says no rate cuts this year. Do you share that view?
Solomon: well, the market is certainly set up where the market has a very high expectation for rate cuts at this point in time. Certainly one in July at this point. You know, I'm watching, you know, I'm not an economist I'm not at the center of this, but it is interesting to me that we're at a moment in time where we really do have full employment. While the trajectory of growth might have slowed a little bit, there's no question, the economy is still growing, probably growing around trend, and the fact that we're sitting here and the markets now built an  expectation for a couple of rate cuts this year, you know, I'm not sure, you know, how that will play out, but certainly, if it's not going to happen at this point, the fed's gonna have to figure out how to walk the market back from that and that probably won't be good for risk assets if that's where we are. But it just is interesting at this point in the cycle that that's kind of where we sit.
Quintanilla: great seeing you.
Solomon: thank you. Good to see you. Thanks for taking the time.
Updated on