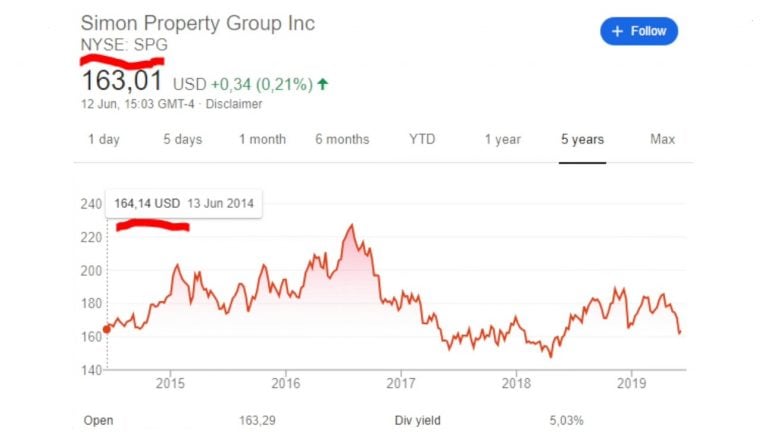 A dividend stock analysis of Simon Property Group Inc (NYSE:SPG). Sven Carlin discusses:
1:02 SPG stock and business overview
2:13 Class A Real Estate
5:00 Simon Property Group Debt
6:25 Growth and REIT acquisitions
7:05 Investing risk: retail
Simon Property Group Inc (NYSE:SPG) – REIT Dividend Stock Analysis
Q1 hedge fund letters, conference, scoops etc
Seth Klarman Describes His Approach In Rare Harvard Interview
In a rare interview with Harvard Business School that was published online earlier this month, (it has since been taken down) value investor Seth Klarman spoke at length about his investment process, philosophy and the changes value investors have had to overcome during the past decade. Klarman's hedge fund, the Boston-based Baupost has one of Read More
Transcript
Good day fellow investors. As I said in the read the overview pros and cons video today we're going to discuss Simon Property Group which is the largest U.S. more outlet REIT and it gives you a 5 percent dividend yield a one point seven percent buyback yield and probable growth between 2 and 4 percent. Let's take three percent on average which means that the total expected if things remain as is returned from Simon Property Group is 10 percent per year which is an excellent return especially given the quality of the real estate the quality of the business only class a moth. Plus it gives them protection on inflation and if people continue to go to those malls plus there is international diversification. This might actually be a gem in your long term portfolio delivering double digit returns. Let me give you an overview and a detailed presentation of the key things that you have to watch when it comes to reads that we discussed in the other video.
So Simon Property Group over the last five years the stock didn't go anywhere. However the company continued to increase dividends to grow revenues and nothing really hit the company hard despite the e-commerce threat. So today I want to discuss the dividend yield the buyback the growth and capital appreciation return their interest rate lease spread. I also will explain what it is the funds from operations from Sanger property group. I'll focus on their debt and the sector trends. So SPG owns malls and outlets in the U.S. Europe and Asia it looks like this. This is. Las Vegas. And I'm going to focus on the key aspects of investing in SPG and avoid the purely descriptive video as you can learn much more by just looking at the forty nine slides in their investor presentation just shortly seventy nine point five percent of net operating income comes from U.S. malls and outlets eleven point seven percent from the mills and acquisition they did in 2007 and eight board 7 percent is international. Now the key factors for SPG are the following.
They have glass A malls and outlets which means that dense densely populated areas high demand high occupancy. And we see Class D and C malls being in trouble which means when they those go bankrupt these highly quality attractive for consumer malls even see an increase of visitors. And we can see that because the average lease is per square foot increased over the last three years from fifty one point fifty nine 2016 to fifty four point eighteen in 2018. If a company can increase rents and keep a high occupancy rate it means their customers aren't really in that much trouble which means retail for Simon Property Group hasn't been in trouble over the past years. The lease spread is the difference between the new lease in comparison to the lease of the brand the previous tenant that might have gone bankrupt or closed like Macy's or something like that. The key is that rents have been increasing and continue to increase further.
Dividend is just 65 percent of funds from operations but still yielding 5 percent. Funds From Operations are twelve point eleven dollars per share expected to be twelve point four dollars per share in 2019.
So again growth. And the difference between the dividend of 65 payout of 65 percent is reinvested in buybacks or in new developments refurbishments that increase the quality of the assets and sell financed as they distribute only 65 percent of their cash flows.
The difference between funds from operations and net income is always depreciation. That is a non tax non cash charge as you can see dividends per share also have been constantly increasing as the group grows and continues to invest for growth. If they continue like this you can expect the 10 percent long-term return they are building new developments and refurbishing existing malls. So this is the Denver Premium Outlets they are building something in Mexico Malaga Spain they are building in Bangkok so growing and taking advantage of the low interest rates if they manage to continue to do business as they did up till now I would say 5 percent dividend one point seven percent buybacks 3 percent growth and the expected yearly return from SPG could be nine point seven or 10 percent if there is inflation even more over the next decade or two.
Updated on