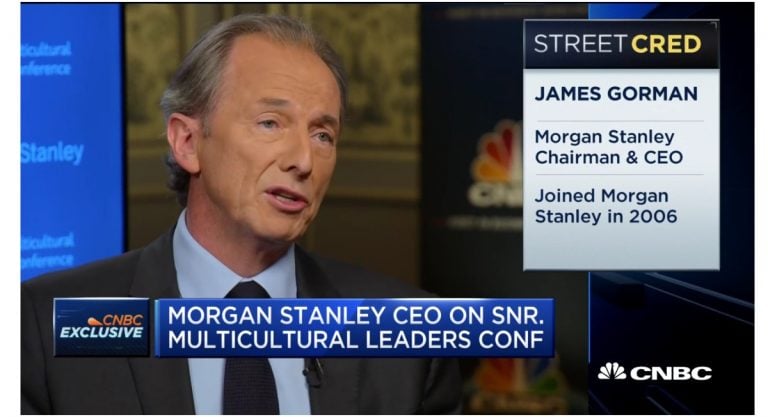 CNBC Exclusive: CNBC Transcript: Morgan Stanley Chairman and CEO James Gorman Speaks with CNBC's Wilfred Frost Today
WHEN: Today, Thursday, June 27, 2019
The following is unofficial transcript from a CNBC EXCLUSIVE interview with Morgan Stanley Chairman and CEO James Gorman and CNBC's Wilfred Frost which aired on CNBC's "Fast Money Halftime Report" (M-F 12PM – 1PM) and "Closing Bell" (M-F 3PM – 5PM) today, Thursday, June 27th. Earlier, CNBC's "Squawk on the Street" aired the first part of the interview, with transcript and video available at the following link:
Qualivian Investment Partners July 2022 Performance Update
Qualivian Investment Partners performance update for the month ended July 31, 2022. Q2 2022 hedge fund letters, conferences and more Dear Friends of the Fund, Please find our July 2022 performance report below for your review. Qualivian reached its four year track record in December 2021.  We are actively weighing investment proposals. Starting in November Read More
Q1 hedge fund letters, conference, scoops etc
Morgan Stanley CEO James Gorman on trade, the Fed and more
Morgan Stanley CEO dismisses Facebook's digital asset Libra
All references must be sourced to CNBC.
CNBC's "FAST MONEY HALFTIME REPORT"
SCOTT WAPNER: Morgan Stanley's CEO James Gorman, apparently not a fan of Facebook's new Libra cryptocurrency. At least that's what he told our own Wilfred Frost today during an exclusive interview.
JAMES GORMAN: I'm personally not that excited about new exchanges for crypto currencies or new forms of crypto currencies. I—I've said this many times and I may be proven to be dead wrong about this. I don't get it. I don't see the need for another form of stored value. I don't understand why the system needs another form of stored value. We have we have currencies. We have precious metals. We have reserve currencies. We have reserve notes. So, what – but, you know, apparently there's a need out there. But the fact we're not in that doesn't bother me at all.
SCOTT WAPNER: Well Wilfred joins us now with more. A skeptic I suppose you could say the least, Wilfred.
WILFRED FROST: Yeah. Absolutely, Scott. I also asked him whether Facebook had approached Morgan Stanley to be a part of the initial 28 partners. He said no. And I asked him whether he felt that Morgan Stanley could lose business because of Facebook's Libra coin. And he just smiled and said anything that has 28 partners doesn't sound like a very focused initiative. So, it doesn't sound like he felt threatened at all by that. And Scott, much more to come from that exclusive interview on closing bell at 3:00 p.m.
SCOTT WAPNER: Are you surprised, Wilfred, that he was as dismissive as he was about crypto currencies in general? It just makes me think back to when Jamie Dimon dismissed it out of out of hand as well.
WILFRED FROST: I was because times have changed Scott. And I think some of the banks who were initially skeptical have shown some signs of coming around to that, even if it was just to cover their own bases in case they end up being wrong. You would perhaps have thought a slight softening of the time. But we didn't get that softening of the tone. The interesting thing for me here going into that was: were the banks excluded by Facebook or did the banks decide not to partake? And he said that Morgan Stanley wasn't even approached. It doesn't sound like they would have said yes if they had been. But clearly on both sides there's a disagreement about the future of payments, the future of currency.
SCOTT WAPNER: Yeah. Appreciate it very much. Good stuff, Wilfred. We'll see the rest at 3:00.
---
CNBC's "CLOSING BELL"
WILFRED FROST: Welcome back. Earlier today, I sat down exclusively with Morgan Stanley Chairman and CEO James Gorman. When asked if the Fed should cut rates he said he would in fact favor a more conservative approach and that the Feds shouldn't use all their firepower too early. I asked, though, of a rate cut did arrive, what it would mean for Morgan Stanley itself.
JAMES GORMAN: Obviously it's not good from a yield curve perspective. But it's good if it stimulates activity in the markets and encourages confidence. So, you know, these things -- we don't run our business based upon, 'Is a rate cut in a quarter going to matter?' It's just not what we do. But, yeah, there are gives and takes on it obviously.
WILFRED FROST: When we look at credit quality, do you feel that the rate cut is needed? Are clients struggling to meet interest payments?
JAMES GORMAN: I don't think so. No. I mean, there is a lot of corporate debt. The most exposed segment in the credit market is student lending, which is a tragedy, actually. That these kids have this kind of debt hanging out with them going into their working lives. But, no, I would say this is not a credit crisis. We are not in a credit crisis. We are in a geopolitical confidence crisis.
WILFRED FROST: In terms of one big fear in the credit cycle that people keep mentioning is leverage loans or direct lending. Is that something people need to be concerned about and, if so, is it something the banks could get hit by?
JAMES GORMAN: I would be – I mean, the banks have been actually relatively conservative. Most of the big heavily regulated G-SIFIs including us I think have been relatively conservative. I would not, as I come out of our Risk Committee meetings, that's not something we're worried about. I can't speak for the street. The unsecured online lending space which has been explosive in the last several years, once we hit a downcycle, that will be severely tested. So, that is one area where I would poke and prod a little bit.
WILFRED FROST: But does it become systemic in the way that perhaps the mortgage link crisis was ten years ago?
JAMES GORMAN: Not remotely. I mean, it's just – having lived through that, having slept in my office for weeks, not remotely. This is a completely different environment. This is what you call a normal economic cycle and roughly every seven years you go into some sort of recession. Question is: is it shallow and short, or is it deep or long? What happened in '08 will was deep and long. The next recession my prediction is will be shallow and short. The economy is in solid shape. This is not remotely close.
WILFRED FROST: We'll get, I guess, an answer, about how strong banks are later today with the results of CCAR. If we do see all of the big banks with the regulator approval return what is being estimated by analysts to be about a 10% cash back yield, is that a sort of marker for you guys to say to investors, 'Look, we are seriously undervalued here, if we are able to return this capital and the regulators are saying we're safe enough to do so.'
JAMES GORMAN: Good question. Thank you for asking if we're undervalued. You know, objectively, absolutely. Right? This is crazy. The banks -- it's been ten years since the crisis. Our own capital basis has gone from 30 billion pre-crisis to over 70 billion today and our balance sheet is a third smaller. Our liquidity I think is about three times what it was pre-crisis. We are demonstrably safer and better capitalized and we are trading – we and the other big banks – around book value. Listen, in the short run markets get things very wrong often. In the medium term, sometimes if they misjudge macro. Long-term the market is never wrong, you're the one who wrong. And I think we're in one of those short-term funks right now with the bank stocks that you know, listen, as an executive you try not to watch the ticker too much, you just focus on the business. It will sort itself out. But we are well capitalized.
WILFRED FROST: Do you welcome the process you've just been through? Or is it a bit onerous? I think you had to submit 74,000 pages, is that right?
JAMES GORMAN: Yeah, 72,000.
WILFRED FROST: Oh, pretty short then.
JAMES GORMAN: Yes. Last year, was, I think 57,000 and the year before was 45,000. So, to those who think Dodd Frank has been severely weakened, it just isn't true. Right? The banks are highly regulated. Listen, an annual stress test making sure the big banks have sufficient capital is not a bad idea at all. I've said that many, many times. I don't have a problem with that.
WILFRED FROST: I don't know if you caught the debate last night, the world banks was only mentioned once. And the corporate focus is much more towards pharma health care and also to tech. Do you welcome that? That Wall Street is not in the cross hairs quite so much as it was in the past?
JAMES GORMAN: Wall Street shouldn't be. I mean, we did -- let's be fair here. We did the hard yards. We went through the crisis. In our case, we raised capital. We took an investor Mitsubishi on its 22%. We did a ground-breaking deal in Smith Barney to stabilize the organization. We dramatically cut risk. We shut all our prop businesses. We've built out our bank and wealth management business. We shouldn't be in the debate. We are not the problem. I'm not going to suggest who is a problem if there is there. But in a political debate somebody is going to find somebody to be angry at. The banking sector in the U.S. is not -- the banking sector in the U.S. is the best banking sector in the world right now.
WILFRED FROST: James Gorman there. Our thanks to him for joining us.
Updated on