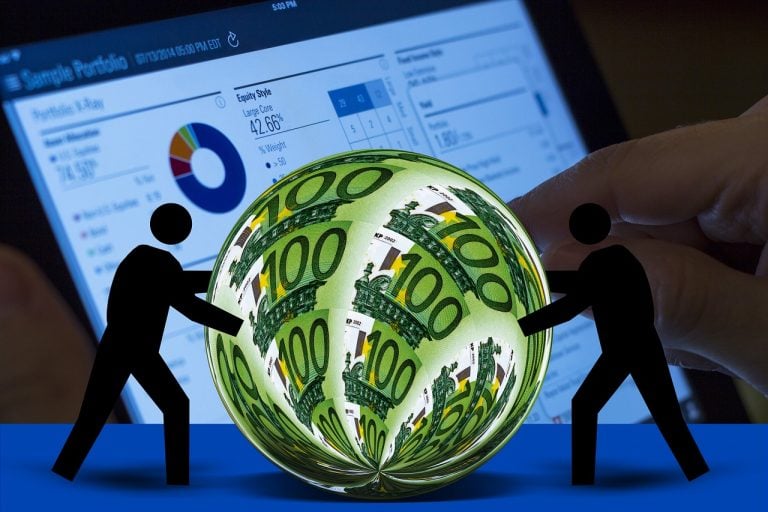 Process, Discipline, & Humility: Don't let your ego derail your investment strategy. Ignorantly self satisfied, Passive Investors to be swept away by the next tsunami. Paid to wait: Squeezing out income while you wait on capital appreciation.
Lila Murphy – Financial Forensics: Digging Deep To Discover True Value
Q1 hedge fund letters, conference, scoops etc
Carlson Capital's Double Black Diamond Strategy Gains 5.3% On Jewelry Play
Carlson Capital's Double Black Diamond fund added 3.09% net of fees in the second quarter of 2021. Following this performance, the fund delivered a profit of 5.3% net of fees for the first half. Q2 2021 hedge fund letters, conferences and more According to a copy of the fund's half-year update, which ValueWalk has been Read More
Transcript
Welcome to the McAlvany weekly commentary. I am Kevin Oreck along with David McAlvany. Well today the guest is very special because this guest actually has a long term working relationship with a good friend of yours and someone who helps us here at the McAlvany any family. Doug Noland her name is Lila Murphy. Yep.
McAlvany Wealth Management was started in 2008 and we managed through a very difficult period of time 2008 9 10. These were periods where traditional asset managers really suffered and we actually had some stellar returns in the years which were toughest for most asset managers. And I think what we see in the wealth management team today is world class analytics and you know you think of technology you think of Robert Draper and now kind of the newest addition to the team Lila Murphy she's the maps industry specialist and also working as an analyst on tactical short and quite a background with natural resources. She sits on the board of Dundee Corp. which is a Toronto Stock Exchange listed diversified holding company I think of it as almost a merchant bank within the natural resources space. Looking at real estate and wealth management and agriculture and you have great reputation if you're in Vancouver Toronto the folks at Dundee have a stellar reputation. She was invited to be on their board professionally and her management experience within portfolios prior to 2018 Lyla was working as a portfolio manager on the alternative investment team at Federated Investors. She's also worked with David. Yeah exactly. And in both places she's been responsible for capital allocation stock selection portfolio construction for you know 40 stock hard asset strategies. And you're right David Tice she was working on two different hedge funds. The prudent Global Gold Fund and the prudent global natural resources one she's used to also managing on teams that are managing in the billions.
And so we're these are big decisions but you know one of the things that you've talked about being so important is to be almost like a private investigator willing to dig and dig and dig and dig too. You call it forensic accounting right or forensic analysis. We think of that in crime scenes but actually forensics goes very deep when you're talking about financial assets and analysis of companies.
This is something that Y was passionate about and passionate about it continuing to pursue a CPA designation on top of her CFA designation that is chartered financial analyst. Is it ever enough not if you're infinitely curious and interested in the details so I think that's one of the things that sort of marks Lyla uniquely as a contributor to the team she loves process she loves discipline she loves accountability and in that sense she's a perfect match for the dynamics that Doug is certainly a part of. And the roles that he's played in the past and the roles that he plays today both as the tactical short portfolio manager and as the mass market strategist.
Well as you know Dave from 2011 on when Dundy came out and said we'll do whatever it takes actually Investment Management became very difficult after that because in a way the stupid people started winning the game and the people who were doing the deep digging really weren't being rewarded for it. Because we have passive investing you know this period of time where passive investing actually seems to work better than analysis. But you and I both know that that never lasts. And Howard unstuck you know the last thing that he told me when he was giving me a word of wisdom was Kevin remember the cycle itself prevails. Now you have to have good management at that time. But while you wait to see one of the problems with management is you can buy the right thing and it can go down or go sideways for an awful long time before your analysis is correct Layla's philosophy has been well why don't you get something that'll pay you to wait. Now that makes a lot of sense if you're needing income be paid to wait be in the right investment but you don't necessarily have to sit there stagnant Yeah who we are and how we operate within the financial sphere is with a focus on hard assets on real things.
And yes we do prefer real things hard assets with cash flow. So combining those two things certainly our clients are looking for more of an income stream but they want to know that what they own is real and tangible and not just a figment of someone's imagination or the product of the current craze within the marketplace fad good today but gone tomorrow. So yes we are interested in rolling up our sleeves and literally digging in the dirt. Lyla spends a lot of time in the field and talking to management and doing just that. So what you see today in the MWD offerings is a macro economic top down approach married perfectly with a bottom up approach which is focused on the micro fundamentals.
Well Dave we've both read for decades the credit bubble.