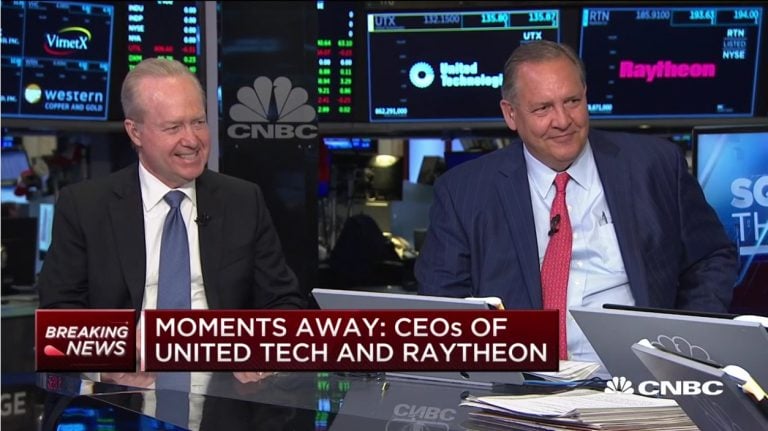 CNBC Excerpts: CNBC's Phil LeBeau's Interviews at the Paris Air Show Today, Monday, June 17
The following are excerpts from the unofficial transcript of CNBC's Phil LeBeau's interviews at the Paris Air Show, including: United Technologies Corporation (NYSE:UTX) CEO Greg Hayes; U.S. Secretary of Commerce Wilbur Ross; Raytheon Company (NYSE:RTN) CEO John Harris; Lockheed Martin Corporation (NYSE:LMT) CEO Marillyn Hewson; Boeing Co (NYSE:BA) Chairman and CEO Dennis Muilenburg; and Air Lease Corp (NYSE:AL) CEO John Plueger. Video from the interviews aired across CNBC's business day programming today, Monday, June 17th. Clips are available below.
Q1 hedge fund letters, conference, scoops etc
Greenlight Capital Full Q2 2021 Letter: Einhorn Thinks Inflation Is Here To Stay
David Einhorn's Greenlight Capital returned -2.9% in the second quarter of 2021 compared to 8.5% for the S&P 500. According to a copy of the fund's letter, which ValueWalk has reviewed, longs contributed 5.2% in the quarter while short positions detracted 4.6%. Q2 2021 hedge fund letters, conferences and more Macro positions detracted 3.3% from Read More
Greg Hayes, United Technologies CEO
Greg Hayes on Merger:
We've talked to a lot of investors, including Bill and including Dan. And I would say they have both been respectful as we have laid out the rationale. I think the question for everybody is, 'Look, you have got this great commercial aero business--why would you add a defense segment to it?' And the answer is really simple. We're already 27% defense. We're not just commercial. This is not losing focus as an A&D company. This is simply giving us scale on a technology standpoint – from a technology standpoint to do things we couldn't possibly do before. Whether it's advanced analytics, whether it's AI, autonomy in cockpit, cyber protection for aerospace systems. It is phenomenal the opportunities we have.
Greg Hayes on the Boeing 737 Max:
GREG HAYES: This is not about solving the MCAS problem. Right? We've--
PHIL LEBEAU: Because they said they've got the fix if it gets approved.
GREG HAYES: The fix is done. Right? The AOA sensors, all of the logic, all of that has been done. This is getting the regulators to understand how the fix has been implemented and giving them the confidence to recertify the aircraft. Which I think - I mean, it's going to happen. Whether it happens in six months or three months, we'll see. But it will happen.
Wilbur Ross, U.S. Secretary Of Commerce
Wilbur Ross on China Trade:
WILBUR ROSS: There were, to begin with, several different categories of issue. The easiest ones are to get them buy a little more LNG, few more soybeans, a few more this and that. Because they have to buy those products from somewhere and we are very price competitive. More difficult is structural reforms, but very important to us: Intellectual Property, respect, no longer forcing technology transfers, no longer requiring joint ventures, giving equal market access for govt and civilian procurement. That's relatively hard. But the hardest part and where, if this doesn't work, it would probably fail is enforcement. Because given China's record it's very, very important to us that we have good enforcement. And that's tough.
PHIL LEBEAU: Is that the issue right now—the biggest stumbling block-- the enforcement component of this?
WILBUR ROSS: Well, we suspended the talks, as you know, some weeks ago because we felt that things that in our mind had been agreed were no longer agreed. So, there was a backward movement. We need to recoup that and then go forward and try to close out the remaining issues.
WILBUR ROSS ON TRADE DEAL
Very hard to put a time table on things. I think that we will eventually probably make a deal. But, if we don't, the President is perfectly happy with continuing the tariff movements that we've already announced as well as imposing the new ones that he's temporarily suspended.
Wilbur Ross on Euro Parts:
WILBUR ROSS: Well I'm an optimist by nature. so I think there's a very good chance we'll work something out with them. I certainly hope so. But if not the President is totally comfortable going the other direction.
PHIL LEBEAU: He would put tariffs--
WILBUR ROSS: Absolutely.
PHIL LEBEAU: -- on European automobiles?
WILBUR ROSS: Well, he's indicated that he's giving serious thought on putting tariffs on cars coming in from anywhere.
John Harris, Raytheon International CEO
John Harris on Trade:
Here's the thing. In this marketplace, we don't compete against just companies. We compete against countries. Having the support of the U.S. administration is very important. Give us an opportunity to have a level playing field and that's all we really want to have is a level playing field and an opportunity to showcase our capabilities and provide the solutions our customers are looking for.
Marillyn Hewson, Lockheed Martin CEO
Marillyn Hewson on Driving the Cost Down:
We made a commitment well over five years ago that we were going to drive the price of the aircraft down to 80 million dollars on our conventional A variant and we've been able to drive it below that one year earlier. So an earlier lot and that's due to a lot of work across the supply chain and working directly with the U.S government on the things we need to do to bring the best produce ability and get this volume buy that allows us to get to a better unit cost.
Marillyn Hewson on Consolidation:
We have been seeing some consolidation, as you've mentioned, over the last few years and the competitive landscape is very important to us. We're going to monitor that transaction, we're going to look at what -- evaluate what it means for us. But what I will tell you amid all of that consolidation and other activity in the industry, we're seeing growth for Lockheed Martin. And our programs and capabilities are well supported by the U.S. government's budgets. There's defense spending that's increasing here in Europe and around the world. And we're growing.
Dennis Muilenburg, Boeing Chairman & CEO
Dennis Muilenburg on Time Table:
Well certainly we hope to have that done by before the end of the year as I said. I can't give you a specific time table. That will be governed by the regulators. We're keeping our airline customers very much in the loop so that they know exactly what's going on. But it's important for us to focus on safety. We'll get it back in the air when it's safe. That is the most important thing here.
Dennis Muilenburg on Steady Progress:
We expect it to be before the end of the year. We're making good steady progress. But I don't want to put a specific time table on it because again, we want to focus first on safety. We will fly when it's ready to fly, when it's safe and that will be the most important thing.
Dennis Muilenburg on Strong Marketplace:
DENNIS MUILENBURG: We continue to see a very strong marketplace. We're just updating our Boeing Market Outlook this week. We see the 10 year marketplace growing from 8.1 trillion dollars to 8.7 trillion dollars, in our estimate.
PHIL LEBEAU: Largely because of commercial?
DENNIS MUILENBURG: Commercial growth and we see the number of new commercial airplanes over the next 20 years growing from 43K to 44K. So we see continued sustained growth. I think the other thing you see if structurally is a less cyclical market and more of a sustained growth market.
Dennis Muilenburg on Pilot Demand:
This is one of the biggest challenges we have going forward. If you look at those 44,000 new airplanes over the next 20 years, to go along with that we need about 800,000 new pilots, 750,000 new aviation technicians. And so building that talent pipeline for the future is really important. That scenario where Boeing will be making additional investments, not only in our products but also in building that future talent pipeline.
John Plueger, Air Lease CEO
John Plueger on the XLR:
This aircraft, the XLR, even adds further range and capability to that aircraft type. Common cockpit all the way around. We're getting extremely strong expressions of interest in that aircraft from a lot of our customers globally. So it's a very easy and natural thing for us to do. And we believe it's going to be a blockbuster.
John Plueger on XLR Demand:
There's huge demand there. And the great advantage of 321xlr for an airline is not having to fly a widebody on some of city pairs that really don't demand it. Listen, your profitability and, in fact, I would add your environmental sustainability  and contribution is optimized when you have a right sized aircraft for the mission. And this is the right sized aircraft for those segment lengths up until about 4,700 nautical miles. Which was about 757 was. So this is really, in our view, kind of a true 757 replacement, but on a much more fuel efficient basis.
John Plueger on the Boeing 737 Max:
I just don't know. Clearly everyone is looking at regulators for their endorsement of the Boeing fix. We've reviewed the Boeing fix and we believe, we have confidence in it. But it really is up to the regulators and Boeing to prove to everyone: to us as buyers, to the airlines who operate the aircraft and most importantly to the traveling public that this aircraft is in fact safe and they've made it more safe.