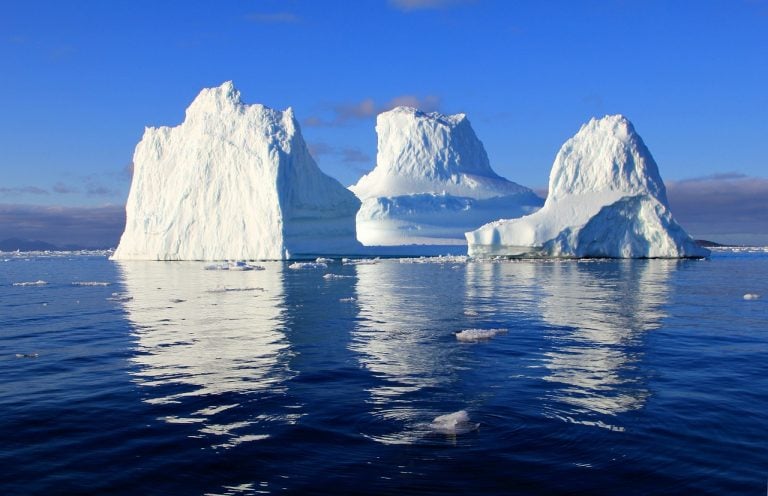 Summer technically begins on Friday in the northern hemisphere, but in some areas, it started earlier, at least based on temperatures. According to the Agence France-Presse (AFP), Greenland's summer melting started early. Right now Greenland is experiencing some dangerous ice melting, and oceanographers and climatologists are already making alarming predictions about the consequences it could have for those living there.
There is enough ice on Greenland to cause a massive global sea level raise of 20 feet if it melted completely, according to the National Snow and Ice Data Center (NSIDC). After Antarctica, Greenland is the second-largest ice deposit on Earth, so if it melted, it could have catastrophic consequences for coastal cities and communities.
According to research from earlier this year, Greenland's ice is melting faster than ever before, especially during the summer, so quick actions should be taken to prevent the continuous melting process. According to AFP, researchers noticed that Greenland's summer melting has already reached baffling levels this year.
Jim Chanos Unveils Lastest Short As Fund Manager Bets On Further Market Declines
Jim Chanos has a new short target in his sights. Earlier this week, the hedge fund manager disclosed that he is betting against "legacy" data centers that face growing competition from the trio of technology giants, which have previously been their biggest customers. The fund manager, who is best known for his winning bet against Read More
"There was a dry winter and then recently [there has been] warm air, clear skies and sun — all preconditions for an early melting," Danish Meteorological Institute (DMI) climatologist Ruth Mottram told AFP.
Mottram and her team conducted research which found that Greenland lost 4.1 billion tons of ice on June 17, and there has been a total of 41 billion tons of ice lost to melting since the beginning of June.
While scientists have spotted the rapid melting of ice in previous years, it's shocking how early Greenland's summer melting started. Annual ice melt is normal for Greenland because it's always followed by growth cycles, which have been more or less balanced in previous years. However, in 2019, the ice melting season started in early May. That's one month before the melting typically starts, and it has happened only once before (in 2016) since the records started.
The ice is also melting incredibly fast, and due to climate change, it has had more time to melt than just in the summer like before. If the climate system around the world were more balanced, it would be able to melt more slowly. Since researchers started tracking data on the melting, Greenland has contributed to the global sea level rise by half an inch.
"It's possible that we could break the records set in 2012 for both lowest Arctic sea-ice extent … and for record high Greenland ice-sheet melt," Mottram told AFP.
If the calculations and measurements don't provide enough evidence that Greenland's summer melting is doing more bad than good, perhaps a visual representation of what's happening there might rise awareness. A viral photo shared on Twitter showed a group of sled dog teams trying to conduct a mission. Due to massive ice melting, they were forced to turn back.
Communities in #Greenland rely on the sea ice for transport, hunting and fishing. Extreme events, here flooding of the ice by abrupt onset of surface melt call for an incresed predictive capacity in the Arctic @BG10Blueaction @polarprediction @dmidk https://t.co/Y1EWU1eurA

— Steffen M. Olsen (@SteffenMalskaer) June 14, 2019
Updated on