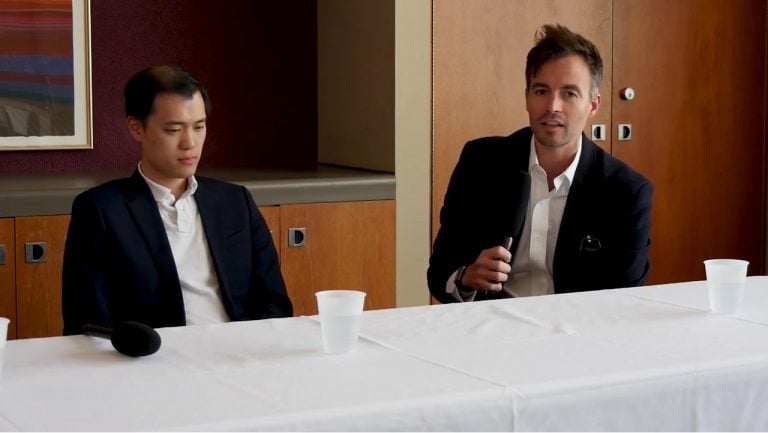 This video with Hayden Capital's Fred Liu and GreenWood Investors' Steven Wood is part of our video series about the Berkshire Hathaway Annual Meeting.
In this video we have discussed:
At the beginning we are our talking about the impressions and takeaways from the Berkshire Hathaway Annual Shareholders Meeting
At 04:58 we look at China and Fred thinks of an interesting chinese investment for Berkshire.
At 06:30 Steven discusses a potential investment for Berkshire in Europe
At 08:38 Fred explains his approaches.
At 10:30 Fred explains some the companies he owns.
At 14:00 Steven gives some insights into Tripadvisor Inc (NASDAQ:TRIP).
At 15:44 we discuss the investments in Europe. We begin with Ocado Which is followed at 18:00 by zooplus AG (OTCMKTS:ZLPSF)
At 22:49 the discussion ends up with talking about unknown facts about Warren Buffett and Charlie Munger.
What's up at Zooplus, TripAdvisor & Berkshire? Fred Liu (Hayden) & Steven Wood (GreenWood) discuss
Robinhood 2021 Conference: Cathie Wood discusses her investment process with Lee Ainslie [Exclusive]
ARK Invest is known for targeting high-growth technology companies, with one of its most recent additions being DraftKings. In an interview with Maverick's Lee Ainslie at the Robinhood Investors Conference this week, Cathie Wood of ARK Invest discussed the firm's process and updated its views on some positions, including Tesla. Q1 2021 hedge fund letters, Read More
Q1 hedge fund letters, conference, scoops etc
Transcript
Welcome from Omaha Airport two hour after Berkshire Hathaway meeting talk with Steven Buffett and Fred Lew. WELCOME. TO. BE HERE STEVEN. You ask a question at the shareholders meeting of Warren Buffett and Charlie Munger and Berkshire Hathaway. What was the question and how satisfied are you with the answer.
No one's ever satisfied with the answer because they go into template mode template talk mode. But the question is basically you know that it was a leading question I'm writing a book and Buffett has generously given like sort of a full letter back of feedback and it was a follow up question which is basically I wanted to know the motivation and also the motivation that he has clearly he doesn't. He doesn't think of him or he he he. There was another question actually better quite a quite a bit better than mine about Bob deferred gratification. Clearly Warren doesn't is not doing this for the money. I mean he was he has an agenda membership. He's not he's not spending any of it. He's not living that lifestyle right. It's all I think that Buffett is is his primary motivation. It seems obvious to me with Berkshire's investments he's just building something that can just continuously compound. So and the idea came from me after looking at Vanderbilt when venerable died on the inflation adjusted. Well you know total wealth creators of all time he was like maybe 13th but ten years later his son just basically kept everything intact. It had compounded to the point to where he was then second. Right. And so it seemed very apparent to me that Buffett is basically trying to build something that can just continuously compound for quite a long time where basically in a hundred years. Buffett's in the top five on the league table if not maybe even close to that to the top.
I mean there's quite a he has quite a quite a ways to go to get there. And so I basically asked him what it was his primary motivation and how do you build a compound machine that can actually can actually adapt so that it can continue to compound. And then I said Is this your primary motivation. When you wake up every day and the best part of the answer was he said. It is absolute. It is the only reason why I wake up. So is he in some respects he validated it and then they basically just talked about how the compounding is going to be lower than a lot of other companies and they sort of watered down expectations which is smart right. But I end up Buffett has to. Keep his persona his public persona in line with this the folksy Nebraska person that he he is in some respects but he also is a fairly. One of my favorite Buffett quotes is is intensity is the price of excellence. And he is fairly intense and he has an intense focus and but he just you know and so I was leading a question you're trying to get him to talk about. That that myopic focus on like this big compounding machine. And so he delivered in some respects and he didn't in other or other respects. So. Fred what questions do you have to add. To the book to have the meetings and what were you takeaways.
In terms of takeaways. You know what Stephen was saying. I think it's interesting that Buffett has kind of changed his tune on that tech investments. You know over the last few years he's talked about how they kind of miss Google how they truly respect Bezos. And it seems like for the first time this year they've almost capitulated in a bit.
Well they've always shown an ability to adapt. There's always adapting and that's what how does how does adaptation outlive monger and Buffett. Yes in this organization that was part of the reason why I said right. Exactly hated airlines are long here. Now they're the largest airline investor in the world right. So and now they're adapting. You could say capitulation but this is adapting and adapting is probably a better yeah for it. Yeah. But you know in investing the world is constantly changing. Right.
And especially with new business models and different populations kind of entering this call the global economy you have to adapt the way that you think about businesses. And it's actually really great to see them kind of admit that and say you know hey you know we grew up in an era where maybe our frame of reference or mental models aren't so. Attuned to the tech universe. But you know it doesn't mean that it's the wrong way to invest. I thought that was fantastic.
How many ninety five year olds actually have you ever seen it. Have you ever seen adapting. Right yes. So.
You are invested in China and China. Chinese people were. You saw them all over the meeting. Yes. Yeah. There's a huge Chinese community going.