Everybody gets excited by the phrase "million-dollar (or insert local currency) home" – but regardless of the currency, homes of the same financial value and floor space may look very different depending where you live.
Okay, so a million bucks isn't what it used to be. But in most places, it's still a sign that you're doing more than okay and can afford to splash on a few luxuries at the same time as looking out for your wider community (for example, by matching your savings with your charitable donations dollar-for-dollar as some of our most admired philanthropists do).
Exclusive: York Capital to wind down European funds, spin out Asian funds
York Capital Management has decided to focus on longer-duration assets like private equity, private debt and collateralized loan obligations. The firm also plans to wind down its European hedge funds and spin out its Asian fund. Q3 2020 hedge fund letters, conferences and more York announces structural and operational changes York Chairman and CEO Jamie Read More
[REITs]
Q1 hedge fund letters, conference, scoops etc
If you grew up dreaming of a million-dollar mansion, what it looks like today could be very different from what you imagined. Would you still get a pool, twin garage, helicopter pad, private bowling alley for your million? Or does inflation mean you need to economize here and there?
Again, it depends where you're buying. As the researchers of a new data visualization show, a million British pounds (around $1.27m) will buy you a completely different scale of property if you're in Glasgow or Manchester than if you're in London.
The researchers created an interactive map that compared Britain's 'million-quid' homes with each other and with cities from around the world, imagining 20 such properties in total.
They averaged out the cost-per-meter from a number of apartments, condos, houses, and villas around the chosen cities to come up with a general guide to how much you get for your pound – and your million pounds – in those prominent international locations.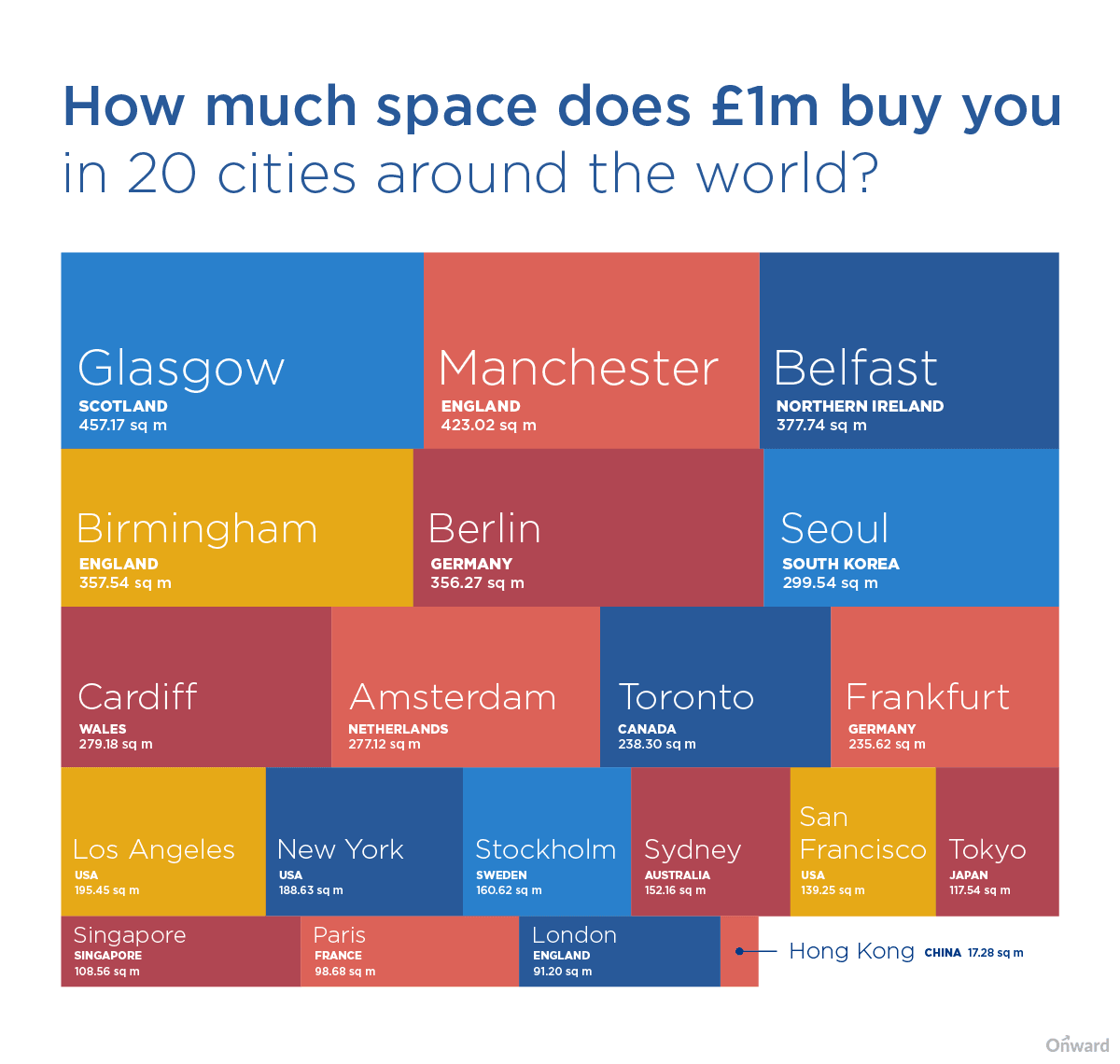 A millionaires map
The first visual is a map that shows in one look how the figures vary from city to city. From Toronto in the west, where you can get around 238 square meters for your million quid, to Tokyo in the east, where you'll get about half as much floor space for the same money, it's a revealing glance at how not just the wealth but the size of a city has an impact on the demand for floor space and what it costs.
Perhaps unsurprisingly, the US cities examined all belong in the most expensive/least floor space per pound half of the comparison. In New York, you might get around 190 meters for your million pounds, and about fifty meters fewer in notoriously expensive San Francisco.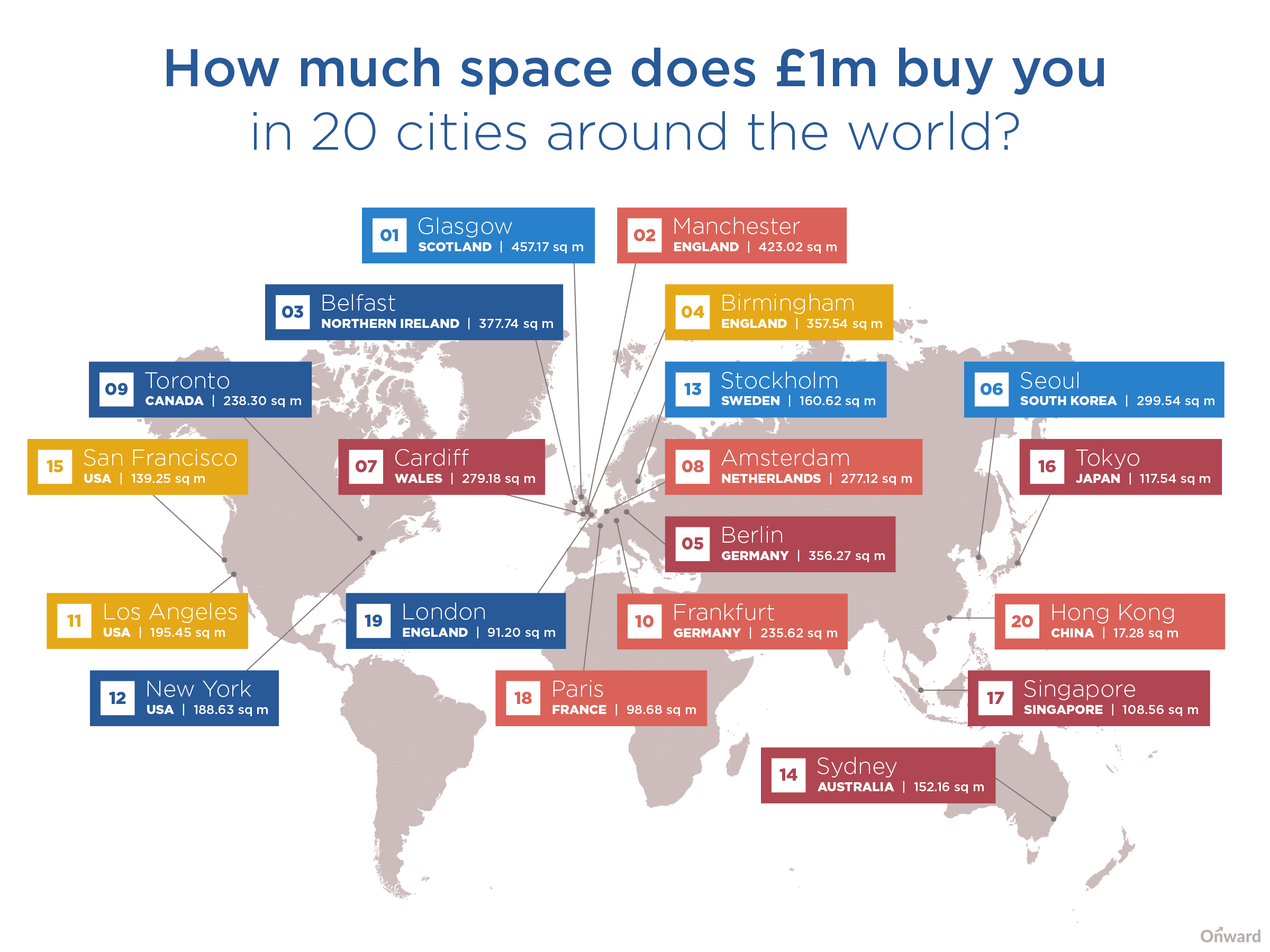 But it is in the UK that house prices in the major cities vary more dramatically. London may be huge, but it still costs an awful lot to find a place there – you'll a place four times bigger in Manchester for that same million quid.
In Hong Kong, £1m is fast becoming the average house price, so it's no surprise that you don't get much floor space on that cramped island: barely twenty meters for the price of an expansive family home in Manchester, UK. That's because there are few homes to go around, but the island's status as a financial hub and closeness to China make it highly desirable for folk that are making a lot of money.
To 'solve' the problem/maximize returns, they are reputedly planning to build an US$80m artificial island with over a quarter of a million living floor space areas. The impact on the environment of such an endeavor, however, is highly problematic, and Greenpeace are among those suggesting that the territory instead concentrates on re-landscaping its ruined industrial land.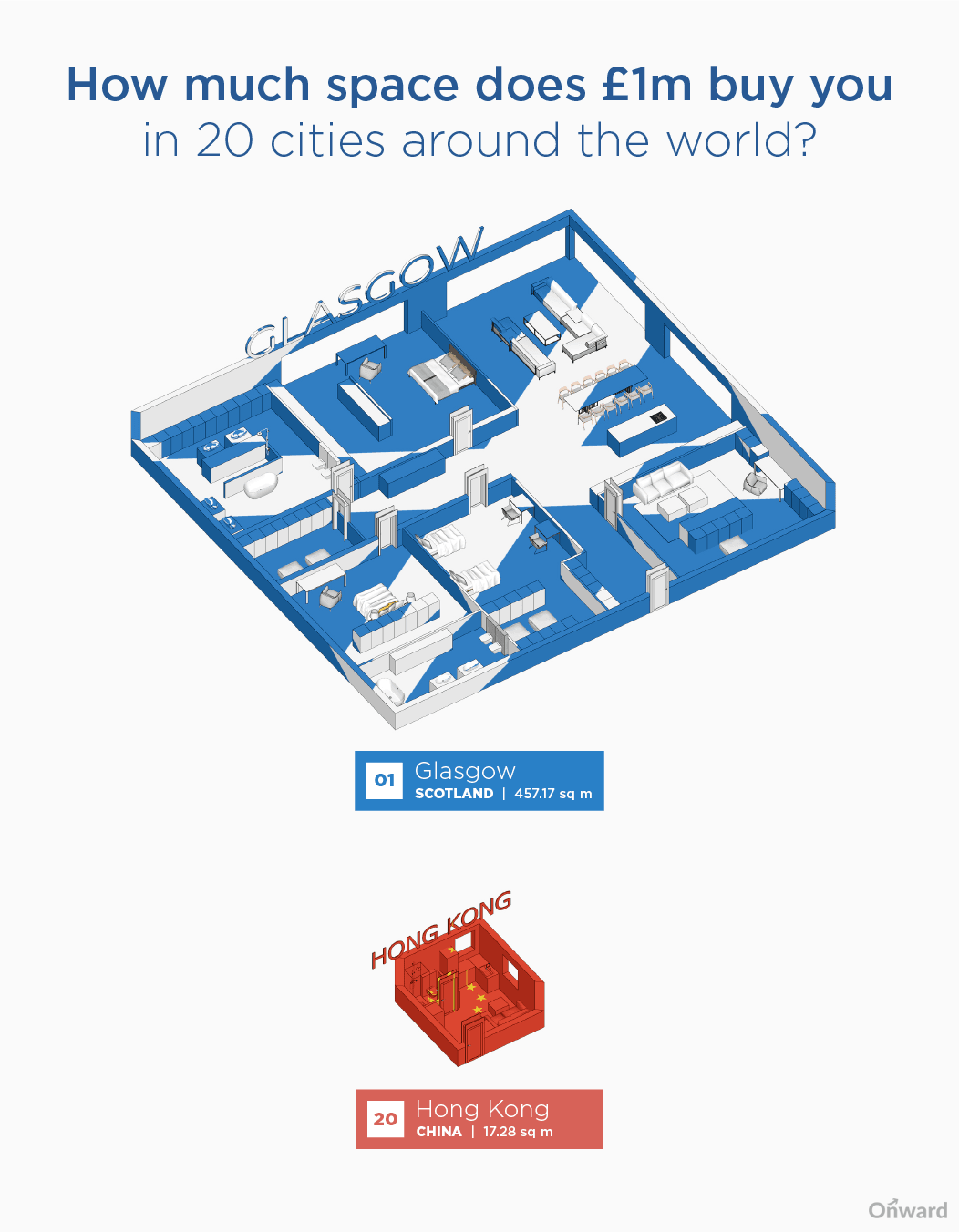 Relative sizes
The second part of the visualization shows thumbnails of the relative sizes of the theoretical million-pound homes around the world. And so Birmingham nestles up against Berlin, Stockholm against Sydney, since those pairs of cities have similar costs per meter.
In the case of Birmingham (UK) and the German capital Berlin, you get a pretty decent wodge of land for your money – space enough to fit in four or five bedrooms and a number of extra leisure rooms such as lounges, a diner, and that snooker room you've always wanted.
But in Stockholm or Sydney it'll be more like a big family house than a mansion. Certainly more than enough to keep the average-sized family comfortable, but hardly the stuff that a six-year-old entrepreneur-in-the-making's dreams are made of!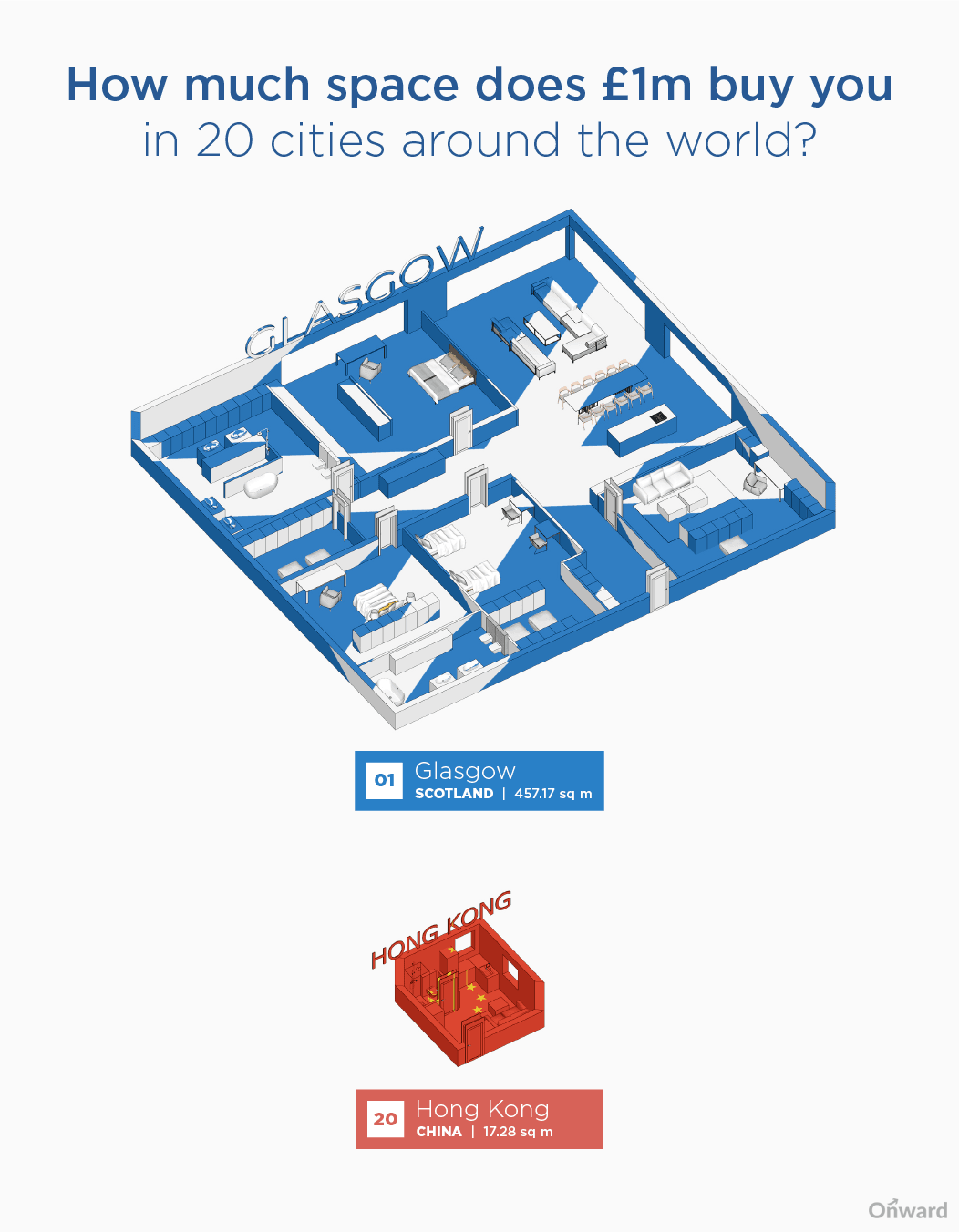 Biggest versus smallest
As long as we're still comparing sizes, the final visualization is a more in-depth look at what you might actually do with a million pounds-worth of space in the most expensive and cheapest locations that the researchers looked at.
The average American may have just as much trouble understanding the people of Glasgow as the people of Hong Kong, but the property that you would get for your million is very clearly a different proposition altogether. In fact, your entire Hong Kong pad would be around the size of your bathroom in Glasgow since you get around thirty times the space in total. But look on the bright side: just think of all the money you'll save filling your tiny Hong Kong apartment with furniture.
Up-and-coming entrepreneurs tend to be too sophisticated to worry about the size of their apartment when there are more important things like community responsibility and saving the planet to concentrate on. But it remains a fascinating thought experiment to see what that million-buck home would look like all around the world. How far would you be willing to trade floor space for prime location? Would you rather have a tiny place somewhere you can earn a lot, or a bigger home in a less connected city?