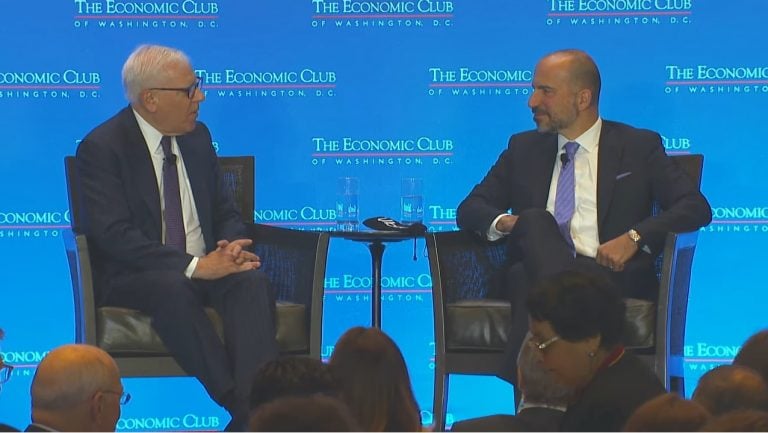 Dara Khosrowshahi, Chief Executive Officer, Uber Technologies Inc (NYSE:UBER), speaks with Economic Club president David M. Rubenstein on Tuesday June 11, 2019.
Dara Khosrowshahi On Uber's Higher Market Capitalization
Sohn Investment Conference 2021 Coverage: Octahedron Capital, Glenernie Capital
The following is our rough coverage of the 2021 Sohn Investment Conference, which is being held virtually and features Brad Gerstner, Bill Gurley, Octahedron's Ram Parameswaran, Glenernie's Andrew Nunneley, and Lux's Josh Wolfe. Q1 2021 hedge fund letters, conferences and more Keep checking back as we will be updating this post as the conference goes Read More
Q1 hedge fund letters, conference, scoops etc
Transcript
We're very pleased today to have the CEO of Uber, Dara Khosrowshahi.
Perfectly said.
How many people pronounce that correctly the first time you're in the top 10 [inaudible].
Have you ever thought of shortening to a name like Rubinstein it's shorter. Something like. You never Shorten. OK so you've been the CEO of Uber for how long now. Two years four years. And you enjoy it. I love it. So when you came in the company was not a public company. You've taken the night off. Yes. Yes. And you've received a lot of publicity about the IPO. Obviously you know that the company now has a higher market capitalization roughly 72 billion dollars something like that. Higher market capitalization than any company in American capitalism history except for Facebook. This short time after its IPO. Why are we are so many people criticizing you for having a 72 billion dollar market cap.
Well I think that there are many critics out there especially for the four large companies that that's a fact of life. I do think that what's different about some of the technology companies of our generation that are coming public the so-called unicorns is that we've actually stayed private for longer. And we have raised more money over a longer period of time. And as a result when we come public we generally have bigger scale than companies who went public let's say the last generation of companies that went public as well. But my view on this is we wanted to go public.
We needed to make sure that we are well capitalized for the next five years for the company and we achieved that. And now the time is to put your head down and get the real work done.
After the company did go public. While I kind of pointed out that you peers a very high market capitalization so soon after its IPO it did go down by about 11 percent which is a record decline after an IPO. So did you think the investment bankers didn't price it correctly or what do you think the problem was on the IPO. You know I love how this interview starting. I really.
Appreciate that. I think that's actually the. The timing of our IPO was very much aligned with the president's tariff wars.
The same day. So I think we got caught up in a bit of a market swirl. And there's nothing you can do about that. And what I tell the team is it's a short term the market can be a voting machine but long term it's a waiting machine. And we are focused on the way we have a six month lockup. So no one at the company cares anyway what the stock price has now it's a bunch of traders. All right going in and out. So just it doesn't really affect us and I think if we work on building a great enterprise the market will take care of itself. And I'm. Very confident that if we as a team execute the market will be appreciated.
So blaming on the tariff was a bit. Do you expect to be tweeted this afternoon after that comment or no you I expected at the site for that. I don't know what to expect. OK. So let's go back and talk about another way. How did you get here. You didn't take an Uber did you.
Unfortunately when I come here I need some professional secure. Do you take Uber time. Yeah. This weekend with the family weren't taking Uber is all over the place. Absolutely.
So when you take an Uber stretch let's talk about the ride sharing part. You take it Uber. Do they know who you are. It's about 50/50.
So half of the drivers recognize me and we'll chat and I'll ask them about what they like what they don't like. So it's a very nice conversation.
And the ones that don't know you. You just give them comments on how good they are or not how do you I make sure that I'm very polite.
I make sure that I don't slam the door ask them how they're doing. If I get on a phone call I ask them you know is it OK to make a phone call etc.. So I try to be as nice as I can because I'm trying to improve my uber rating. Actually not as good as.
What I've noticed you have said before that people shouldn't slam the doors. Is that a big problem.
It if you're driving a car and you've got 10 20 passengers coming in the car is really an asset of yours. So something that you've got to take care of it's it's part of their making a living. So yeah I think if you've got guests in your home you expect someone to take good care of your home and not slam the door and I think the same is true of a car your company has roughly twenty two thousand employees.
Yes. All right.
But you have three million more so drivers almost four million drivers and couriers now on a global basis.
You're in 63 countries. Yes. And five hundred eighty five cities or something like that. You have been briefed very effectively. OK. Impressive. All right. What city in the world uses Uber to a greater extent than any other city.
Sao Paolo. Now is our largest city in terms of.