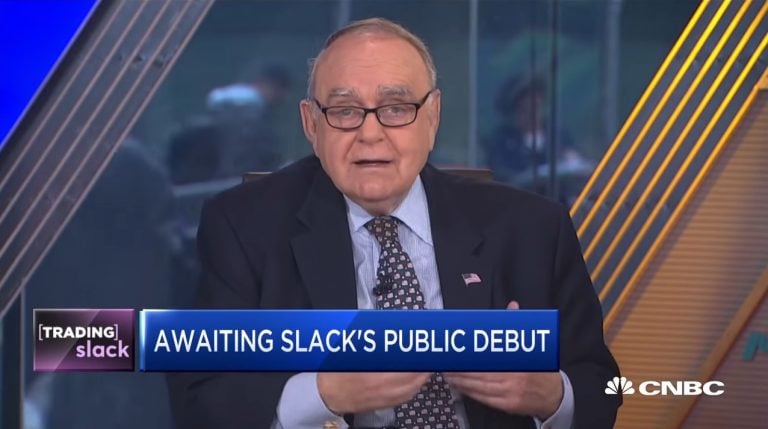 Slack is set to go public on Thursday at the NYSE under the ticker "WORK." The company's technology is used in the workplace to help employees communicate and collaborate. Leon Cooperman, chairman and CEO of Omega Advisors, joins "Squawk Box" to discuss what he's watching in the booming IPO market.
H/T Dataroma
Leon Cooperman: The IPO Market Is A Little Bit Of A Bubble
These Are John Buckingham's Stock Picks For 2021
The economy remains in distress, although there are signs of recovery underway. John Buckingham of Kovitz, editor of The Prudent Speculator newsletter, has found that value stocks typically outperform coming out of economic downturns. Thus, he argues that this is an excellent time to be a value investor. Q4 2020 hedge fund letters, conferences and Read More
Q1 hedge fund letters, conference, scoops etc
Leon Cooperman: A Big Market Move Would Be 'Knocking On The Door Of Euphoria'
Leon Cooperman, chairman and CEO of Omega Advisors, joins "Squawk Box" to give his take on the Fed's decision to keep interest rates unchanged and what he expects from the markets.
Billionaire Investor Leon Cooperman: Movement To The Left 'Is A Risk' For The Market
Billionaire investor Leon Cooperman tells CNBC's "Squawk Box" that a shift to the far-left would hurt the market. He also says Bernie Sanders "doesn't have a clue" and the government can't keep turning to the wealthy to close deficits with high marginal tax rates.
Transcript
When you look at this current crop this vintage if you will of IPO is that have been out there whether it be the movers or left of the world and also zoom on the other end which of course ended up 72 percent higher. Have you been buying into any of these ideas.
Well we've tried to get them money on the deal. If somebody holds most We don't have to say that demand is what creates supply and there's demand for this type of paper and you feed the ducks when they're quacking. And you know. I would say that these companies generally don't have earnings to have maybe at most some does. And it but data meets dance we have no earnings. And so it's not a place that I spend a lot of time trafficking in. You know I try to make money on things that have a multiple of their earnings rather than buying you know pie in the sky. You know I had dinner the other night with the gentleman that runs the Vision Fund for a sun and they I think it's about an 80 billion dollar fund. And in the aggregate the 80 but we stayed invested have no reported earnings and there's not the world that I live in. And we're going through a cycle. And so beyond meat is why I think I don't know what it is a nine billion dollar market cap with no earnings and huge multiple of revenues and it's probably not a business that they're isolated from competition. There's no moat around that business. And you're already seeing a number of companies in the food business getting into this vegetable plant stuff whatever it is. So I would say that. To me the IPO market is a little bit of a bubble. But you've got you've got gotta do it name by name. But it's I would say evidence of a late cycle phenomena.
Let's talk a little bit of a bubble or not a bit of a 1999 kind of bubble. Yeah that's why. But.
I don't think you generalize on a generalization make don't generalize. In 1999 Cisco a hundred times earnings. Now everybody is nervous about Google or 21 or 22 times earnings to different world. The valuations are very different. The valuations are not unreasonable in the aggregate. You have to look at each company one at a time. I think paying eight or nine billion for being on Meet given would they generate the way of earnings and revenues no earnings and not a lot of revenues seems to be to be extreme. And you've got to be very careful. You've got to know what you own. To.
Do you do you look at this phenomenon of these companies staying private for as long as they have and you look at it slack or Spotify which is able to actually do a direct listing because they've raised so much capital in the private markets. Some from companies and investors that historically were effectively public market investors and what that does to the appetite and the demand issue.
I really have not spent enough time in that area to have an educated opinion.
All they know is a lot of money around and zero interest rates are very low interest rates lead to pushing people down the risk curve. This which happened over the last decade. Everybody's moving on the risk curve the guy or gal that bought t bills said I can't get by on one percent so I'm going to buy take duration risk and I'll buy t bonds that keep buying biases I can't live on 2 percent I'm going to take industrial credit risk and buy industrial bonds I can't get by on 4 percent that guy says wanting to buy high yield the high yield buyer basically said I'm going to buy some kind of collateralized loan obligations and the debt players are going to put 25 percent of my funds in equities because they look more attractive than fixed income and so everybody spent the last 10 years moving on the risk curve. And one of these days they're going to start coming in on the risk curve. And I would say if we have a few more days like yesterday my guess is you'll probably be in that euphoria and you have to be pulling back. And I think you know the conditions don't seem at the moment. Suggestive of any big decline. And like I said you know free money leads to lots of action. You know the market is not expensive. If interest rates stay here and the economy doesn't enter recession I think that the Fed is acting like they're worried about some kind of recession in Europe. Basically they're relying strictly on monetary policy which they should be doing frankly. It start to have stimulative fiscal policy but Germany won't let them. OK. But it's crazy. We should not be fighting this slowdown strictly through monitory policy. The U.S. is doing better than the rest of the world because we have stimulative fiscal policy and stimulative monetary policy. Europe has stimulative monetary policy and that's done with fiscal policy. If that's your position you're going give it.
Up another 5 percent from here when you get out of stocks. Well I would be reducing my exposure. Absolutely. Know You're Not right now. No I'm not. Right now I'm enjoying it. I'm about 75 percent invested in a family office. 25 percent I have. When you're paper that I invested 3 percent and I'm happy with that kind of mixture and I think it's very hard if you're a long term investor to initiate new positions in now 10 years into a bull market valuation levels that we have because we're not traders we tend to be investors and it's hard to be a new investor in something at the current valuation levels.