If you have ever been to popular tourist destinations, you've probably noticed that people unwillingly fill the photos you take. If that bothers you, then this new app called Bye Bye Camera is a great tool. It removes people from images.
The Bye Bye Camera app detects people in images, removes them and then fills the background appropriately. Artist Damjanski created this very useful app with his art collective Do Something Good. The artist told Artnome that he started the collective a couple of years ago by connecting with "people I've collaborated with online." The collective now has 16 people around the globe from varying fields.
Damjanski says the app "takes out the vanity of any selfie and also the person. I consider Bye Bye Camera an app for the post-human era. It's a gentle nod to a future where complex programs replace human labor and some would argue the human race."
Exclusive: York Capital to wind down European funds, spin out Asian funds
York Capital Management has decided to focus on longer-duration assets like private equity, private debt and collateralized loan obligations. The firm also plans to wind down its European hedge funds and spin out its Asian fund. Q3 2020 hedge fund letters, conferences and more York announces structural and operational changes York Chairman and CEO Jamie Read More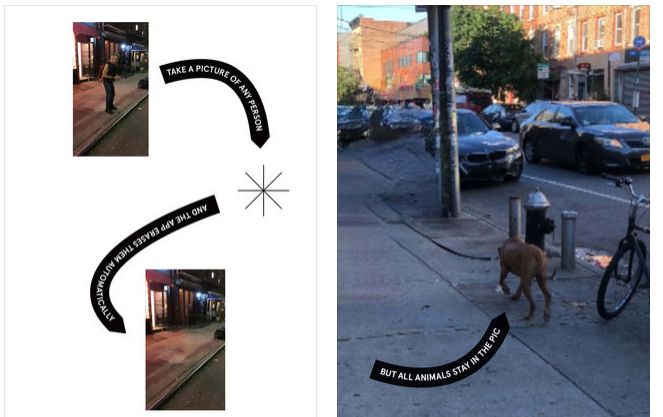 To remove people from images, the app uses functionality from an image recognition app called Yolo (You Only Look Once). The app then combines the image recognition tech with a neural network that analyzes the background and fills the gap after the person is removed.
This is not a new technology; rather, it applies already-existing tech with a different objective. Damjanski says the app is not a business venture, but rather, an artwork. The app is not meant to remove a bystander in your images. It purges all humans from images and leaves animals intact.
"A lot of friends asked us if we can implement the feature to choose which person to take out. But for us, this app is not an utility app in a classical sense that solves a problem. It's an artistic tool and ultimately a piece of software art," Damjanski says.
You can download the app from the App Store for $2.99. The app supports iOS 10.0 or later and is compatible with the iPhone, iPad and iPod touch. There is no information on if or when the app will be available to Android users.
Removing unwanted parts of images is not a new thing, and several apps already offer similar technology. Moreover, you don't have to be an expert photographer to be able to use these apps. Some of the best apps that can help you remove unwanted objects from images are:
PhotoShop Fix is one of the most popular apps for everyday people to improve their images with the help of a variety of features. You can easily access a clone stamp and patch tool with the app. It also enables you to change the background with another photo. The app is free to download.
TouchRetouch helps you remove objects as easily as Photoshop. It enables you to remove a person from a photo with just a brush application. You can also use clone and selection tools to edit images. The app costs $1.99.
Enlight Photofox is another great tool to help you remove objects from images on your iPhone. This app comes with several useful features, such as a patch tool, clone stamp tool, healing brush and many more. Enlight also offers many layers, special effects, fonts, and more. The app costs $3.99.
SnapSpeed is an advanced editing tool from Google offering many tools for photographers. Although the app is not perfect, it is good enough to remove people from images. The app is free to download.
Pixelmator is widely regarded as the best alternative to Photoshop. Users just need to brush over images to remove unwanted elements, and the cloning tool helps you move one part of the image to some other part. This tool meets the requirements of artists, graphic designers and photographers. It costs $4.99.
Remove Object is a dedicated app for removing a specific part of an image and gives a DSLR-like appearance. The app also offers users access to selection and clone tools. You can also use an advanced brush tool to draw over unwanted objects and then remove them by pressing the start button.