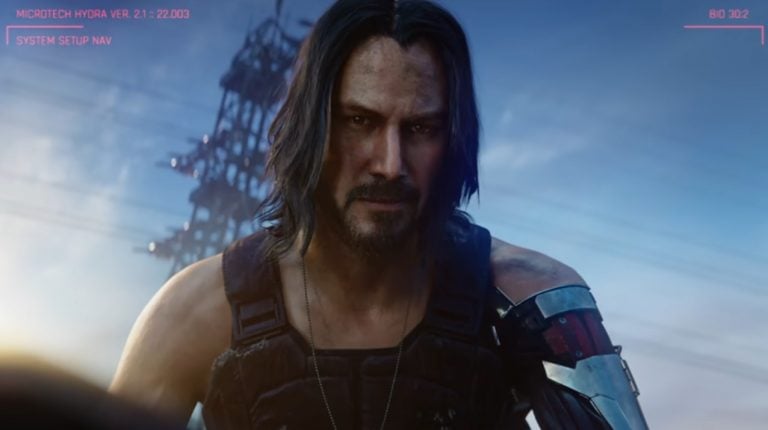 Just like every year, this year we are also seeing an influx of promotional items on eBay that were handed over to the visitors at E3. One item that is catching the most attention is the Cyberpunk 2077 E3 jackets, which are selling for as much as $450 on eBay.

Cyberpunk 2077 E3 jackets – why you shouldn't buy them?
Selling E3 merchandise online is a good way for the visitors to make a few bucks, and the same is happening this year as well. We have already seen promotional tees, figures and more appear on online sites. However, the Cyberpunk 2077 E3 jackets are the most in demand.
There are several listings on eBay asking anywhere between $350 to $400 for the demon jacket. One listing was as high as $450, notes a report from Eurogamer. This reversible Cyberpunk 2077 "Samurai" jacket was intended for the VIPs or CDPR staff members.
[Exclusive] ExodusPoint Is In The Green YTD Led By Rates And EM/ Macro Strategies
The ExodusPoint Partners International Fund returned 0.36% for May, bringing its year-to-date return to 3.31% in a year that's been particularly challenging for most hedge funds, pushing many into the red. Macroeconomic factors continued to weigh on the market, resulting in significant intra-month volatility for May, although risk assets generally ended the month flat. Macro Read More
As can be expected, CD Projekt is not happy with such tactics, and thus, is advising fans against buying Cyberpunk 2077 E3 jackets at such a price. Moreover, the developer revealed that it eventually plans to sell jackets on its store.  Though the developer did not reveal the price at which the jackets will be available on its store, we can safely assume that it would be less than $400.
Please don't buy the Cyberpunk 2077 jacket on eBay for 400 usd. The plan is to have a similar version in our store. pic.twitter.com/mzG033zGjJ

— Rafal Jaki (@GwentBro) June 13, 2019
Cyberpunk 2077 is one of hottest games currently, and thus, it is no surprise that its promotional items are available to buy online. Apart from the Samurai jacket, Cyberpunk E3 stickers are also in demand and are available for around $12. Other E3 promotional items that are attracting buyers online are Borderlands3 swag, Watch_Dogs 3 pig-masks and more.
Keanu Reeves – how his part was kept secret?
Cyberpunk 2077 was first announced in 2012, and it is CD Projekt's sci-fi RPG. The game will release on April 16, 2020. At E3 2019, the new Cyberpunk 2077 trailer revealed Keanu Reeves as one of the characters. Reeves also appeared on screen to reveal the official release date for the game.
The big question on Reeves' surprise appearance is how news as big as Reeves' involvement was kept secret by Microsoft. Xbox boss Phil Spencer revealed this secret while speaking to Variety. The executive said that people managing the presentation used a codename for Reeves until his surprise appearance.
Moreover, in the rehearsal presentations, Reeves was replaced by a stand-in, and he appeared only once, i.e. onstage during the live event. Spencer revealed that Reeves' green room was next to his, and that he got a chance to talk to him just before the actor left for the stage.
"I said, 'You're going to go out there and the fans are going to go crazy.' And he's like, 'Oh, that's cool,'" Spencer told Variety.
Spencer said that even for Reeves, the reception he got onstage was a surprise. "I think he was kind of blown away by the response," Spencer said. "And I loved how we just wallowed in it."
Reeves is playing the character named Johnny Silverhand. The character is embedded in a biochip, which is placed in the brain of the main character. To unlock the secrets in the biochip, Reeves will guide the player to the iconic net runner of all-time, Alt Cunningham. However, she's dead, but her consciousness lives on the web.
Cyberpunk 2077 – other details
Cyberpunk 2077 appears very different from developer's The Witcher series. The game features bionic enhancements, towering neon skyscrapers, and a focus on vertical movement.
Though the game appears quite graphics intensive, its PC specs are pretty reasonable, and include Intel Core i7 8700K at 3.70GHz (CPU); Asus ROG Strix Z370-I Gaming (Motherboard); 32GB of G.Skill Ripjaws V DDR4 RAM with a speed of 3,000MHz (RAM); Nvidia GeForce GTX 1080Ti (GPU); Samsung 960 Pro 512GB SSD (Storage); Corsair SF600W power supply (PSU).
It must be noted that these are the specs of the E3 demo machine used for Cyberpunk 2077. The minimum and even recommended PC specs for the game would be lower than the E3 demo machine.
Talking of character creation, players will have the option to create their own character. Moreover, players' character choices will have an impact on the story as well. Also, players will continue to refine and customize their character in the game by installing Cyberware. For example, they will be able to boost their reflexes or better their combat skills.
Updated on