BuildFax May Housing Health Report reveals as housing market slows, remodeling still rises in five major metros.
Today, Tuesday, June 18, BuildFax will release its May BuildFax Housing Health Report , which lends insight into single family housing authorizations and maintenance activity in the U.S. It gives background to the overall health of the economy and market risks through a housing market lens.
Peter Lynch: How Investors Can Find Their Edge
Peter Lynch was one of the best growth investors of all time. As the Magellan Fund manager at Fidelity Investments between 1977 and 1990, he averaged a 29.2% annual return. Q1 2021 hedge fund letters, conferences and more The fund manager's investment strategy was straightforward. He wanted to find growth companies and sit on them Read More
[REITs]
Q1 hedge fund letters, conference, scoops etc
Key findings:
May 2019 showed a MoM single-family housing authorization increase of 0.46%  — however, saw a YoY decrease of 3.50%.

The trailing three-month outlook (March to May 2019) decreased 4.76% – the sixth consecutive month of declining activity, which is a staggering contrast to May 2018, when the trailing three-month outlook increased 7.78%.

Housing maintenance volumes dropped 1.01% YoY in May after showing increases in April.

However, maintenance spend rose 4.48%. This seemingly contrasting data is likely due to labor shortages in the construction industry and other economic factors, including the impact of recent increased tariffs on building material.

Remodeling increased in five of the top 10 metropolitan statistical areas – Los Angeles, Miami Washington, Philadelphia and Chicago, with the most significant increases in Philadelphia and Chicago at 15.20% and 5.06% respectively.

Why does this matter? Remodeling activity gives insight into the regions where homeowners are reinvesting in their properties—an important factor amidst a housing slowdown as it can show where the U.S. housing stock is riskiest while also highlighting cities with an active housing market.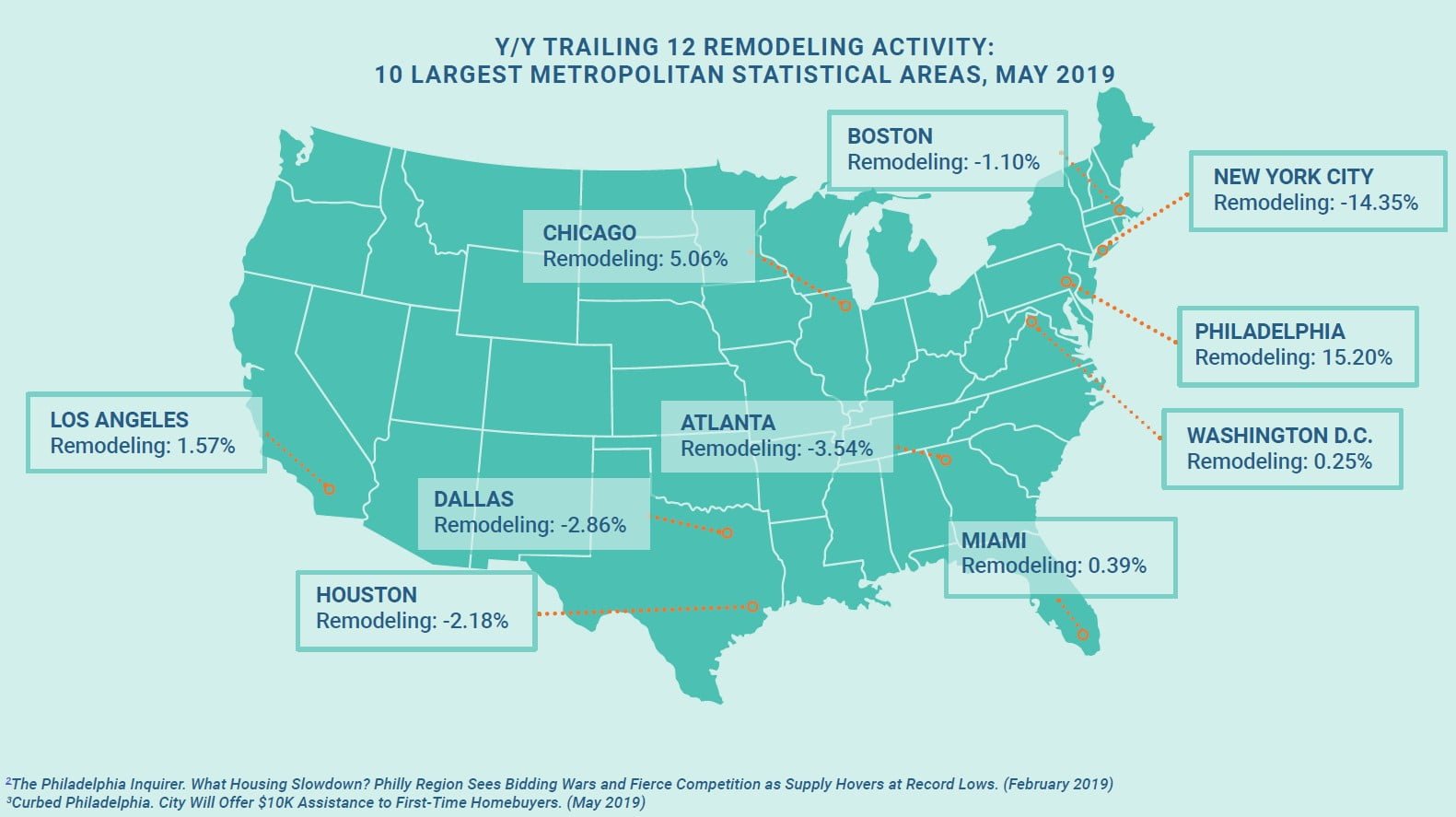 ---
AUSTIN, Texas–(BUSINESS WIRE)–The BuildFax Housing Health Report revealed a modest increase in month-over-month single-family housing authorizations; however, the trailing three-month view decreased 4.76%, marking six months of steady decreases. This is in stark contrast to May 2018, when the trailing three-month outlook increased 7.78%. The report, which leverages U.S. property condition and history data to deliver macro- and microeconomic trends, includes a special section highlighting the major metros experiencing increased remodeling activity during spring home-buying season, which winds down in June.
Housing Supply by Volume
Single-family housing authorizations decreased by 3.50% year over year.
Existing housing maintenance volume decreased by 1.01% year over year.
Existing housing remodel volume decreased by 3.94% year over year.
"The combination of declining mortgage rates, moderating home prices and peak home-buying season should help to buoy the housing market, but so far this hasn't happened," said BuildFax COO Jonathan Kanarek. "Continued declines in year over year maintenance and single-family housing authorizations further reinforce the ongoing housing slowdown. As we near six months of declining activity, the question remains, how long will this slump persist?"
Remodeling Activity Increases in Five Major Metros
Five of the largest metropolitan statistical areas experienced increases in remodeling activity. Philadelphia and Chicago experienced the largest increases in remodeling activity at 15.20% and 5.06% respectively. In some metros, remodeling activity is driven by increased domestic migration to the region, while in others, rising home prices have propelled homeowners to re-invest in their existing home instead of re-entering the housing market.
"After several years of above-average growth, the residential remodeling market may be reaching a turning point. Nationwide slowdowns in house price gains, home sales activity, and building material sales are lowering our expectations for further increases in home improvement and repair spending in 2019," said Abbe Will, Remodeling Futures Associate Project Director at the Harvard Joint Center For Housing Studies. "However, metro housing markets that have yet to fully recover from the 2009 economic downturn provide untapped potential for further growth, despite the broader deceleration we're seeing nationally."
For more trends affecting the U.S. housing market, access the full report here. To learn more about BuildFax, visit www.buildfax.com.
ABOUT BUILDFAX
BuildFax, headquartered in Austin, Texas, is trusted by the largest insurance and financial institutions in the world to deliver business-critical property condition and history data. With the only database of its kind encompassing more than 23 billion data points on commercial and residential structures, BuildFax delivers detailed data on remodeling, solar installations, new construction, roof age, major systems, maintenance history and more. To learn more about BuildFax, visit www.buildfax.com.
METHODOLOGY: BuildFax conducted this study by examining properties in the U.S. between the years 2013 and 2019. Data only includes properties located within permitting authorities with 100% coverage during the above time frame. All percentage increase and decrease statistics leverage the same data set across time. Due to historical revisions made by permitting authorities, the data is subject to change. Estimates are as of June 8, 2019.