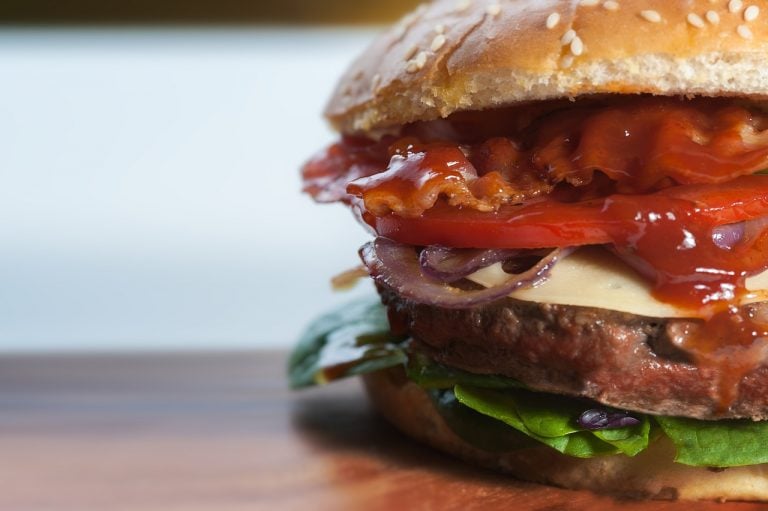 The trend of vegan food has been gathering momentum in the last few years as people become more health conscious. They have also begun to realize the environmental impact of raising meat for human consumption. According to PETA, it takes an estimated 1,847 gallons of water to produce one pound of beef. Food startups like Beyond Meat and Impossible Foods have created vegan burgers that look and taste like beef. Here we compare the Beyond Meat and Impossible Burger to see how they stack up against each other.
Both companies have created meat alternatives in the lab. Industry experts believe that fake meat could become a huge market as more people decide to consume less meat. Impossible Foods is facing immense shortage for its Impossible Burger across the United States. Beyond Meat had also experienced shortages in 2017 and 2018, but it has since ramped up its supply chain to meet consumer demand.
Both Beyond Meat and Impossible Foods are creating their products for meat eaters. That's why their lab-grown vegan burgers look, feel, smell and even "bleed" like beef.
Exclusive: Third Point is diving into the private and SPAC markets [In-Depth]
Dan Loeb's Third Point returned 11% in its flagship Offshore Fund and 13.2% in its Ultra Fund for the first quarter. For April, the Offshore Fund was up 1.7%, while the Ultra Fund gained 2.3%. The S&P 500 was up 6.2% for the first quarter, while the MSCI World Index gained 5%. Q1 2021 hedge Read More
Beyond Meat vs Impossible Burger: Ingredients
Both Beyond Burger and Impossible Burger are vegan. They don't contain any animal products. Beyond Meat claims its products have been certified vegan by the Vegan Action Foundation. The Impossible Burger is certified kosher and halal.
The Impossible patties are made of soy and potato protein. Other ingredients include coconut oil, water, sunflower oil, natural flavors, yeast extract, salt, Vitamin B1, Vitamin E, Vitamin C, Vitamin B2, Vitamin B6, and B12. You can find the full list of ingredients here.
Impossible Foods uses a plant-derived substance called heme from soy leghemoglobin to give it the meaty look and feel. The company has used animal testing to ensure the safety of heme.
The Beyond Burger uses pea protein isolate instead of soy protein concentrate. It includes a mixture of refined coconut oil, canola oil, rice proteins, potato starch, salt, sunflower oil, yeast extract, natural flavor, and cellulose. Beyond Meat uses beet juice extract to give it the "meaty" red color. You can check out the full list of ingredients here.
If you look at how healthy they are, they are both processed food items. Impossible Foods has used a lot of organic ingredients, but it also uses genetically-modified ingredients. Beyond Meat claims its products are non-GMO. They both contain about 19g of protein.
Look, feel, and taste
Both companies want their products to look, feel, and taste like real beef. The Impossible Burger looks and feels almost exactly like a hamburger. Its insides also look like beef rather than a veggie burger. The heme does its job well to give it the pink hue. It doesn't disappoint in terms of taste either. Its taste is so close to the real beef that vegetarians often mistake it for beef. According to Impossible Foods, its patties can easily replace ground beef in any recipe.
The Beyond Burger also resembles beef rather than a veggie burger. However, it has a coconut-like aftertaste. Its texture – charred and seared – also resembles that of real beef. The smell is almost identical to a hamburger. Both burgers are delicious, and accomplish their objective of looking and tasting like beef. However, you could still distinguish between vegan meat and real meat.
Availability
Beyond Meat reaches consumers by putting its products in grocery stores across the country. You can purchase the Beyond Burger at Whole Foods or online via Amazon Fresh. Other online delivery services also carry the Beyond Burger. You can cook it from the comfort of your home. You can also find it at restaurants like TGI Fridays, Del Taco, and Carls Jr.
Beyond Meat has the backing of celebrities like Leonardo DiCaprio and Bill Gates. The company claims to have sold more than 11 million Beyond Burgers since its launch in 2016.
On the other hand, Impossible Foods has joined hands with restaurants across the country to sell its burgers. You can find Impossible Burgers at Burger King, White Castle, Umami Burger, Qdoba, Red Robin, Momofuku Nishi, and Applebee's. The Impossible Burgers are currently available in more than 5,000 restaurants in the US.
It's not yet available in grocery stores or online delivery services. However, the company is currently working to make it available in grocery stores by the end of this year. That's an ambitious goal considering it's still facing supply shortages. Impossible Foods recently raised $114 million in venture funding, which could help it improve the supply chain.