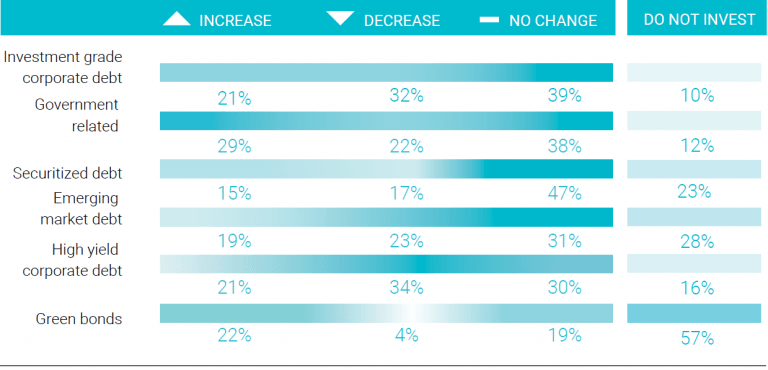 The current bull market has been one of extremes and exceptionally long length. In fact, it has lasted so long that some may be thinking it might never end, especially after the ultra-brief three-month hiccup that was the fourth quarter. However, if there's one thing we must not forget, it's that what comes up must come down—no matter how long it's been marching upward.
One thing is certain: more uncertainty ahead
It's been such smooth sailing for so many years that 2019 is pretty much guaranteed that uncertainty and volatility will return in full force. The Natixis Investment Managers Global Survey of Professional Fund Buyers questioned fund buyers about what they're doing to plan for this year's expected uncertainty. Professional fund buyers choose funds for insurers, funds of funds, broker-dealer platforms, private banks and trust companies.
Q1 hedge fund letters, conference, scoops etc
Alkeon: Big Tech Is Only Just Getting Started
The ACAP Strategic Fund's managers see a "significant scarcity of attractive asset allocation choices globally," but also a strong environment for fundamental stock picking. Q2 2021 hedge fund letters, conferences and more According to a copy of the fund's second-quarter investor update, which ValueWalk has been able to review, its managers currently hold a balanced Read More
Thus, this survey goes straight to the top of the investment chain to examine those who actually spend most of their working days researching funds and planning which ones to buy. These buyers are tasked with finding performance in a low-return environment by investing in risk but also limiting risk to preserve wealth.
Bull market could end this year
The survey found that 83% if professional fund buyers expect more volatility in both the equity and fixed-income markets, while 78% expect rising interest rates. Seventy-eight percent of fund buyers predict continuing trade disputes, while 75% expect to see growing speculative bubbles.
The survey also found that 63% of fund buyers expect the U.S. bull market to end this year. In fact, nearly two-thirds of those who responded to the survey either "agree" or "strongly agree" with this statement. However, only "a handful" of buyers expect this year to bring a global financial crisis. Additionally, 60% believe regulations put in place following the 2008-2009 crisis have done little to mitigate market risks.
Additionally, 75% of them said the current market environment should be good for active management, which means we should be watching to see if the increasing preference for passive funds wavers at all. Currently a little over 25% of the portfolios overseen by professional fund buyers are passively-managed, so they obviously understand the benefits of index-based investing. Actively-managed funds remain about 70% of fund buyers' portfolios.
Beware speculative bubbles
Most fund buyers also believe individual investors are unaware of the emerging speculative bubbles. The biggest danger is seen as cryptocurrencies, while technology is in second place, and the bond market and real estate are in third and fourth places, respectively.
In general, fund buyers have slashed their long-term return expectations from 8.4% last year to 7.7% for 2019. Although their portfolio allocation projections aren't changed, they do expect to make significant changes among asset classes.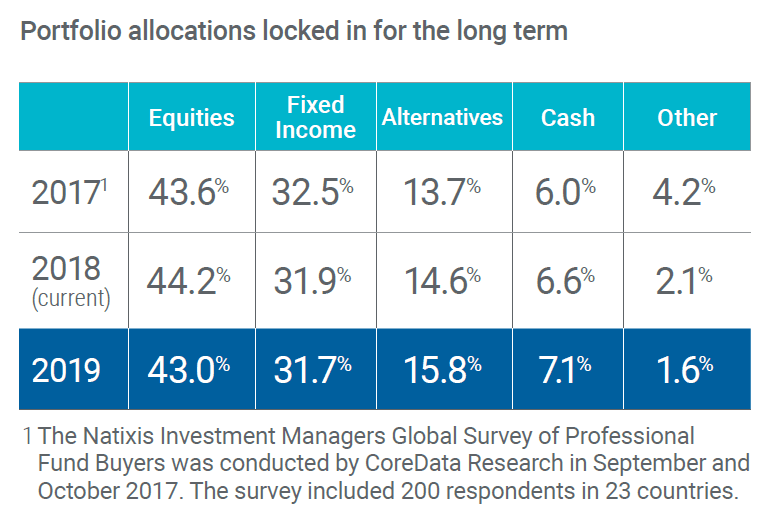 Switches within equities
On average, fund buyers plan to trim their equity allocations by only 1.2% this year. The bigger changes are likely to occur within the asset class as many buyers are willing to look further abroad for opportunities. Here's the changes fund managers are considering within equities:

The Natixis survey suggests that such so many fund buyers are planning to cut back on U.S. equities because of the age of the U.S. bull market and the reality that opportunities exist in other countries. Brexit, concerns about Italian banks and strong valuations and earnings outlooks have split buyers almost evenly on allocation switches for European markets.
The survey links the expected moves within the Asia-Pacific equity market to the U.S.-China trade war, which is creating opportunities in countries other than China as companies look for suppliers elsewhere. However, more than 40% of buyers are holding steady in the region.
As far as sectors go, fund buyers expect financials, healthcare and information technology to outperform this year, while they predict that materials and real estate will underperform the "market average," which is expected to include communication services, consumer discretionary, consumer staples, energy, industrials and utilities.
Rotations in fixed income
Once again, it looks like few expect to change their allocations to fixed income very much, although there are some noticeable shifts within the asset class: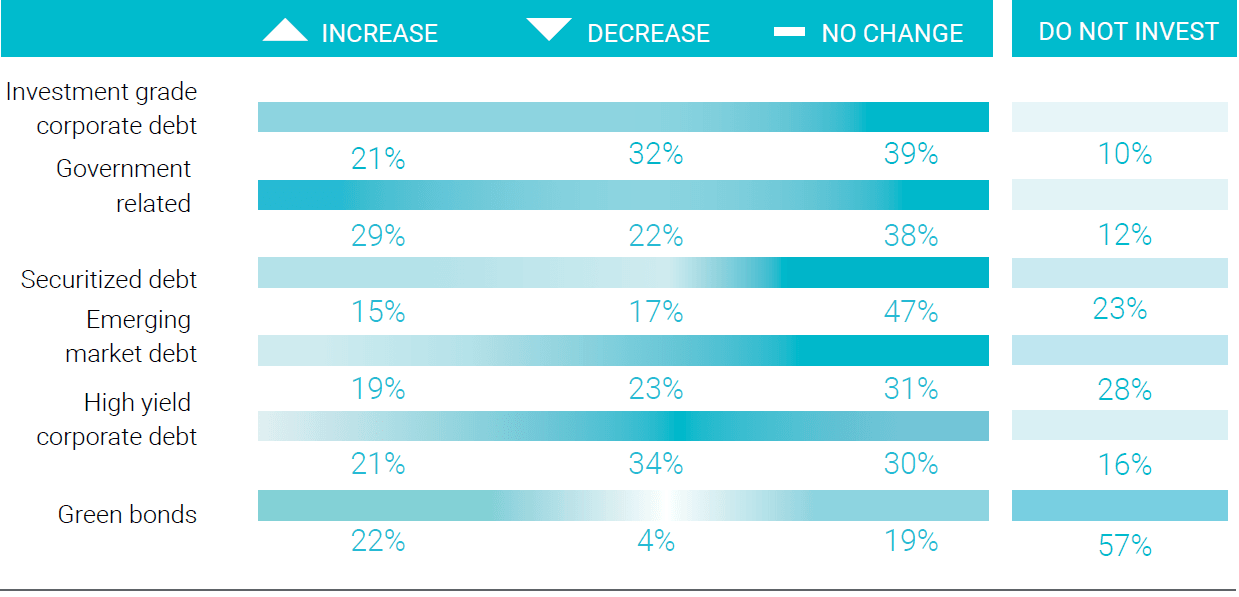 Since increased volatility is expected, it makes sense that buyers would trim their allocation to risky high-yield bonds. Interestingly, even though they're optimistic about EM equities, EM bonds are a slightly different story.
Switching up alternatives
Fund buyers are expecting to increase their allocation to alternatives slightly this year. The Natixis survey indicates that 70% of fund buyers' alternative allocations are liquid because they often aren't foxed on decades-long timeframes.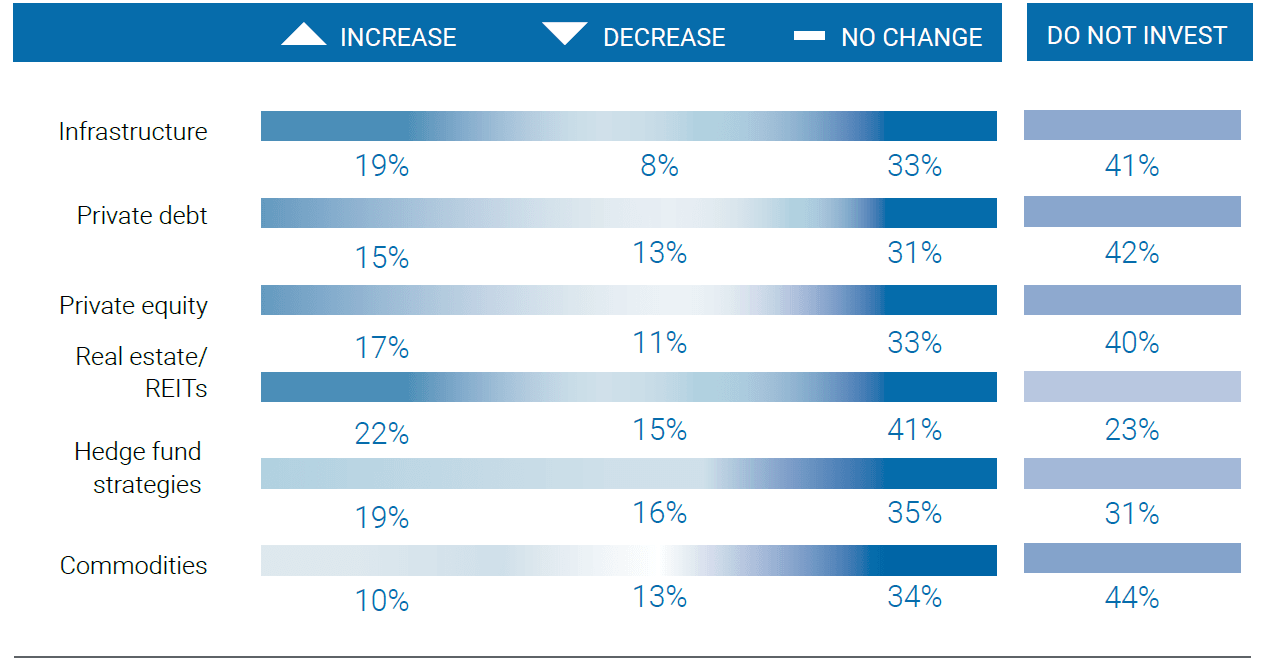 The survey asked fund buyers which strategies are best for enhancing returns, most of them selected long/ short equity, long/ short credit and private debt as their preferences. The majority also prefer market neutral strategies. As far as diversification, buyers preferred multi-alternative global tactical asset allocation and real estate strategies. To protect against volatility, fund buyers mostly selected managed futures.
Cash is coming back in style
Because of increasing volatility, cash is again capturing interest, especially since so many fund buyers predict the U.S. bull market will end this year. The survey indicates that 26% of fund buyers plan to increase their cash allocations, while 13% plan to reduce and 48% plan to hold their cash allocations steady. Fourteen percent of fund buyers don't invest in cash.
Holding cash can reduce portfolio risk, improve returns and provide a cushion to benefit from buying opportunities. Holding cash can also calm investor fears slightly. Higher short-term interest rates also make cash look more attractive, switching it from a performance drag to a class of modest contribution to gains.
This article first appeared on ValueWalk Premium