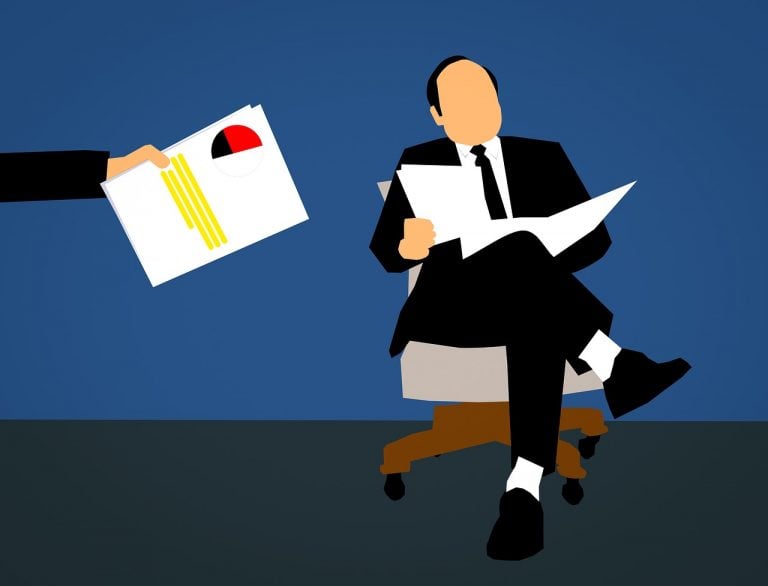 CEOs and other top executives in Corporate America command a fat compensation. The growing wage gap between CEOs and median workers has become a topic of heated debate in the last few years. It's even more alarming as CEO salaries continue to go up while the wages of other workers have stagnated. Here we take a look at the top 10 highest paid executives – including CEOs – in Corporate America.
Ranked: The highest paid executives
The ranking is based on data from the Bloomberg Pay Index, which tracks the compensation of the 100 highest paid executives as per details submitted to the US regulators. Bloomberg's index consists of salaries, bonuses, stock options, and other benefits executives received in 2018.
It's worth pointing out that stock options make up a significant portion of a top executive's pay, and the payout is tied to performance. If an executive fails to meet the performance objectives, the payout is reduced. The index includes equity awards that are valued at a company's fiscal year-end, not the date they were granted.
Consistency is what makes the top 50 best-performing hedge funds so strong
Every month and quarter, multiple reports on average hedge fund returns are released from several sources. However, it can be difficult to sift through the many returns to uncover the most consistent hedge funds. The good news is that Eric Uhlfelder recently released his "2022 Survey of the Top 50 Hedge Funds," which ranks the Read More
These are the highest paid executives in 2018 among companies listed on US stock exchanges:
10- Stephen Angel, Linde PLC ($66.2 million)
The NYSE-listed chemical giant Linde Plc was formed following the merger of Linde AG and Praxair last year. Stephen Angel was the chief executive of Praxair for more than a decade and became the CEO of Linde Plc after the merger. In 2018, he received $48.9 million severance payout at Praxair, $6.1 million in option awards, $6 million worth of stocks, $3.6 million of bonus, and a salary of $1.4 million. He also received other perks worth $250,000.
9- Tony James, The Blackstone Group ($66.24 million)
Tony James is the Executive Vice Chairman of the investment giant The Blackstone Group. Last year, he received a salary of $350K, a bonus of $28.8 million, and carried interest worth $36.8 million. He joined Blackstone in 2002, and has held many positions including the President and Chief Financial Officer.
8- Stephen Schwarzman, The Blackstone Group ($69.1 million)
Stephen Schwarzman is the Chairman and CEO of the investment firm he co-founded in 1985. According to Bloomberg Pay Index, he received a compensation of $69.1 million in 2018. He took home $350K in salary, $1.4 million in perks, and $67.4 million in carried interest.
7- James Heppelmann, PTC Inc ($71.5 million)
Heppelmann is the President and CEO of Boston-based software and services company PTC. Last year, he raked in a total of $71.5 million. He received a salary of $800,000, a bonus of $961,000, $27.2 million in stock awards, and $42.5 million in retention awards. A PTC Inc spokesperson told Bloomberg that the majority of his compensation came from a performance grant linked to goals spanning several years.
6- David Zaslav, Discovery Inc ($122 million)
David Zaslav has been the CEO of the mass media giant Discovery Inc since 2007. He signed a new contract last year that significantly increased his compensation. In 2018, he received $3 million in salary, $9 million of bonus, $15.3 million worth of stock awards, $30 million worth of options, and $64.2 million in retention awards. Back in 2014, he had taken home $156 million.
5- Nikesh Arora, Palo Alto Networks ($130.7 million)
Nikesh Arora quit SoftBank Group to join Palo Alto Networks as its chief executive last year. The California-based cybersecurity firm granted him shares that will be distributed over seven years. While his compensation at Palo Alto Networks was $130.7 million last year, it was lower than $300 million he took home while working at SoftBank. In 2018, he received $156K in salary, $206K of bonus, $39.4 million in stock awards, $72 million in option awards, and $19 million in Sign On awards.
4- Tim Cook, Apple ($141.6 million)
Apple chief executive Tim Cook took home $141.6 million last year. In 2018, Apple granted him $126 million worth of performance-based and time-based vested restricted stock. He received another $12 million in bonus, $3 million of salary, and other perks worth $682K. Cook plans to give away most of his money to charity.
3- Bob Iger, Walt Disney (146.6 million)
Iger has consistently ranked among the highest paid executives for years, and he deserves it. Under his leadership, Walt Disney's market value has skyrocketed 433%. The huge gap between Iger's compensation and $46,000 pay package to the median Disney worker has drawn a lot of criticism. In 2018, Iger received $2.9 million of salary, $18 million in cash bonus, $8.6 million in stock awards, $7.7 million in option awards, and $108.3 million in acquisition awards. He also received $1.1 million in other perks.
2- Brendan Kennedy, Tilray Inc ($256 million)
Brendan Kennedy's big bet on marijuana paid off when Tilray became the first cannabis company to be listed on a US stock exchange. Kennedy received a total compensation of $256 million. It consisted of $425K in salary, $425K in bonus, $11.3 million in option awards, and a staggering $243.9 million in pre-IPO awards. Tilray stock debuted at $17 and skyrocketed to $70 by the end of 2018.
1- Elon Musk, Tesla Inc ($513.2 million)
Tesla CEO Elon Musk is the highest paid executive in Corporate America, according to Bloomberg Pay Index. Last year, Musk received $513.2 million in option awards. The billionaire entrepreneur received a mega-grant of options last year, which was valued at $2.28 billion and spread over a decade. Bloomberg allocated one-tenth of the option awards to each year of the decade. The compensation figure also includes a similar options award he had received in 2012.
Updated on