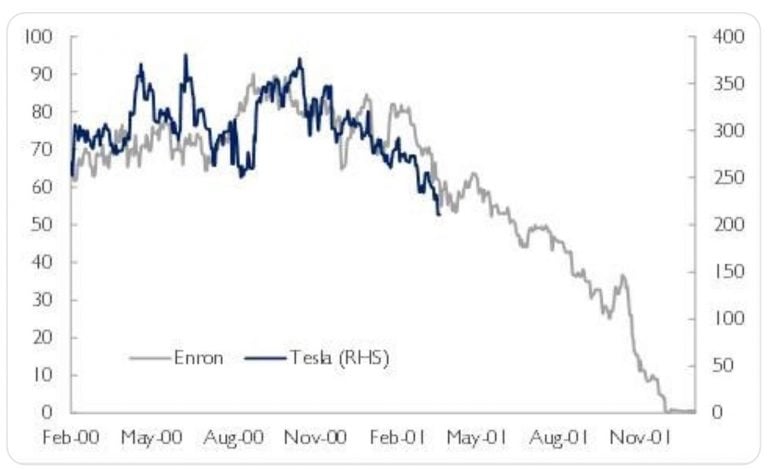 Whitney Tilson's email to investors discussing that he doesn't have a financial stake in Tesla Inc (NASDAQ:TSLA), and asks if he should move on from Tesla; are Tesla's critics shameful and/or doing a grave disservice to society?; Tesla is the next Enron; the dirty two dozen.
1) Following up on yesterday's e-mail about my big call on Tesla on March 4, Friday was the beginning of the end for Tesla, one of my friends – who's on my Tesla e-mail list – sent me the following e-mail to encourage me to declare victory and move on:
Q1 hedge fund letters, conference, scoops etc
Hedge fund managers present their best ideas at Robinhood [In-Depth]
The latest Robinhood Investors Conference is in the books, and some hedge funds made an appearance at the conference. In a panel on hedge funds moderated by Maverick Capital's Lee Ainslie, Ricky Sandler of Eminence Capital, Gaurav Kapadia of XN and Glen Kacher of Light Street discussed their own hedge funds and various aspects of Read More
I like your newsletter and I have subscribed. I am short Tesla and I doubled down on your recommendation at $297-ish. That said, here is a thought for you. Let it go. You were and will continue to be right. There is no need to overcook the pig or to keep mashing the potatoes. We all know your position and we all know what desperation sounds like from those hanging on by their fingernails. You can stop rubbing it in and move on to the next. Just a thought. Glad you are doing well.
Enron Versus Tesla
Here was my reply:
It's great to hear from you. I really appreciate – and respect – your advice. Truly.

But I'm sure you won't be the slightest bit surprised to hear I'm not going to take it, for a few reasons:

1) I made a clear, bold prediction on March 4:

I think Musk has no more rabbits to pull out of his hat and therefore it's all downhill from here.  Finally, I predict that by the end of the year, the stock, today at $295, will be under $100.

2½ months later, we're almost halfway there. Unless the facts/fundamentals change (and I'm very open to this possibility), I will not be changing my prediction.

2) I am more convinced than ever that I will be proven correct. Though the stock just broke $200 for the first time since late 2016 and is now down by nearly $100 since my big call, I think, if anything, the stock is MORE dangerous now than then. They've already raised a lot of capital (which hasn't stabilized the stock), the evidence is even more clear that demand is very weak, and Musk has gone even further off the deep end.

3) "But why don't you just shut up about it?," one might ask. A couple of reasons. First, I think I'm doing my readers a service by continuing to warn them away from this stock. Every day for the past 2+ months, investors – mostly, I fear, inexperienced individual investors – have gotten sucked into a stock I believed is the most dangerous in America at $290, $280, $270, $260, $250, $240, $230, $220, $210, and now $200. I want to help as many of my readers as possible avoid the next $100 down.

Second, I love to learn and to teach – and I have never seen such an incredible case study for both in my two-decade-long career. (Valeant, Enron and Lumber Liquidators are the one others that come close.)

Best regards,

Whitney
Is Musk A Liar? Is Tesla really like Enron?
2) Another reader thinks that even if Musk is a "liar" and/or "committing accounting fraud," I and other critics are doing "a grave disservice to society":
Whitney: I was surprised to learn you had no financial stake in Tesla. I would've thought you were short, given that you're obviously obsessed with the company (I don't mean to use the word obsessed pejoratively, but clearly you spend a large majority of your daily time and energy on it).

I also do not have a financial stake in Tesla. However, I admire Musk (despite his many, many flaws) for trying to solve climate change, and regardless of whether he's a liar, or overly aggressive in projections, or frankly (because I do not have a financial stake) if he's committing accounting fraud, I would happily overlook all of that if it helps him succeed in building TSLA and thus making a dent in the enormous climate change issue.

I think if you happen to be wrong (let's say there's a 2% chance you're wrong), I think you (and other shorts) did a grave disservice to society because we need more Musks (warts and all) if we want to have a shot at figuring out climate change – and I wish shorts would spend less time on TSLA and more time on things like, for example, those that enabled the opioid crisis or polluters, or anyone other than companies that, if they succeed, will help solve climate change.

Just my 2c from a long-time reader!
Why Tesla is NOT an Enron
I replied:
To prevent conflicts of interest, I am not allowed to have any positions in any stocks I write about.

I spend maybe an average of 15-30 minutes a day on Tesla – I'm a fast reader and, as you've probably noticed, most of what I send out is others' stuff.

I have said a zillion times that "humanity owes Musk a debt of gratitude" (are you new to this list?) for almost singlehandedly forcing every major auto maker in the world to invest billions in EVs, but that doesn't excuse his lies and outrageous behavior, nor will it preclude me from warning my readers about a stock that I think is highly likely to crash.

I've exposed numerous medical/pharma frauds/promotions over the years, and your email reminds me of some of the emails I've received: "If there's only a 2% chance that they come up with a cure for cancer... " Some of the biggest scams are those that tug at the heartstrings.

I am NOT saying that Tesla is a scam – but I am saying that the environmental do-gooder angle on Tesla has certainly blinded a lot of people to an extremely dangerous and overvalued stock and a pathologically lying CEO.
Elon Musk and self driving cars
3) Another reader thinks I'm "shameful." I was e-mailing with him about whether Musk promised to have Level 5 autonomy by the end of this year and a million "robotaxis" by the middle of next year.
Contrary to Musk's clear language, he argued that Musk didn't really say these things and concluded his e-mail:
I can understand why you're not interested in actually understanding what Tesla is communicating and must spin every piece of information as negative. You're invested (financially or not) in its failure. A shameful position if you ask me.
Here was my reply:
I have no financial position in anything I write about.

Save your "shameful" accusations.

I serve my readers and subscribers – and have saved them a TON of money since I made my call on March 4 when the stock was at $295.

You have clearly drunk the Musk Kool-Aid and, as such, twist or selectively quote his words to make it seem like he's not raising billions of dollars on the back of wild, impossible promises when in fact that's exactly what he's doing.
He is the one behaving shamefully.
Tesla The Next Enron
4) Tesla is reminding me more and more of Enron. As this insightful post on Reddit shows, "The Smartest Guys in the Room eerily describes Tesla," the parallels are really striking... Here are a few (this isn't even the entire list!):
Blaming the shorts and the media
Banks and analysts complicit
Aggressive fan boys against the shorts
Large investors started dumping shares
Nepotism, the company is mine
The CEO was a visionary genius
Unstable CEO, harassing employees
Pushover board
The company was good for humanity and disrupting dinosaurs
Good ideas but unrealistic
Fake it till you make it
Thought they were a startup
Slippery Slope
Lying about layoffs
Expert in everything
Financial manipulations at end of Quarter
Unwilling to raise capital
Bad Credit rating
Refinancing Debt
Cash problems
Young inexperienced CFO
Customer deposits boosting cash balance
$70 billion valuation
Larry Ellison
Jim Chanos
Attacking the WSJ
$2 billion doesn't last long
Aimed to be the largest company
Failed massive partnership, blamed the partner for supply problems
And check out this stock chart comparison:
Other stocks to avoid
5) Speaking of Tesla, my friend Austin Root at Stansberry Research did a free two-hour webinar last week with Porter Stansberry and Jim Rogers called the Bear Market Survival Event, which you can watch or read the transcript for a limited time here.
As part of it, Austin released a list of two dozen stocks to avoid. Its not Tesla just being compared to Enron now. I'm familiar with many of the names on the list, and pretty much agree with all of Austin's warnings. Here are some quick comments on a few of them:
I covered the Community Health Systems (CYH) short pitch from the Sohn Conference in last Friday's e-mail. It's a zero, as are struggling retailers JC Penney (JCP) and likely Fossil (FOSL).
Telecom giant AT&T (T) and tech titan IBM (IBM) are classic value traps – inexorably melting ice cubes.
I once got sucked into buying car-rental companies Hertz Global (HTZ) and Avis Budget (CAR), but luckily realized my mistake and escaped mostly intact. I even caught Hertz on a bounce from below $10 to above $20 in early 2017. But these are terrible businesses, saddled with massive debt, and squeezed on one side by privately held Enterprise, which is larger and more efficient, and on the other by the rapid shift toward ride-hailing services like Uber (UBER) and Lyft (LYFT).
Conn's (CONN) is a subprime lender masquerading as a retailer.
Robotics firm iRobot (IRBT) and clothing retailer The Children's Place (PLCE) are absurdly overvalued.
Best regards,
Whitney