Whitney Tilson's email to investors discussing Gallileo Russell's bull case for Tesla Inc (NASDAQ:TSLA); converts plunging; and bond spreads blowing out.
1) A friend emailed me over the weekend:
Crossroads Capital up 55.8% YTD after 32.5% in 2019 explains how it did it
Crossroads Capital is up 55.8% net for this year through the end of October. The fund released its 2019 annual letter this month after scrapping its previous 2019 letter in March due to the changes brought about by the pandemic. For 2019, the fund was up 32.5% net. Since inception in June 2016, Crossroads Capital Read More
Q1 hedge fund letters, conference, scoops etc
I like your letter and I have subscribed. I am short Tesla and I doubled down on your recommendation at 297ish. That said, here is a thought for you. Let it go. You were and will continue to be right. There is no need to overcook  the pig or to keep mashing the potatoes. We all know your position and we all know what desperation sounds like from those hanging on by their fingernails. You can stop rubbing it in and move on to the next.  Just a thought. Glad you are doing well.
Here was my reply:
It's great to hear from you. I really appreciate -- and respect -- your advice. Truly.

But I'm sure you won't be the slightest bit surprised to hear I'm not going to take it, for a few reasons:

1) I made a clear, bold prediction on March 4 (Friday was the beginning of the end for Tesla):

"I think Musk has no more rabbits to pull out of his hat and therefore it's all downhill from here. I predict that by the end of the year, the stock, today at $295, will be under $100."

2 1/2 months later, we're halfway there. Unless the facts/fundamentals change (and I'm very open to this possibility), I will not be changing my prediction.

2) I am more convinced than ever that I will be proven correct. Though the stock just broke $200 today for the first time since late 2016 and is now down nearly $100 since my big call, I think, if anything, the stock is MORE dangerous now than then. They've already raised a lot of capital (which hasn't stabilized the stock), the evidence is even more clear that demand is very weak, and Musk has gone even further off the deep end.

3) "But why don't you just shut up about it?," one might ask. A couple of reasons. First, I think I'm doing my readers a service by continuing to warn them away from this stock. Every day for the past 2+ months, investors -- mostly, I fear, inexperienced individual investors -- have gotten sucked into a stock I believed is the most dangerous in America at $290, $280, $270, $260, $250, $240, $230, $220, $210, and now $200. I want to help as many of my readers as possible avoid the next $100 down.

Second, I love to learn and to teach -- and I have never seen such an incredible case study for both in my two-decade-long career. (Valeant, Enron and Lumber Liquidators are the one others that come close.)

Best regards,

Whitney
2) It's hard to come up with a bull case for TSLA, but Gallileo Russell does it in this 13-min video: https://youtu.be/LV1FxN8HHhg. He bought more yesterday he said because it's cheap at 1.5x sales for a company that's grown revenue at 92% compounded since its IPO. He's a smart kid, but I think he's making the classic rookie mistake of making investment decisions with his eyes firmly affixed in the rear-view mirror…
3) The price of Tesla's can't-miss convertible bonds is plunging: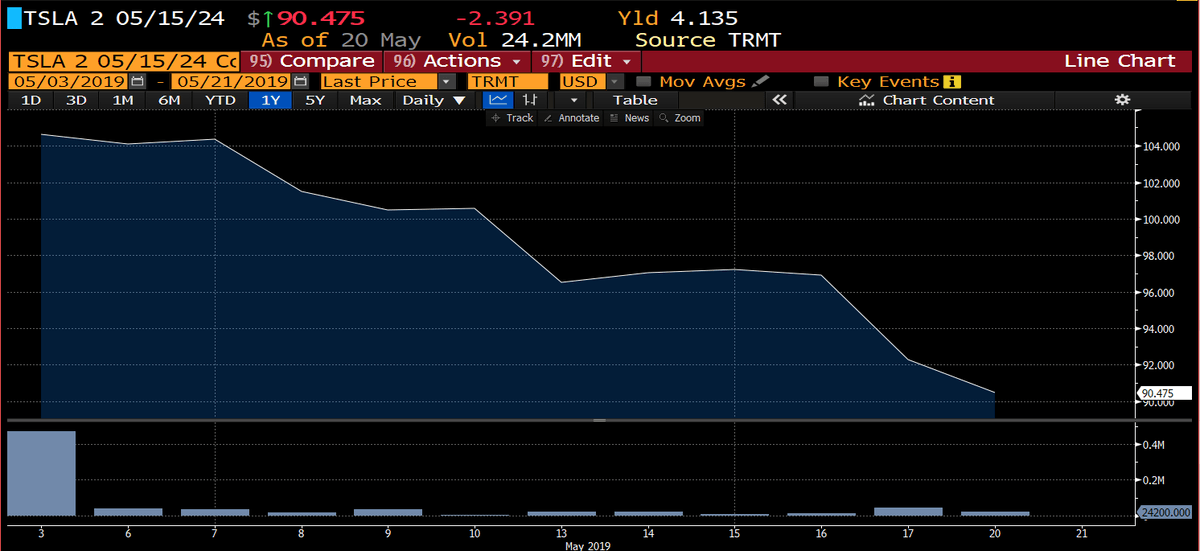 4) And bond spreads are blowing out to almost 700 bps: