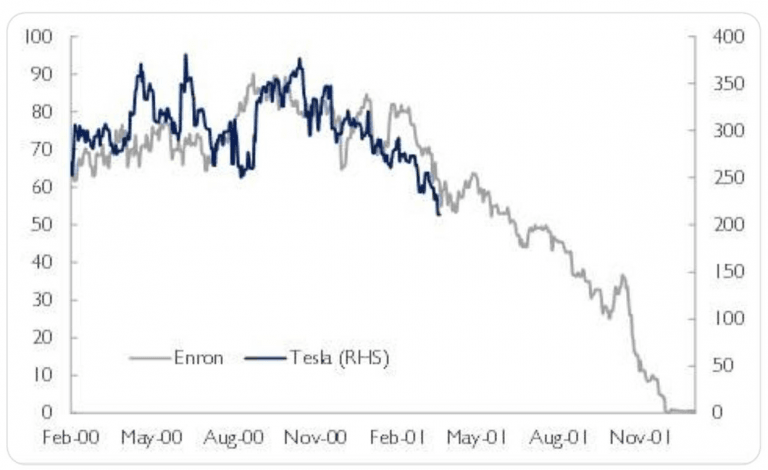 Whitney Tilson's email discussing the smartest guys in the room eerily describes Tesla Inc (NASDAQ:TSLA) and a chart on Tesla vs. Enron.
This is a very insightful piece of work – the parallels are really striking…
Q1 hedge fund letters, conference, scoops etc
Exclusive: Dan Loeb's Two New Stock Picks [Q1 Letter]
Third Point's Dan Loeb discusses their new positions in a letter to investor reviewed by ValueWalk. Stay tuned for more coverage. Loeb notes some new purchases as follows: Third Point's investment in Grab is an excellent example of our ability to "lifecycle invest" by being a thought and financial partner from growth capital stages to Read More
The Smartest Guys in the Room eerily describes Tesla
Here are a few (this isn't even the entire list!):
Blaming the shorts and the media
Banks and analysts complicit
Aggressive fan boys against the shorts
Large investors started dumping shares
Nepotism, the company is mine
The CEO was a visionary genius
Unstable CEO, harassing employees
Pushover board
The company was good for humanity and disrupting dinosaurs
Good ideas but unrealistic
Fake it till you make it
Thought they were a startup
Slippery Slope
Lying about layoffs
Expert in everything
Financial manipulations at end of Quarter
Unwilling to raise capital
Bad Credit rating
Refinancing Debt
Cash problems
Young inexperienced CFO
Customer deposits boosting cash balance
70 billion valuation
Larry Ellison
Attacking the WSJ
2 billion doesn't last long
Aimed to be the largest company
Failed massive partnership, blamed the partner for supply problems
The first post at the end captures beautifully the mistake Tesla bulls are making, confusing their concern about humanity with their investment in the stock (a really dangerous rookie mistake):
The difference is, Tesla is really doing a service to humanity with their products. And people love their products. Many people support Tesla because they want to support a company that can positively change the world for the better. I am one of them, I only own 7 shares, but I will hold it as long as I can because I believe in the impact they can and will have on the world. Musk puts his personal money where his mouth is and is risking his personal fortune because he believes in the cause. It's not just about the money, this is why he has my support. I wish more people would stand behind this company. It really is a good company with a good cause. 0 cars produced in 2011, 500,000 will be produced this year, a Nationwide charging network, a product people love that is good for the environment compared to other options, and a leader seeking to do good. Why wouldn't you support them?
---
Tesla vs. Enron chart
Follow up on Saturday's email (above), check out this chart: