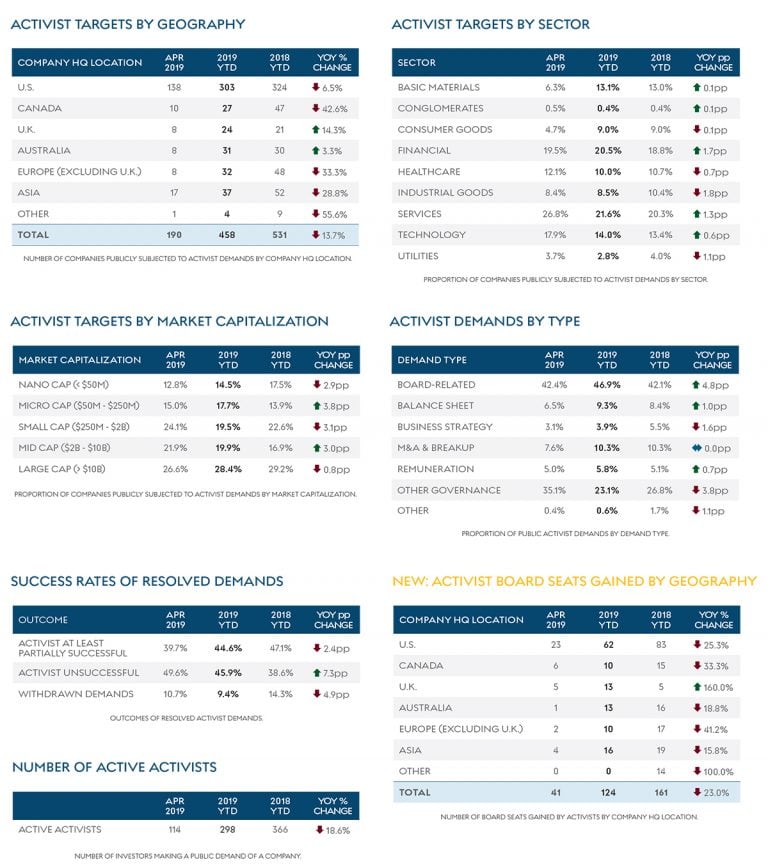 More than 450 companies have been publicly subjected to activist demands worldwide so far in 2019, according to Activist Insight Online, although that is down from 531 in 2018's record-breaking start to the year.
Below is a fact sheet on shareholder activism in April.
Q1 hedge fund letters, conference, scoops etc
Steamboat Capital Explains Why Shorting Has Gotten So Dangerous
Steamboat Capital was down 6.93% net for the fourth quarter, bringing its year-to-date return to 7.3%. The S&P 500 was up 12.15%, while the Russell 2000 gained 31.37%, and the Credit Suisse Hedge Fund Index was up 6.38% for the fourth quarter. Q4 2020 hedge fund letters, conferences and more In his fourth-quarter letter . Read More
A few more data points worth noting from our April month-end stats:
Although proxy season has only just begun, the number of board seats gained by activists at this point in the year is down by 25% in U.S.
The U.K. is one of the few regions where activism is increasing. The number of companies publicly subjected to demands is up 14% and the number of board seats gained year-to-date has more than doubled to 13.
298 investors have made public demands thus far, down from 366 at the same point last year.
About Activist Insight Since 2012, Activist Insight (www.activistinsight.com) has provided its diverse range of clients with the most comprehensive information on activist investing worldwide. Regularly quoted in the financial press, Activist Insight is the trusted source for data in this evolving space. Activist Insight offers five industry-leading products: Activist Insight Online, Activist Insight Governance, Activist Insight Vulnerability – a tool for identifying potential activist targets – Activist Insight Shorts, and Activist Insight Monthly – the world's only magazine dedicated to activist investing.