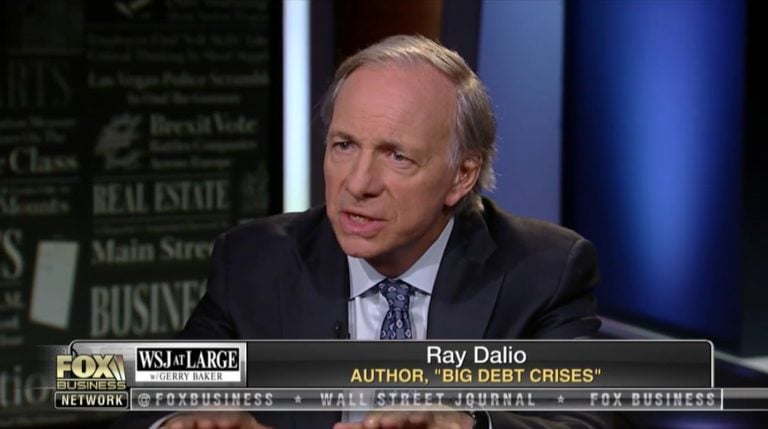 Bridgewater Associates founder Ray Dalio on debt cycles, capitalism and the U.S. economy. He said, "I'm a capitalist right? I believe in it, I study it, I'm a professional capitalist… and at the same time I think that many of the outcomes, if it's not working for the majority of people, it's not successful."
Ray Dalio Talks Capitalism, US Economy
Q1 hedge fund letters, conference, scoops etc
Sohn Investment Conference 2021 Coverage: Octahedron Capital, Glenernie Capital
The following is our rough coverage of the 2021 Sohn Investment Conference, which is being held virtually and features Brad Gerstner, Bill Gurley, Octahedron's Ram Parameswaran, Glenernie's Andrew Nunneley, and Lux's Josh Wolfe. Q1 2021 hedge fund letters, conferences and more Keep checking back as we will be updating this post as the conference goes Read More
Transcript
My guest is Ray Dalio. You've made it clear that we are the closest analog that you think we have to our current situation is the 1930s and as we discussed we kind of know how that ended. It didn't end well either in terms in economic terms or in geopolitical terms. How can we avoid that. You've been talking about the coordination of policy. How do we get the world how do we get the United States and the rest of the world out of this.
This where we are in this phase of the debt cycle without risking something really really unpleasant again I want to emphasize put aside the 30s it's an interesting parallel. I just most importantly want to understand people understand the cause effect relationships. So what happens when zero interest rates are there what happens when a downturn happens. What happens when you have populism and people at odds just to think of that dynamic then history gives many examples of that right. OK. The issue really is how we deal with each other. OK. Can there be coordination. So we're at a very interesting time. We have fragmentation. These are all manageable. If we could coordinate and work well with each other the main headline from all of history is how people deal with each other whether they fight or whether they coordinate. That's the that's the lesson of history right.
And quite often they as we've seen repeatedly through history they fight. I mean how do you one of the reasons they fight is a number of reasons economic reasons they fight over economic over property if you like they fight over nationalism and national identity. Well how do you think we again we avoid the risk given the problems we have. Given the where we are in the cycle given nationalism and populism and given inequalities ans How do you avoid the risk that we do fight. You can't just tell people to be nice to each other.
I think it's pretty simple right. If we say let's rise above each of our individual desires but does a history a people I mean not likely going to do that.
You asked me what's required. OK OK. I'm not saying what's possible. OK. But I'm asking you well it is. I think I think it is possible. I think it's possible it's not probable. Right. So I think what's possible is to if we as a country to say what are the principles that bind us together can we agree on the principles that bind us together can we agree that we need to get behind those principles and operate in a cohesive way so that we are not fragmenting. And so those if we go to the over arching principles are whether we're in this together or whether we have one faction that is going to try to kill another faction and that will fray. That's the choice that we have.
But the bombs seem to be being pulled further apart right now.
I mean we're not of course it's human nature but that's it. Right. It's only a personal it's only choice how we are with each other but if we can agree on that and if it's conceivable to agree on that and say OK now it's important to pull together to bring the disparities to work for a common answer and be fearful of that conflict but how do you do that.
I mean there are some who say one of the fundamental problems in the U.S. right now and one of the reasons the countries tearing itself apart is the substance level of partisanship is because it is a problem of inequality. And you know we've never seen the kind of extremes of inequality actually that we have in the United which we have had in the 1920s and then the maybe the 1930s. So and there are people who are here especially on the Democratic side. What we need to do is raise taxes have more government spending have a bigger social safety net have more opportunities. Is that what do you think that's right.
Is that is that the answer I think that first we have to ask ourselves is the economic output what that we're wanting. What are we getting what we want.
And when I look at that disparity look honest I'm a capitalist right. I believe in and I study it. I'm a professional gas at least. Yes. Yes. That's very very very successfully spun. OK OK. Yeah. And at the same time I think that many of the outcomes if it's not working for the majority of people it's not successful. And I broke the economy down into two parts to examine it. The top 40 percent in the bottom 60 percent and the bottom 60 percent of the economy is poor. Federal Reserve study 40 percent of all Americans could not raise four hundred dollars in the event of an emergency. The gap in education is spending the top 40 percent spends five times as much money on the education as the other. So these issues so we have to say are those the outcomes. If we can agree that on that that it has to be for the majority and that we're in it together then we are going to be able to move forward on that. Right. Yes.