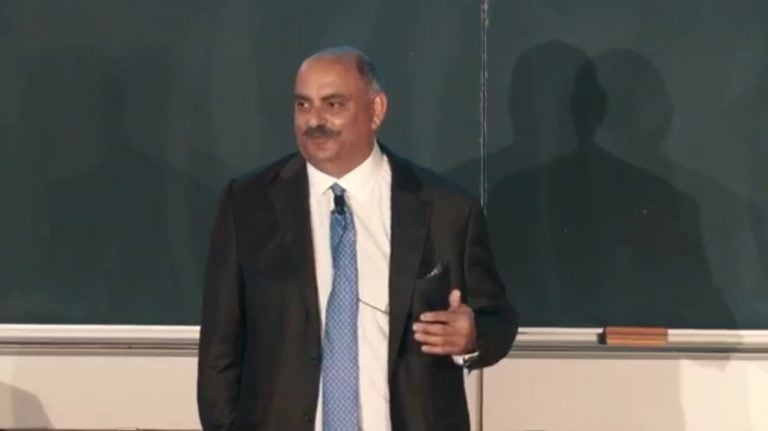 Mohnish Pabrai lecture to Trinity Student Managed Fund at Trinity Business School, Trinity College Dublin, in Dublin, Ireland, on February 21, 2019.
Mohnish Pabrai: Markets For Long Periods Can Do Nothing Or Give Spectacular Returns
Q1 hedge fund letters, conference, scoops etc
Odey Discusses Howard Marks' Astute Observation On Why Hedge Fund Alpha Is Increasingly Rare [January Letter]
According to a copy of the firm's January investor update which ValueWalk has been able to review, the Odey Asset Management Odey Special Situations Fund returned 7.7% in January, outperforming its benchmark, the MSCI World USD Index, by 8.7%. Q4 2020 hedge fund letters, conferences and more The $60 million fund, which Adrian Courtenay manages, Read More
Transcript
So this this Irish guy John you know goes into the same pub every day and he orders three pints of Guinness. And you know so the bartender asked him no why do you order three pint of Guinness every day. He says you know one for me and two are on behalf of my brothers at home and and then one day he comes in and starts ordering only two pints instead of the three so the bartender asked him how come you switch to two. He said I've given up drinking.
So anyway. Pleasure to be here. And I also want to thank Ron and the student managed fund. I think they've done a great job and so thank you very much for for putting this together. It's a pleasure an honor to be here. I used to I used to come to Ireland quite a bit about 30 years ago mostly to Shannon so I've seen a bit of the countryside and once in a while I take the train to Dublin. So it's always always a pleasure to be here. Great country and and and obviously nice to speak to you. So I have a few few slides I'll run through and and then I think what I'm hoping for is more of us talking about what's on your mind so we can when we when we do our Q and A. You can ask questions related to the slides but pretty much other than what I'm buying right now everything is fine.
So we'll we'll we'll go through that and then take it from there. So this book called "Bull" came out I think in 2001-2002 about 17-18 years ago and actually was recommended by Warren Buffett. It's a it's a really good book book to read written by Maggie Ma. And what what Maggie had had chronicled in the book was he had looked she had looked at stock markets and specifically in her case she looked at the US market or very long period of time like almost a century and and what she what she noticed was that you know we are told that for example that if you had invested over the last hundred years in the in the U.S. equity market you averaged about 9 percent a year which is a pretty good good return after inflation and such. But that's kind of a half truth in the sense that markets go through very long periods where they do nothing and equally long periods where they can be just spectacular returns way above the 9 percent. And specifically what what Maggie had honed in on in her book was so you know this is a chart of the Dow going back 1898 and so if you look at it for example you know when we won one period we can look at it like for example 1965.
So the Dow was in about eight hundred and seventy approximately in 1965 and in nineteen eighty one it was again at age 70. So you know we went through a 17 year period absolutely flat. I mean it wasn't flat in terms of the market going up and down but at those two end points it was completely flat to you Did you didn't have a great result as an investor even if you were very long term oriented and in that period 65 to 81 the US economy grew a lot. So it wasn't like that the economy was in bad shape or anything like that. Then you look at another period which is 82 to ninety. And the Dow went from less than 900 to more than 12000. And and the annualized return then was well above 9 percent we were doing about 15 percent a year. And so that you know kind of was quite a spectacular period in terms of returns and and and probably towards the early early part of 2000 there was a lot of euphoria especially because we had at that time we had the all the all the craziness of the dot.com the dot com boom and the dot com bust and so on. So but even even non tech stocks got quite euphoric.