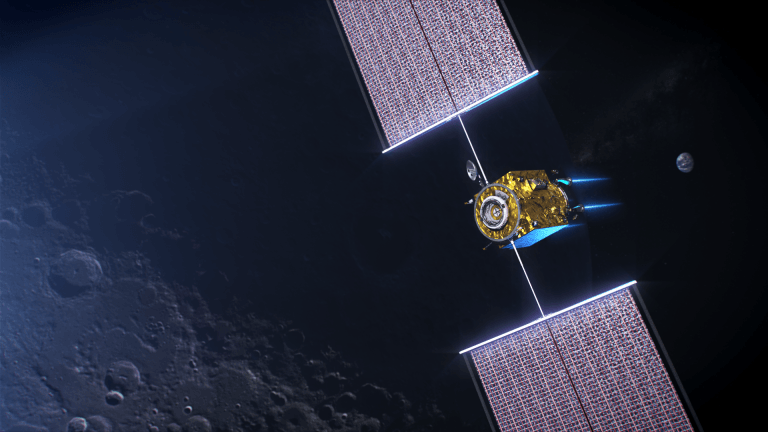 After announcing its plans for returning to the moon last week, NASA has taken another step toward approaching this goal. The space agency picked 11 American companies that will assist in building the lunar landers of the future, powerful enough to safely take astronauts to the moon's surface as part of the 2024 Artemis mission announced last week.
"To accelerate our return to the Moon, we are challenging our traditional ways of doing business. We will streamline everything from procurement to partnerships to hardware development and even operations," Marshall Smith, director for human lunar exploration programs at NASA Headquarters said in a news release. "Our team is excited to get back to the Moon quickly as possible, and our public/private partnerships to study human landing systems are an important step in that process."
Some of the American companies to assist in the building process are:
David Einhorn At The 2021 Sohn Investment Conference: Buy These Copper Plays
There's a gold rush coming as electric vehicle manufacturers fight for market share, proclaimed David Einhorn at this year's 2021 Sohn Investment Conference. Check out our coverage of the 2021 Sohn Investment Conference here. Q1 2021 hedge fund letters, conferences and more SORRY! This content is exclusively for paying members. SIGN UP HERE If you Read More
Aerojet Rocketdyne
Boeing
Blue Origin
Lockheed Martin
Northrop Grumman
Sierra Nevada
SpaceX
The news of humans returning to the moon was announced last week, with the space agency announcing that the next travel to the moon will take place in 2024. That said, there's a lot of work to be done before humanity can explore the once-familiar surface again. Despite here being 11 American companies that can make a lot of things happen, NASA is using an undefined contract action, which means that the companies can begin working on their respective projects regarding the mission while the negotiations are still going on.
"We're taking major steps to begin development as quickly as possible, including invoking a NextSTEP option that allows our partners to begin work while we're still negotiating," said Greg Chavers, human landing system formulation manager at NASA's Marshall Space Flight Center in Huntsville, Alabama.
These contracts are called Next Space Technologies for Exploration Partnerships (NextSTEP), and the selected companies are going to research and study the potential flexible and effective ways to get to the moon safely, as well as develop prototypes over the course of the next six months that would reduce the schedule risk for the descent, transfer and refueling elements.
NASA's plan which sees help from the 11 American companies in building the lunar landers, transporting astronauts in a special landing system consisting of a transfer element that supports the journey from the lunar Gateway into low-lunar orbit, a descent element which would carry astronauts to the Moon's surface, and an ascent element which would safely bring the astronauts back to the Gateway. The most interesting aspect of NASA's plans includes focusing on making the systems reusable.
"This new approach doesn't prescribe a specific design or number of elements for the human landing system," Chavers said. "NASA needs the system to get our astronauts on the surface and return them home safely, and we're leaving a lot of the specifics to our commercial partners."