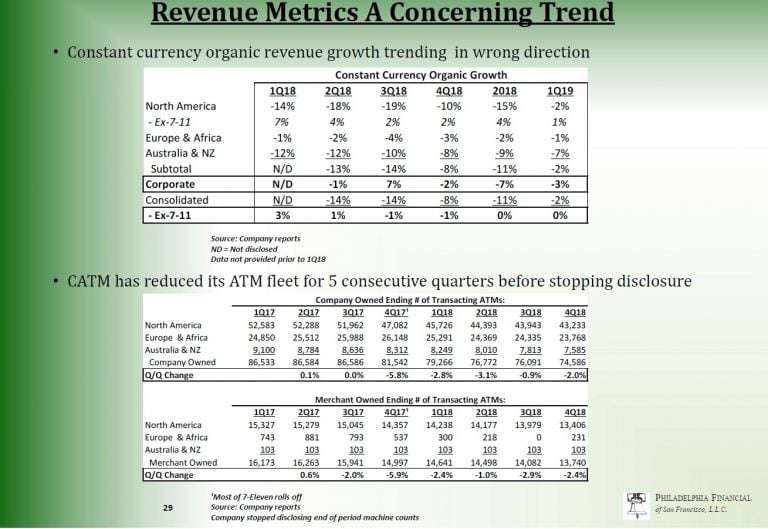 Whitney Tilson's email to investors discussing Cardtronics PLC (NASDAQ:CATM) short thesis; Is the FTC regulating MLMs after all?; The Dream podcast on MLMs.
1) Justin Hughes, a 15-year industry veteran at $600 million hedge fund Philadelphia Financial of San Francisco, has given me permission to share his 48-slide presentation outlining his short thesis on ATM operator Cardtronics (CATM).
David Einhorn At The 2021 Sohn Investment Conference: Buy These Copper Plays
There's a gold rush coming as electric vehicle manufacturers fight for market share, proclaimed David Einhorn at this year's 2021 Sohn Investment Conference. Check out our coverage of the 2021 Sohn Investment Conference here. Q1 2021 hedge fund letters, conferences and more SORRY! This content is exclusively for paying members. SIGN UP HERE If you Read More
Q1 hedge fund letters, conference, scoops etc
Even if you don't short stocks, you should go through this presentation carefully because it's a brilliant piece of analysis. Justin makes a compelling case that Cardtronics is a classic value trap: a formerly excellent business that is about to go into sharp decline due to technological changes.
Those of you who've been on this e-mail list for more than a year and/or attended my short-selling conference last May might remember Justin's epic takedown at the conference of Plus500 (PLUS.L), an unbelievably predatory online options day-trading platform. The stock is down more than 60% in a little more than a year since then...
2) Speaking of predatory, that word defines pretty much of the entire multilevel marketing ("MLM") industry, which consists of multibillion-dollar companies like Amway (private), Avon Products (AVP), and Herbalife Nutrition (HLF), as well as countless smaller ones.
It's been well-documented over decades that, collectively, the industry sells millions of Americans a false dream of passive-income, work-from-home riches when in reality only the companies and a handful of people at the top – the early participants in the pyramid scheme – make any money. Millions of other innocent, naïve folks just get their faces ripped off...
The Chinese, who ban MLMs entirely, have it right here. People can sell to their friends and family and get paid a commission for sales, but cannot get paid for recruiting others into the pyramid and getting a percentage of their sales.
In light of President Trump's general deregulatory agenda, as well as his past direct involvement in the industry, ever since he took office it's been widely assumed that the Federal Trade Commission ("FTC"), which is supposed to regulate the industry, would do nothing to rein in abuses.
But perhaps that's not the case, as a friend of mine with extensive experience in the industry argues in this article, which I was given permission to share. There has been no mainstream press coverage of this, and it's interesting to note that Herbalife's stock, after peaking at $61.47 in January, is down 31% since then...
Is the FTC regulating MLMs after all?
FTC Shutters AdvoCare MLM Business Over Compensation Plan
AdvoCare International, a Plano, Texas-based direct seller of nutritional supplements, said May 17 that it's revising its business model so that distributors no longer earn commissions on sales by those they recruit. The change will go into effect on July 17 and follows "confidential talks with the Federal Trade Commission (FTC)," the private company said in an announcement sent to distributors.
...........
AdvoCare will continue to sell its nutritional supplements and other personal care products directly to consumers and will pay distributors commissions for products they retail directly. AdvoCare will effectively become a direct selling company with no multilevel marketing ("MLM") component. The announced change, which was posted on the company's website, indicates AdvoCare may have made the change to prevent being shut down by the government: "AdvoCare has been in confidential talks with the Federal Trade Commission ("FTC") about the AdvoCare business model and how AdvoCare compensates its Distributors. Based on more recent discussions, it became clear that this change is the only viable option. The planned change will impact Distributors who have participated in the multilevel aspect of the business, but it will not affect Distributors who sell directly to customers."
..........
MLM followers have been discussing the AdvoCare decision for days on the Internet: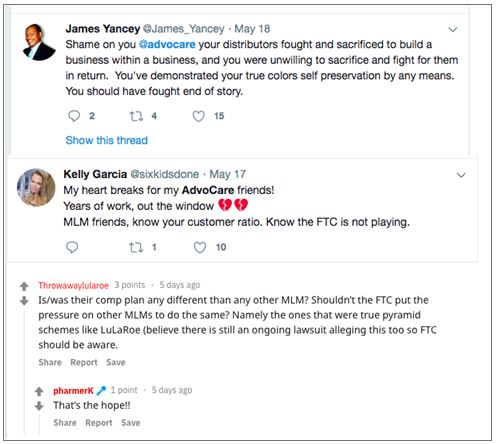 3) If you'd like to better understand the predatory MLM industry, I highly recommend the podcast The Dream. Here's an interview with the host of the podcast, Jane Marie: What we get wrong about multilevel marketing, explained by the host of the popular podcast about it. Excerpt:
The Dream, a Stitcher podcast hosted and produced by the Hairpin and This American Life alum Jane Marie, has plenty of juicy seller horror stories. (Just wait 'til you get to the part about the woman who missed her best friend's wedding to go to a direct marketing conference!) But it also takes a deeper look at the history of these companies and the networks of financial and political influence that have allowed them to thrive relatively unchecked since William Penn Patrick established Holiday Magic in the early 1960s.
And here's an article about it in Vanity Fair: This Podcast Can't Legally Tell You Amway Is a Pyramid Scheme. Excerpt:
Marie and her producer had, like many people, noticed her Facebook feed filling up with friends from high school selling leggings, or makeup, or handbags, asking their friends to buy them and sign up as salesmen themselves. They're all participating in multilevel marketing (MLM) schemes, which anyone involved will tell you are not a pyramid scheme, because pyramid schemes are illegal.
"That doesn't mean it's not one," Marie, a veteran of This American Life, said in a recent phone call. "That means it hasn't been prosecuted."
And the victims of MLMs – that is, the people who pay high buy-in fees but never recoup their investment – are usually women.
Best regards,
Whitney