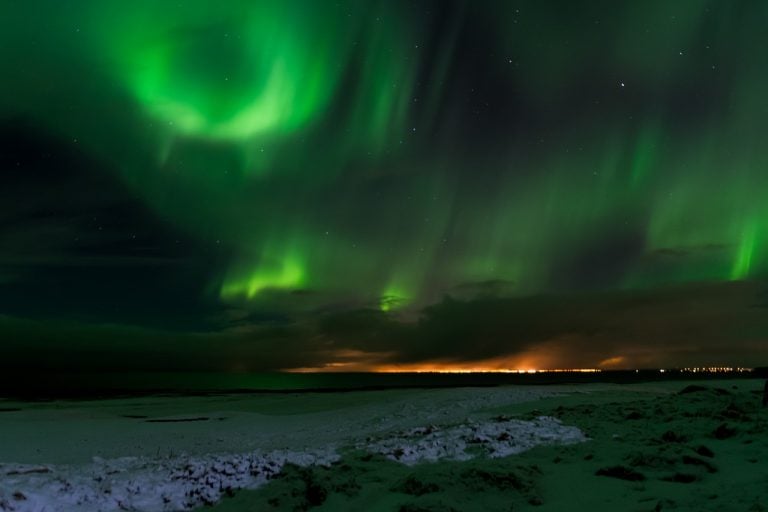 This week Earth seems to be experiencing the effects of stronger solar activity than usual. A geomagnetic storm which has been active since Tuesday is causing the beautiful northern lights to appear in the sky. These mesmerizing events can be as spectacular as strong meteor showers. Sky watchers across the northern U.S. and Canada may be able to enjoy the northern lights, also known as the aurora borealis.

Earlier this week, the Space Weather Prediction Center issued a G2 geomagnetic storm attention for Thursday, which means there is a high chance for the aurora borealis to be visible on that day. Geomagnetic storms come from the sun and interact with Earth's magnetic field.
The SWPC issued the watch as a result of a coronal mass ejected from the sun and traveling toward Earth. It's expected to start arriving on Wednesday and last until Friday, when the last mass is expected to arrive. According to the space center, these events are caused by "large expulsions of plasma and magnetic field from the sun's corona."
How A Weakening PE Market Serves As Another Sign Of A Weakening Economy
Amid the turmoil in the public markets and the staggering macroeconomic environment, it should come as no surprise that the private markets are also struggling. In fact, there are some important links between private equity and the current economic environment. A closer look at PE reveals that the industry often serves as a leading indicator Read More
On Tuesday, AccuWeather reported beautiful northern lights which were "surprisingly strong" and visible across the northern regions of the U.S. As the weather news outlet reports, the northern lights are a result of a geomagnetic storm that took place earlier. AccuWeather also reported on the surprise of many who shared their experiences of the lights on social media, who said they captured the lights via their cameras in Ohio and Iowa.
Unedited pictures from last night's Northern Lights party at Lily Pond in Hancock Township, MI around 3am. #AuroraBorealis #NorthernLights #KeweenawPeninsula #Aurora #StormHour #PureMichigan pic.twitter.com/wZAlA44Tdk

— Isaac (@ID_Photo_Graphy) May 14, 2019
By pure chance the Aurora Borealis (Northern Lights) decided to dance in the NW Ohio sky last night, I for some reason had my camera ready. @13abc @RossElletWX @EricElwell_TV @KellyDWeather @spann @StormHour @WeatherNation #AuroraBorealis pic.twitter.com/KeULuy2nm9

— Tyler Hofelich (@BlackSwampStorm) May 14, 2019
The prediction center suggests that the beautiful northern lights will be visible in Montana, the Dakotas, Minnesota, Wisconsin, northern Illinois, Michigan, northern New York and much of New England. People who live in Minneapolis, Chicago, Detroit, Buffalo, Syracuse, Albany and Boston have a chance to enjoy the show.
The Aurora borealis forms when particles which come from the sun are trapped inside Earth's magnetic field. The spectacular colors are a result of particles from the sun interacting with molecules of gases in our atmosphere, producing red, green and blue textures in the northern lights.
The geomagnetic storm expected on Thursday has a G-2, watch which is labeled as "moderate," but there is no reason for concern. It's rare that a geomagnetic storm can be strong enough to disrupt satellites and telecommunications on Earth. When that does happen, it can lead to consequences such as power outages or disruptions in internet, GPS and other technologies. Fortunately, this week's geomagnetic storm isn't expected to cause such problems. Instead, many will be able to enjoy the beautiful northern lights.
Updated on