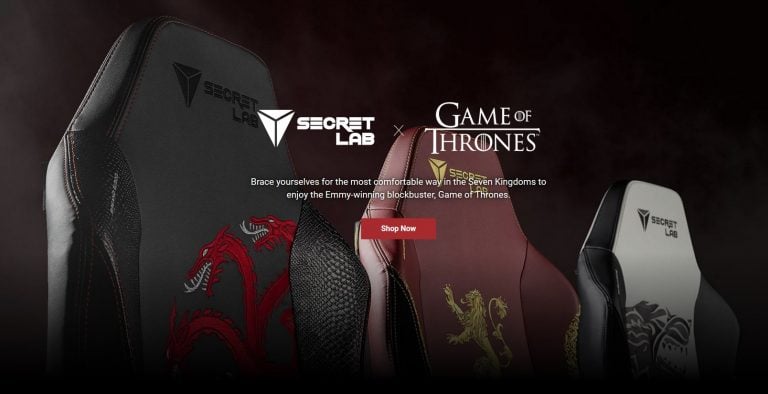 Game of Thrones has grown into one of the biggest brands currently, and every other brand wants to be associated with it. The latest to do so is Secretlab, which has teamed up with HBO on some limited-edition Game of Thrones gaming chairs.
Game of Thrones gaming chairs
Secretlab's Game of Thrones gaming chairs are themed for the three major houses in the show: the Starks, Lannisters and Targaryens. As can be expected, each chair features the house's sigil and colors. These gaming chairs are undoubtedly a treat for gamers who are also fans of the show.
The Last War begins.

Jim Chanos Unveils Lastest Short As Fund Manager Bets On Further Market Declines

Jim Chanos has a new short target in his sights. Earlier this week, the hedge fund manager disclosed that he is betting against "legacy" data centers that face growing competition from the trio of technology giants, which have previously been their biggest customers. The fund manager, who is best known for his winning bet against Read More

Watch Game of Thrones in absolute comfort with official Secretlab x Game of Thrones chairs @ https://t.co/dwbl3ufmyb.

Limited quantities available. pic.twitter.com/cI2sfkeM8G

— Secretlab (@secretlabchairs) May 3, 2019
"On top of having an epic storyline, Game of Thrones' aesthetics and art direction are both unprecedented and phenomenal," Secretlab CEO and co-founder Ian Alexander Ang said in a blog post. "Our designers, being huge fans of its aesthetics, came up with a few GoT concepts that looked so amazing that we had to reach out for a collaboration involving our award-winning chairs."
The chair representing the Starks comes in white and black and sports a wolf sigil front and center. Targaryen fans will get a chair with a three-headed dragon sigil in red on a black background. Those favoring the Lannister house will be able to buy a red chair with gold accents and a golden lion sigil.
Like other special-edition chairs from Secretlab, the Game of Thrones gaming chairs are available under its Omega and Titan styles.  The Omega chairs come with a starting price of $389, while the Titan chairs cost $429 each. These Game of Thrones gaming chairs are now up for preorder at Secretlab, while estimated shipping dates are in mid-July.
You can view and preorder the Game of Thrones gaming chairs via this link.
Other limited-edition chairs from Secretlab
Secretlab specializes in different types of gaming and office chairs, both themed and traditional varieties. Last month the company released special-edition chairs for Batman fans. Called the Dark Knight Edition, these chairs are also available in Secretlab's Omega and Titan series and feature the easily recognizable bat logo.
Secretlab's Dark Knight Edition chairs celebrate Batman's 80th anniversary and were developed in partnership with Warner Bros. As one can expect, the chairs are in black with the Batman logo on the rear and backrest of the chair. Aside from these differentiating features, the adjustable armrests, tilt and height mechanisms are the same as the Omega or Titan series chairs. Secretlab's Dark Knight Edition chairs are available now, and the price starts at $360.
Before the Dark Knight Edition, Secretlab also partnered with Riot Games for official League of Legends chairs for events like the League of Legends Championship Series and the World Championship tournament.
These chairs are not just for pro-players who compete on stage, but other League of Legends players and eSports viewers will also be able to buy these chairs.
"We are incredibly proud to provide our ultra-comfortable chairs to support the standards required by the most skilled League of Legends professional players in the world for 2019 and beyond," Secretlab's CEO said at the time of the launch.
Recently Secretlab also partnered with Mars Media and Disneyland Paris to design the official chair for the Dota 2 MDL Disneyland Paris Major championship. The MDL Disneyland Paris Major was announced in March and is the first Dota 2 Major ever scheduled in France.
This special chair features black and red leather and a large event logo stitched on both sides of the backrest. Players, casters and staff are using these special-edition chairs in the fourth major of the current Dota 2 Pro Circuit season. The event, which started last weekend, features 16 teams competing for the $1 million prize pool.
On November, the chair maker also announced a partnership with American eSports company Cloud9 to make Cloud9-edition chairs.
The high armrests on Secretlab's chairs can be easily adjusted up/down and forward/backward. The armrests can also slide toward and away from the center of the chair. The back can be reclined almost completely horizontal. The chair also has a height adjustment handle.
Updated on