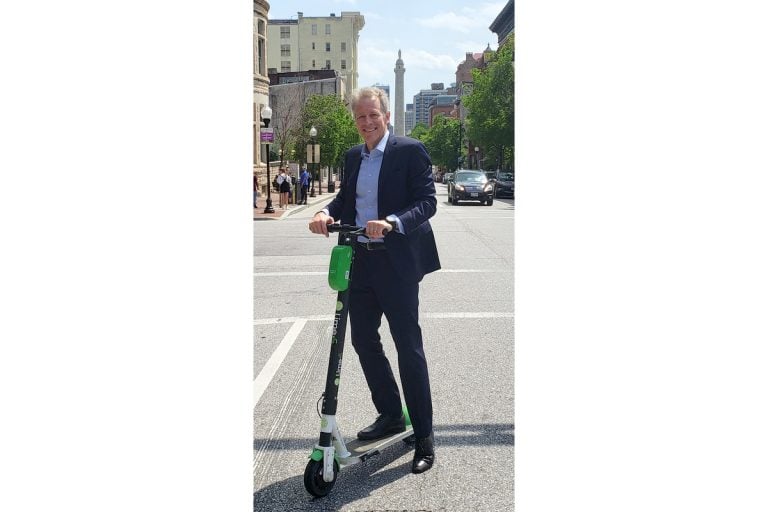 Whitney Tilson's email to investors discussing scooters; Zillow Group Inc (NASDAQ:Z) up big today; My response to a Tesla bull; Chris Brown on Tesla Inc (NASDAQ:TSLA).
1) In light of Uber's IPO today, I thought I'd comment on my experience with Lime, the scooter company that Uber partnered with and invested in last year at a valuation of $1.1 billion.
I was in Baltimore last week and had a lunch meeting 1.2 miles away. It took me a while to walk there, so I decided to use one of the many Lime scooters littering the sidewalks to get back to my office. Here's a picture of me on my way:
ADW Capital's 2020 letter: Long CDON, the future Amazon of the Nordics
ADW Capital Partners was up 119.2% for 2020, compared to a 13.77% gain for the S&P 500, an 11.17% increase for the Russell 2000, and an 8.62% return for the Russell 2000 Value Index. The fund reports an annualized return of 24.63% since its inception in 2005. Q4 2020 hedge fund letters, conferences and more Read More
Q1 hedge fund letters, conference, scoops etc
Overall, it was a mixed experience. It took only a couple of minutes to download the app, register, and enter my credit-card information. Then, I could scan the QR code on any scooter to activate it and I was ready to go.
The ride back to my office was twice as fast as walking and, at $3.25, about one-third the cost of a Lyft or Uber.
But riding it was a challenge... The scooter was fairly heavy, the acceleration was jerky, and the brakes were so-so. I didn't feel comfortable riding it, especially without a helmet and in the streets, where I worried about cars and potholes. Yet scooters aren't supposed to be used on the sidewalks (though I saw many people doing this).
If an experienced scooter rider like me (I've owned a Xootr for two decades), with a high tolerance for risk, feels nervous riding a Lime scooter, I can only imagine what an average person is going to feel. For sure my wife would never touch one.
These scooters (and dockless bike shares) have also proven to be highly controversial as unused ones clutter sidewalks and reckless riders terrify and sometimes injure pedestrians – for example, see this article: Cities vow to crack down on "litter bikes."
So count me a skeptic that any of these companies will ever make a penny, much less earn enough to justify their silly valuations. But that hasn't deterred investors in these heady times, as this article notes: The electric scooter wars of 2018.
2) In Wednesday's e-mail, I presented both sides of the bull-bear debate on Zillow (ZG), one of the ideas pitched at Monday's Sohn Investment Conference. I concluded that the company's new "Zillow Offers" instant home-buying program is "one of the dumbest ideas I've ever heard." However, I warned that...
It's too early to short Zillow. Its home-buying program will likely end in disaster, but that could take years. In the meantime, bulls like Hansen will be enamored with the strong growth and enormous total addressable market ("TAM") and could thus run the stock up a lot.
Sure enough, in the company's earnings report after the close yesterday, it beat revenue expectations, thanks to $128.5 million in sales from Zillow Offers (up from $0 the same quarter last year). While this segment lost $45.2 million, accounting for two-thirds of Zillow's $67.5 million in total losses (and the company projected even larger losses next quarter), investors cheered the growth story and the stock is up big today.
The lesson here: never short story stocks with open-ended growth stories (like Zillow today) unless you're sure that the fundamentals will sour – and soon (which is what's happening to Tesla right now, which is why I made my big call on it two months ago, Friday Was the Beginning of the End for Tesla).
3) Speaking of Tesla, following up on Monday's e-mail, which featured my former business partner and longtime friend Glenn Tongue's analysis of Tesla's distressed financing last week, one of the readers of my Tesla e-mail list (which you can join by sending a blank e-mail to
wrote this to me:
With $2.7b raised and another $2b in free money do you sorta start to wonder if the short story is over? The biggest problem I saw was a company way over-stretched and with the funding and cost-cutting, that is resolved. I don't see how shorts make money from here unless economy tanks. So I would predict your followers lose a *lot* of money.
Here was my response:
I never doubted that the company could raise capital in this environment of seemingly endless STOOOOOPID money. That's why my price target was (and still is) $100, rather than zero.
The company remains way over-stretched – but you're right that the cash buys them a few more quarters before it hits the wall.
My thesis has nothing to do with the economy tanking. Rather, it's that Tesla cars, however cool they might be, were, are, and will always be niche products for coastal elites. As we saw in the first quarter, its attempts to go mainstream have failed and will continue to fail, even as the EV (electric vehicle) market expands dramatically, due to a tidal wave of competition (which Tesla, to its credit, helped create) from far better managed, capitalized, and experienced carmakers.
I believe the first quarter is an excellent indicator of what demand will be going forward for the company's cars. (And, no, China, with its 487 local electric car companies (as of last July), won't save the day – see: Turns Out China Has an Astounding 487 Electric Car Makers.)
Nor will solar roofs, Powerwalls, self-driving cars, a fleet of a million robotaxis, or any other empty promise by a delusional and desperate CEO...
Best regards,
Whitney