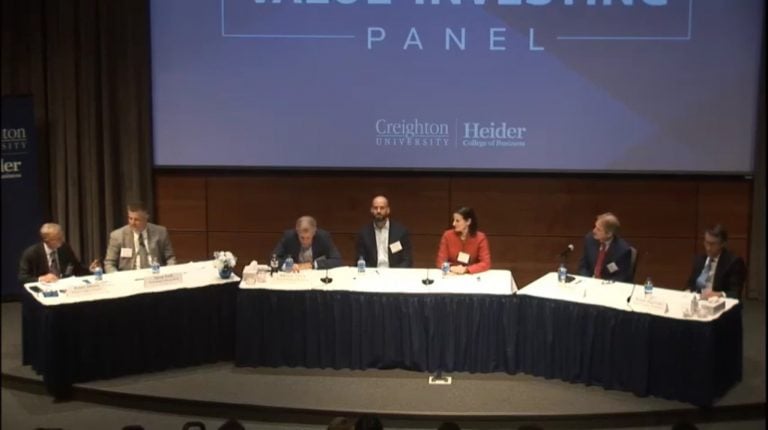 Held one day prior to the Berkshire Hathaway Annual Shareholders Meeting in Omaha, Nebraska, this student-run event attracts value investors from all over the US and a handful of countries.
2019 Moderators:
David H. Craft, CFA, CIMA, CIMC, Senior Investment Strategist and Vice President at Wells Fargo, Omaha
Robert Johnson, PhD, CFA, CAIA, Professor of Finance at Creighton University
2019 Panelists:
Bedford Park Opportunities Fund Q2 Letter: Long Converge Technology Solutions
The Bedford Park Opportunities Fund returned 13.5% net of all fees and expenses in the second quarter of 2021, bringing its year-to-date return to 27.6%. Q2 2021 hedge fund letters, conferences and more   In the fund's second-quarter investor letter, which ValueWalk has been able to review, Jordan Zinberg, the President and CEO of Bedford Read More
Ted Bridges, CFA, Chief Executive Officer, Chief Investment Officer at Bridges
Robert G. Hagstrom, CFA, Chief Investment Officer, Equity Compass Investment Management, Senior Portfolio Manager of the Global Leaders Portfolio
Susan Schmidt, CFA, Head of U.S. Equities, Portfolio Management at Aviva Investors
Josh Shores, CFA, Co-Portfolio Manager for Southeastern Asset Management's Non-U.S. Strategy and the Longleaf Partners International Fund
Whitney Tilson, Founder and Chief Executive Officer of Empire Financial Research
11th Annual Value Investing Panel: Avoid Value Traps
Q1 hedge fund letters, conference, scoops etc
Transcript
And the way this is going to work is for about the first hour. David and I are going to alternate asking questions that the students have provided. Again the student the portfolio practicum class is the sponsor of this event. And a question will be directed at a specific panelist but the other panelists can join in and provide color if they would like to. So we're gonna start with a question on security analysis and the student question is Warren Buffett has often said that value and growth are joined at the hip. How much emphasis do you place on projected future growth when valuing a company.
Whitney Hi.
Well Warren Buffett with the purchase of Amazon I guess no longer a value investor.
Well wait a minute.
He didn't buy Amazon. He blessed it or not.
He blasted and if you look at you know when he talked about it yesterday he's clearly sort of tickled that one of them finally broke down and did what he has long regretted not doing. And I've actually written a couple articles saying you haven't missed Google either. That's the next tech stock. I think they might add to their portfolio.
I look.
Growth is one of the big mistakes I made in my career is. You know this my 20 second consecutive Berkshire meeting. And so you know I'm a dyed in the wool value investing disciple of Buffett and Munger but I looked I looked in the pool of statistically cheap stocks and then tried to find good businesses. And I had it backwards. I should have been looking in I should have spent all my time trying to identify create businesses long term compounds. And then in that pool looked for companies that were temporarily out of favor in the market. And obviously so seventy five percent business quality which a very important component of that is is the future growth prospects. And 25 percent the valuation on the way in and I had that for almost my entire career reversed. Warren Buffett had that entirely reversed for the first 20 years of his career. He is just a cigar but investor and Charlie Munger helped him become more of a high quality business investor. But you know they figured out that that sort of transition started to happen in the 70s and 80s and it took me till the 2000s long into the 2000s to figure it out. So shame on me. But you guys were young mostly as I look around this room and focus on high quality businesses and and being right on the quality of the business is 75 percent of what matters being real clever at buying it cheap on the way in is at most 25 percent of what matters.
OK. I'll send this next question to Robert. How do you identify and avoid value traps.
Well I'm still learning what you know kind of riff on what Whitney says.
I'm sorry I don't use them I got to do that. OK. All right. To kind of echo what Whitney says it's interesting value investors are categorized as long term investors.
Bob you still need to move that microphone put it right out of your mouth. Just pull it over. All right. How's that. I think people the back room we got to here and value investors have long been thought to be you know as they should be long term investors and what Whitney was pointing out is that if you're going to be a long term investor it's better and more beneficial to be a long term investor of a good business that's growing over time than a bad business that doesn't grow.
We kind of got it flipped upside down and we began to buy statistically low P E type stocks and end up being very bad businesses and avoiding for a time period higher multiple stocks that actually were a great business. And Whitney points out very nicely that we might have had that backwards to avoid value traps. What we're trying to do is buy businesses that have a long capacity to invest money at good rates of return over time. And in my portfolio as I've been doing for 20 some odd years we were more global in nature because we believe the long term opportunities for compounding growth are on a global stage less than a domestic stage.
And if we just buy simple attractive businesses sell products and services that are going to be in demand by consumers around the world. That seems to be a sensible way in which to avoid a value trap and and be on the right side of a good business just Egypt's channel.
I'll uh I'll add onto that. I from our own discipline we're very much or value focus. We still want to by a margin of safety. I mean your ideal situation is a really good business where something has gone wrong and that margin of safety is still present. I'm entirely non U.S. focused so.