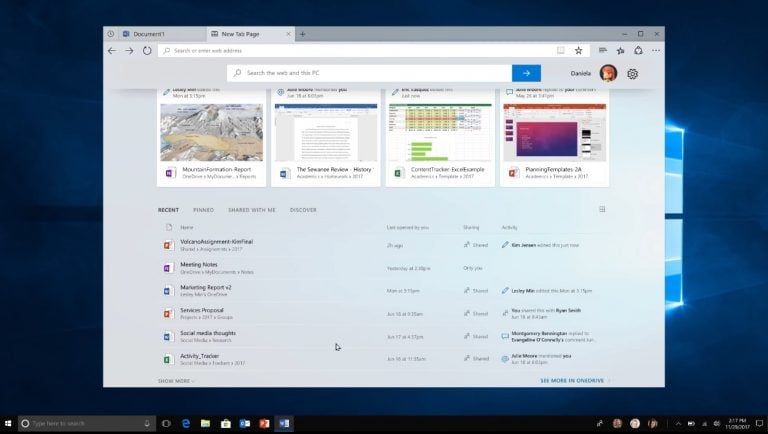 Two years ago, Microsoft released a preview of two new features which were expected to appear in Windows 10: Timeline and Sets. While Timeline came to Windows in April 2018, the Windows 10 Sets feature, which allowed users to combine data, websites and other information into tabs, won't be making it into the final version of the operating system. Citing multiple sources, ZDNet reports that Microsoft quietly dumped its plan for Sets.

Microsoft announced Sets in late 2017. However, after conducting several tests on the Windows 10 Sets feature, Microsoft has withdrawn it from the pre-release Windows 10 builds and kept quiet about it. According to Thurrott, the feature won't be part of Windows 10 version 1903, given that the version was completed and didn't introduce Sets into testing.
Over the past weekend, Windows users looking forward to the release of Sets were given a glimpse of hope when Microsoft's senior program manager tweeted that the feature is "high on [Microsoft's] to-do list." Nevertheless, Sets wasn't included in Windows 10 version 1903. Thurrott said it was believed that the feature's delay was related to Microsoft's work on the Chromium-built Edge browser, given that Sets was based on the tabs in the original Edge browser. Since the classic Edge is becoming a thing of the past, development on the Windows 10 Sets feature would need to start over.
London Quality Growth Investor Conference: Buy Dassault Systemes
At this year's inaugural London Quality Growth Investor conference, Denis Callioni, analyst and portfolio manager at European investment group Comgest, highlighted one of the top ideas of the Comgest Europe Growth Fund. According to the speaker, the team managing this fund focus on finding companies that have stainable growth trajectories with a proven track record Read More
The Shell-provided tab experience is no more, but adding tabs is high on our to do list.

— Rich Turner (@richturn_ms) April 20, 2019
"Windows 10's 'Sets' feature is gone and not expected to return," ZDNet writer Mary Jo Foley writes.
Still "the feature generally wasn't well received or understood," which indicates that the Microsoft-built Sets is unlikely to happen.
Thurrott reports that Microsoft plans to bring Sets-like tabbed features to future versions of File Explorer, its file management app, and other Windows 10 applications.
If you're disappointed that Sets is not coming to the operating system yet or perhaps even at all, you can buy the Stardock application "Groupy," which enables you to easily organize data, websites and other links just as you would with Sets. Here are some of its features:
Drag and drop applications to group them under a common tabbed interface
Group multiple applications and documents together for convenient access
Group related tabs together for optimal workflow
Save groups of applications for future use
Manage tabs in quick, natural ways with the browser-like interface
Add new tabs to existing groups quickly and easily
Mouse over tabs to preview the window contents
Copy files between Explorer tabs
Drag files to the target tab, pause to switch, and then pull into the target window.
Automatically group instances of the same application together
Updated on