Willow Oak Select Fund commentary for the first quarter ended March 31, 2019.
Only when the tide goes out do you discover who's been swimming naked. – Warren Buffett

Jim Chanos At Invest For Kids: Short This Tech Company As Profits Slump

At this year's Invest For Kids conference, hedge fund manager Jim Chanos pitched a tech giant as his favorite short idea. Jim Chanos is a Wall Street legend. The president and founder of Kynikos Associates made his name shorting Enron in the 1990s. He has since identified some of the most profitable shorts in the Read More
Dear Partner,
For the quarter ended March 31, 2019, the Willow Oak Select Fund was up 5.59%, versus 11.61% for the benchmark index, MSCI ACWI.
Q1 hedge fund letters, conference, scoops etc
The above quote is often cited, but infrequently properly implemented. To us, planning in a meaningful way for the inevitable day when the tide goes out means structuring a portfolio with large positions in companies with a high probability to compound at superior rates over the long term. This increased probability exists because such businesses have strong, competitive, durable positions and the financial resources to grow their businesses over the long term. However, we take it one step further and look for companies that not only weather down cycles, but also take advantage of them to increase their intrinsic value. There are different ways strong companies can thrive during a downturn; there is, however, one essential characteristic—a strong balance sheet. As the saying goes, cash at a time of crisis is precious. Cash with no or limited debt provides options for companies in a downturn to take advantage of others' panic. These companies can buy back their own temporarily depressed stock. They can acquire weaker competitors at depressed prices. They can strike favorable deals with forced sellers.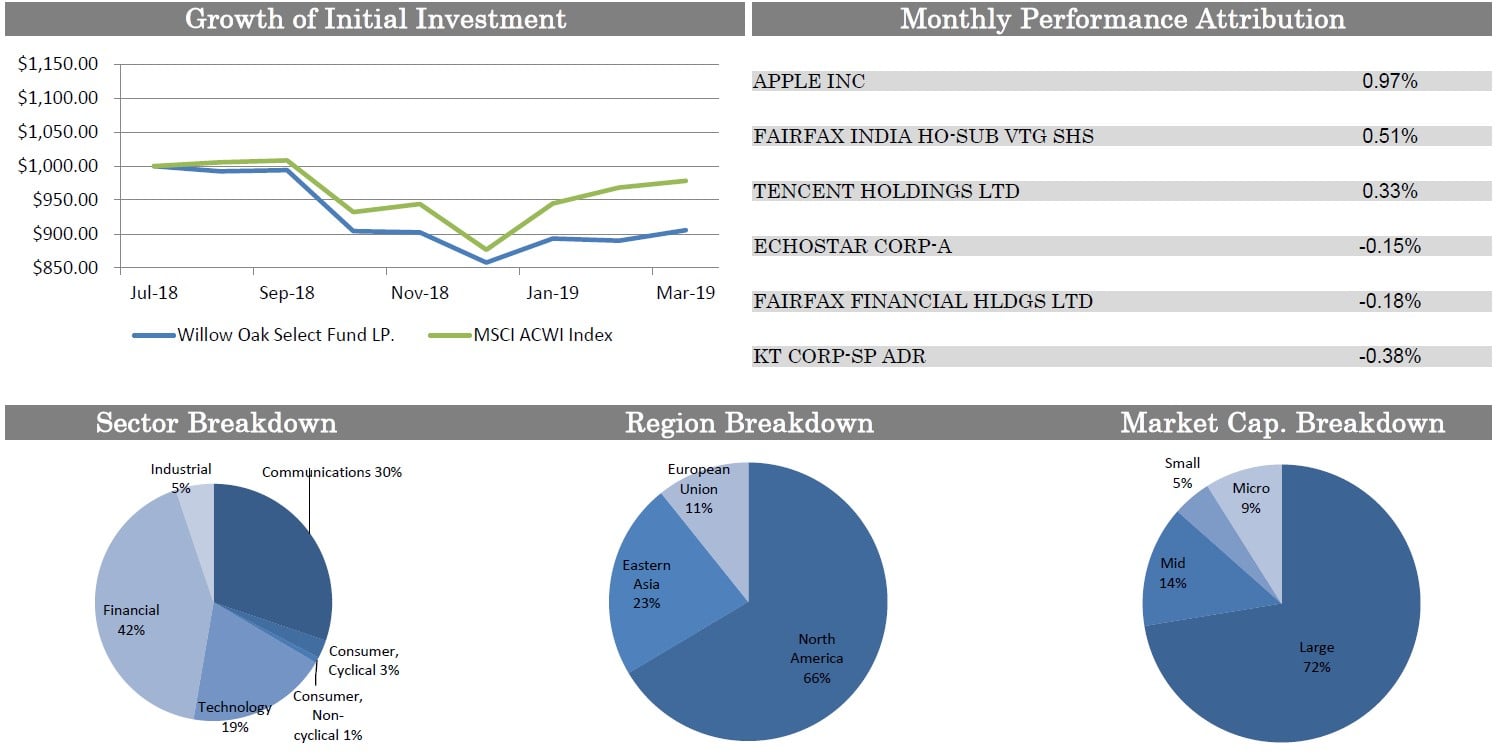 Our portfolio has many such companies. Our largest position, Berkshire Hathaway, used their fortress balance sheet during the Great Recession of 2007-2009 to strike many deals at highly favorable terms with companies desperate for Berkshire's cash and stamp of approval. Taking advantage of a crisis is a key component of Berkshire's overall business plan. In An Owner's Manual, Warren Buffet writes:
Overall, Berkshire and its long-term shareholders benefit from a sinking stock market much as a regular purchaser of food benefits from declining food prices. So, when the market plummets—as it will from time to time—neither panic nor mourn. It's good news for Berkshire.
Our third largest position, Brookfield Asset Management, is another example of a company likely to take advantage of a market downturn. Brookfield is a top acquirer, developer, and manager of real estate. Its scale and global reach are unmatched. It also has a deeply ingrained value-investing culture with an emphasis on buying quality properties when they are available at a discount to their true value. Its CEO, Bruce Flatt, has been exceptional, having increased Brookfield's stock price by more than 10x since he became CEO in 2002. Coming out of the Great Recession, Brookfield's stock has increased more than 5x because Brookfield had the balance sheet and fortitude to buy high-quality properties at a time when nearly everyone else was trying to sell. Brookfield recently announced a deal to buy Oaktree Capital, which buys distressed debt, and whose chairman is famed value investor Howard Marks. If you haven't done so already, check out Marks's must-read Chairman's Memos for a sense of his risk-adverse and contrarian nature. We think Brookfield got a steal buying 62% of Oaktree for a 12% premium. Oaktree is a perfect cultural fit for Brookfield and further enhances Brookfield's ability to thrive in a downturn, since Oaktree is likely to perform well when credit markets are stressed.

We have other companies in our portfolio that will undoubtedly emerge from a downturn in stronger positions than when the downturn began. These companies, combined with special situations from our contributing managers that are largely detached from market movements (e.g., Belmond, highlighted in our Q4 letter), make it likely that we generally will outperform the market through down cycles. The flipside of this is that it is likely we will lag the market during strong bull markets, being driven ever higher by momentum stocks that do not have the reasonable valuations and strong balance sheets upon which we insist. Over an entire cycle, we expect to outperform because we own superior businesses purchased at reasonable valuations.
We have two upcoming events you may be interested in attending. We will be on a panel of fund managers in Omaha, Nebraska, following the Berkshire Hathaway annual shareholder meeting on Saturday, May 4th, at 4:30 p.m. at the Omaha Marriot Downtown. Registration is available at this link: Willow Oak Panel. I also plan to be in Phoenix, Arizona, in late September to meet with investors to provide an update on Willow Oak Select Fund after the completion of its first year. There will be a group meeting, and I will also be available to meeting individually, as well. If you have any questions about either of these events, then please contact Jessica Greer at (443) 775-1227 or jessica@willowoakfunds.com.
Best regards,
Rodney E. Lake
Portfolio Manager
cc: Michael Bridge, Portfolio Advisor
Jessica Greer, Investor Relations Manager
This article first appeared on ValueWalk Premium