Whitney Tilson's email to investors discussing our 'gimmicky' marketing; don't be dumb; David Einhorn on Tesla; Herman Cain; Robocalls; how to unsubscribe from his TSLA list; Europe vs. U.S.; 'Driving America Forward Act' Could Give China $2 Trillion in U.S. Subsidies..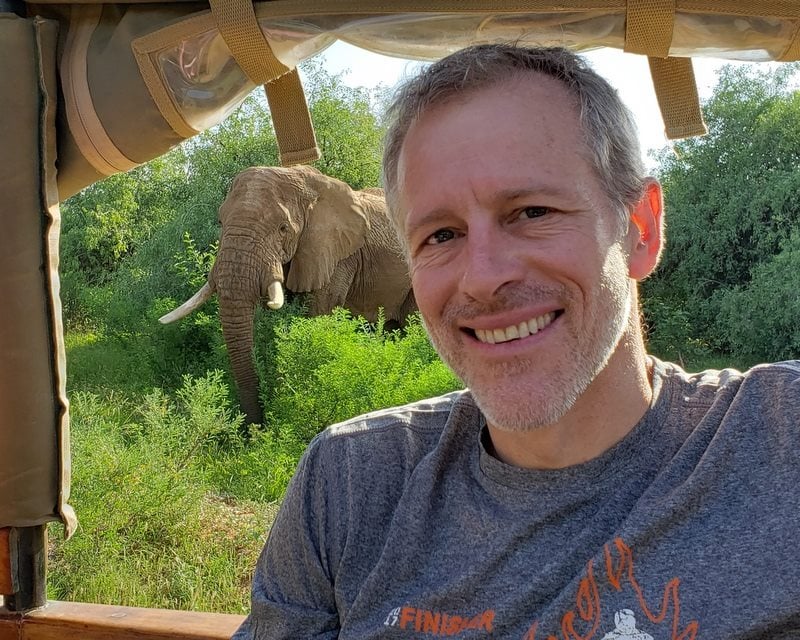 ***The free webinar launching my new newsletter, the Empire Investment Report, is taking place this coming Wednesday, April 17, at 8 p.m. Eastern! You can sign up here.
This AI-Powered Emerging Hedge Fund Manager Is Blazing A New Path
Investment strategies used by hedge funds have evolved over the years, although the biggest changes have come in the use of computers to develop portfolios. Rosetta Analytics is a woman-founded and woman-led CTA that's pioneering the use of artificial intelligence and deep reinforcement learning to build and manage alternative investment strategies for institutional and private Read More
Q1 hedge fund letters, conference, scoops etc
In doing so, you'll immediately get access to my three videos on Berkshire Hathaway, our reports on why we think Facebook (FB) and Amazon (AMZN) are likely to double, and Glenn's report – which is getting an incredible response on Twitter – on why Tesla's stock (TSLA) could collapse (click FREE RESOURCES at the top of the page). And if you enter your cellphone number to receive a text reminder before the webinar, you'll also get our report on Alphabet (GOOGL).
Again, click here to immediately access all of this for free. After the webinar, this content will only be available to paid subscribers.***
1) One of my readers, Robert M., emailed me to tell me that he'd signed up for the webinar, but also shared that he felt like the landing page for it and the sign-up process seemed "gimmicky."
It's a fair point, and I don't doubt that other readers might have a similar reaction. So I wanted to share the reply I sent to Robert:
Thanks for the feedback. To be honest, the highly promotional nature of it makes me a bit uncomfortable. No, I don't think I'm the next coming of Warren Buffett and Jesus Christ all wrapped into one – LOL!
In almost all things in my life, I much prefer to under-promise and over-deliver (keeping in mind Munger's quip that the key to a successful marriage is "low expectations going in"!).
But here's the truth: under-promising is rarely an effective strategy for selling anything. When a gym runs an ad campaign, do they show a picture of an average customer or its most ripped, fit one?
One of the reasons I partnered with Stansberry Research is that I suck at marketing. And they're really good at it. Take my word for it: their approach works. They have an incredible 20-year track record to prove it.
I've put my feelings of discomfort aside in part because it works, but more importantly because it's not the marketing that matters, but the end product. And in this area, Stansberry Research is as committed as I am to doing in-depth research and delivering great investment ideas and sound advice to its subscribers.
With Empire Financial Research, I can focus on the two things I really enjoy and think I'm good at: 1) reading, talking to people, doing research and analysis, and thinking to come up with a handful of great investment ideas each year; and 2) writing informative and compelling content.
So, I hope you'll ignore the marketing that rubs you the wrong way and sign up for my new newsletter, which I promise will have no hype at all – just good thinking and money-making stock ideas, delivered in a concise and well-written way.
2) Here's another article I've posted recently, Don't Be Dumb, about how even a 0.1% error rate can cost you millions – and how to avoid such mistakes. Excerpt:
Imagine that you bought the stock of an incredible company that grows and grows for a decade or more. Think membership club Costco Wholesale (COST), credit-card company Visa (V), sports-apparel firm Nike (NKE), or Warren Buffett's Berkshire Hathaway (BRK).
To make a fortune, all you have to do is hold on to it and do nothing.
Sounds easy, right? It's not. The markets are open for trading 252 days each year. Over 10 years, that's 2,520 trading days – and each day presents an opportunity for you to do something dumb: Sell the wonderful stock you own.
Let's say you're really smart and disciplined, however, and you only have one dumb day out of every thousand. In other words, you're smart 99.9% of the time.
The odds that you sell the stock at some point over those 2,520 trading days over a decade is 92%!
When I look back and analyze why I sold some of my biggest winners way too early – costing my investors and myself millions of dollars – I found that I usually made a terrible decision and acted on it quickly... often in one day.
3) It's good to see my friend David Einhorn rebounding from a tough year, as Greenlight Capital gained 11% in the first quarter. He dedicates half of his just-released first-quarter letter to Tesla (TSLA), concluding:
We believe that right here, right now, the company appears to again be on the brink. The signs are everywhere, from the lack of demand, desperate price cutting, layoffs, closing-and-then-not-closing stores, closing service centers, cutting capex, rushed product announcements and a new effort to distract investors from the demand problem with hyperbole over TSLA's autonomous driving capabilities. TSLA has lost a significant number of senior executives and appears to be having a hard time recruiting replacements. After all, who would want to work in such an environment?
Last summer, Musk promised TSLA would be profitable and cash flow positive in every quarter going forward. He repeated that forecast as recently as the end of January. That promise has failed to materialize. The question at hand is: in a few months will Musk be again bragging that he saved the company from the brink of failure, or will TSLA in fact fail this time? Come back at the same Bat-Time on the same Bat-Channel next quarter to get an update.
4) President Trump's proposal to nominate Herman Cain to the Fed's governing board reminds me of the time I met him on April 12, 2012. I had just flown in from Washington D.C., where I'd met President Obama earlier in the day in the context of his "Buffett Rule" proposal for a minimum tax on millionaires. I was in CNBC's studios in New Jersey about to go on air to talk about it – and there was Herman Cain, also about to go on air on a different topic.
We had a nice chat – he's a very personable guy (but laughably unqualified to serve on the Fed – thankfully it looks like enough Republican senators are saying they'll vote against him that he's not going to get the job).
Here are two pictures from that day. I suspect I may be the only person to have shaken hands with both of these men on the same day – LOL!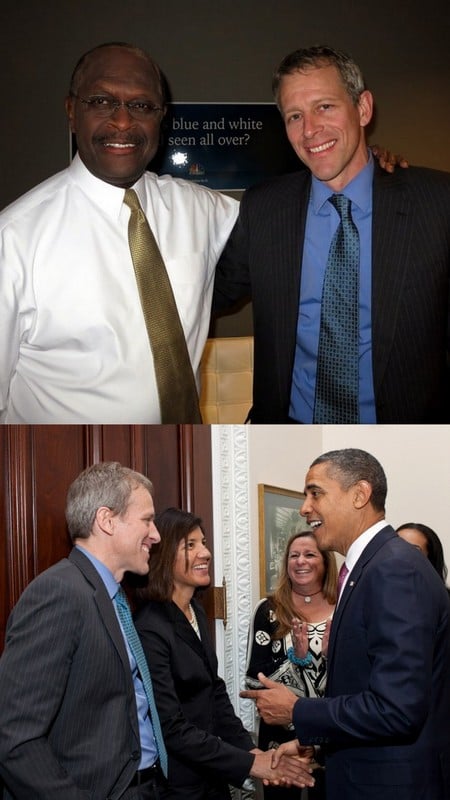 For more on the proposal to put Cain on the Fed board, see:
Why Does Trump Want to Debase the Fed?, Paul Krugman, New York Times
Herman Cain's Federal Reserve Résumé: Penny Stocks and Penis Pills, Bess Levin, Vanity Fair
Profiles in Tremendousness – Federal Reserve Board Nominee Herman Cain, Trevor Noah, The Daily Show
5) If you're being driven crazy by numerous robocalls a day (as I am), read this article from the Washington Post: Die, robocalls, die: A how-to guide to stop spammers and exact revenge.
To combat this, a few days ago I:
1) Verified that I'm on the official government do-not-call list (which you can do at: www.donotcall.gov).
2) Downloaded the Verizon Call Filter app. The article says it's free, but Verizon (surprise!) tried to charge me $2.99/month. I was so irritated that I called to complain, and they added it for free. Once installed, under the main menu, I selected Block Management and turned on the Spam Filter.
3) Downloaded a free app, YouMail, and activated it. (I didn't bother with the revenge apps, as tempting as that was!)
So far, it's working well!
Best regards,
Whitney
---
How to unsubscribe from my TSLA list; Europe vs. U.S.; 'Driving America Forward Act' Could Give China $2 Trillion in U.S. Subsidies.
I've said it before and I'll say it again: I know I send a lot of emails to this TSLA email list. I think it's GREAT stuff – I learn so much every day! – but if it's too much for you and you wish to unsubscribe, no worries – just send a blank email to: [email protected]
------------------------
1) A friend with a good point:
General comment:  Given how good so much of the Tesla discussion is on a lot of details, it has, on the whole, been shockingly bad at recognizing differences between Europe and the U.S. when analyzing the Europe situation.
Specific application here:  On average, Europeans care far less about EV range than Americans do because most Europeans almost never drive that far in a day.
2) Anton Wahlman's latest article is below. He emailed me this about it:
My new article on the EV tax bill giving $4.3 billion each to 487 Chinese automakers, for a $2 trillion total. This is ~15 times the combined market caps of Ford, GM, FCA, and even Tesla.
I just want to see Trump stand up and explain giving away 50% of the entire U.S. annual Federal budget to 487 Chinese electric car startups, for the purpose of having them bankrupt GM and Ford, causing mass unemployment, at a time when the entire U.S. Midwest is hooked on prescription drugs.
Why doesn't Trump rip into this proposal?
------------------------
'Driving America Forward Act' Could Give China $2 Trillion in U.S. Subsidies