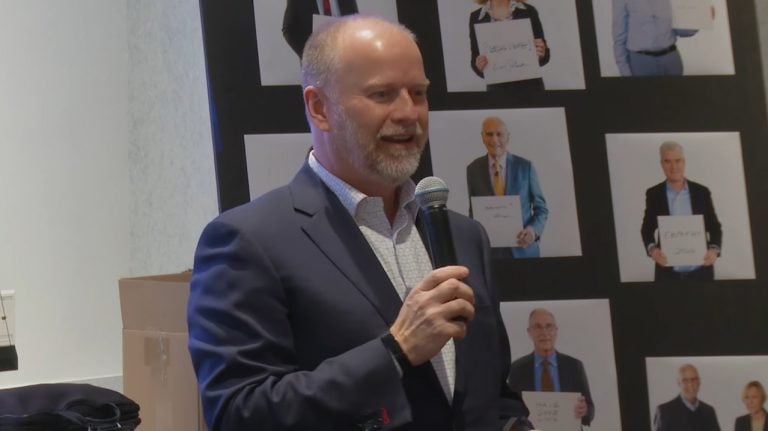 In an event jointly sponsored by the National Venture Capital Association (NVCA) and the Computer History Museum (CHM), venture capital trailblazers William Draper III, C. Richard Kramlich, and Franklin "Pitch" Johnson discussed the highlights and challenges of their long careers and legendary firms. The panel was moderated by venture partner Christy Remey Chin of the Draper Richards Kaplan Foundation. The discussion was followed by a brief talk by the Exponential Center's Distinguished Scholar, Sebastian Mallaby, a senior fellow at the Council on Foreign Relations, who described his latest book project on the history of venture capital. New Enterprise Associates Cofounder and Chairman Emeritus of the Industry Advisory Board Charles Newhall III provided closing remarks.
NVCA and CHM announced at the event that they have joined forces to preserve and make freely accessible the NVCA's rich oral history collection of industry leaders. The NVCA Oral History Collection is freely accessible to anyone interested in learning more about the roots and impact of the venture capital industry.
Venture Capital Trailblazers
Philip Carret And Warren Buffett: Why Sell If There's Nothing Wrong?
Philip Carret was an investor and founder of Pioneer Fund, one of the first mutual funds in the United States. Carret ran the mutual fund for 55 years, during which time an investment of $10,000 became $8 million. That suggests he achieved a compound annual return of nearly 13% for his investors. Q1 2021 hedge Read More
Q4 hedge fund letters, conference, scoops etc
Transcript
For those of you that know a lot about NVCA this will be a repeat for those of you that don't we have the privilege of advocating on behalf of this entire industry not just the investors. And in fact if you look at the Public Policy where work we do both in D.C. and now increasingly in some of the states. It's all about this entire entrepreneurial ecosystem. The founders and the funders and everyone that makes the amazing contributions to innovation in this country and help change the world. And what we are in in that honor to be able to represent this industry in Washington and around the world. We have a unique position also because other advocates in Washington don't have a connection to the pioneers of this industry like we have the opportunity to do. I can't wait to hear the panel we're about to hear. I can't wait to hear from Chuck Newhall like we will a little bit later. And for us it makes our job so much easier to be able to explain to policy makers. This is where it started. This is what it's done. And this is where it's going and it's important to capture the rich history and I'm so thrilled for the partnership that we are announcing today with Computer History Museum to make sure that these oral histories get online that anybody around the world can learn from this and that hopefully we can build upon it. There are some postcards at all the tables and I'll talk about this in a minute. When I get the chance to introduce Chuck but I'd like for you all to think about what the industry can be how we can shape it but also how we can capture this rich history. And with that I would like to introduce Kristie Chen a board member of the National Venture Capital Association to come in and welcome our panel where we get to hear from legends of the industry Kristie.
Well good morning my name is Kristie Chen. I've been fortunate to be working with Bill Draper at the Draper Richard Kaplan Foundation and met in that capacity serving on that and board.
We've got a distinguished group of trailblazers here to tell us about their adventures in venture capital. And so and their buyers are in the booklet on your table. And so I think we're just going to dive in if that's okay. We have Pitch Johnson, Bill Draper and Richard Kramlich. So what I think we'd like to do is start off with talking about a memorable entrepreneur that you've worked with the venture capital industry wouldn't be what it is. Your success wouldn't be what it is without the entrepreneurs. And so I'd love to hear. Your thoughts. Each one of you share a memorable experience may be one of the most impactful or meaningful entrepreneurs you've worked with. Pitched you want to start us off.
Yeah I guess if I had to pick one I'd pick George Rathmann. You have to stretch a point to calling me up Ruiner said. And it will not amount to anything without him. I give him a call and then for George. Give me a short history of MJ and Bilbo's. Unfortunately Dell departed from us would be the if we were. To assume that circumstances. Met a scientist at UCLA. And. Got the idea. Of starting a company around this size. He at that point in his life Bilbos had let's call this company a play do that it's Applied Biosystems and another applied. A threesome of applied anyway so we got this company started and began to Bill asked me to join him. I was a lucky break. By the way we worked pretty hard on tech but turned out that the founding scientists just couldn't do the work that was needed to run a company. So. At UCLA it was a guy was visiting. Named George Rathmann who had been at 3am. And so we met with George and in my backyard actually, we asked him to marry us and we didn't quite get Earnie but we almost did. He said well no my wife wouldn't like to move from the Chicago area out here.