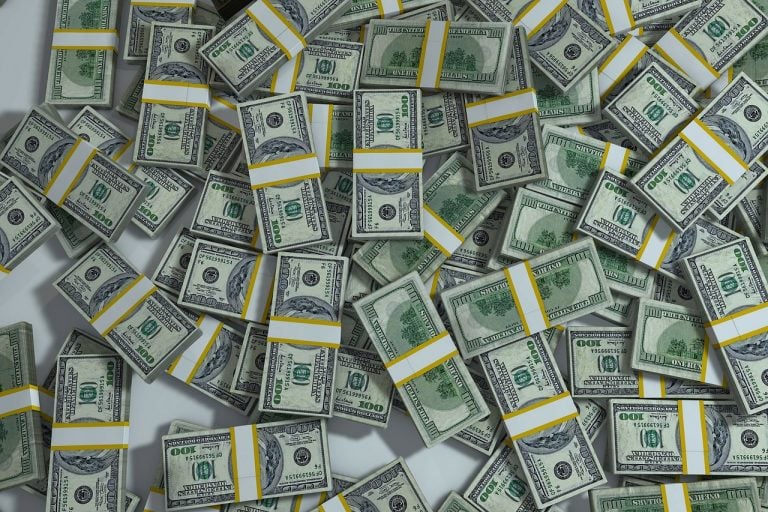 Pakistan's Federal Investigation Agency (FIA) has begun cracking down on alleged dollar hoarders. The FIA seized nearly PKR 40 million in currency and detained three in connection with their investigation. Authorities accuse the three of manipulating exchange rates by hoarding dollars and de-valuing the rupee.
Three alleged dollar hoarders arrested
The FIA assembled six teams and raided all of Lahore's currency exchanges simultaneously so investigators could review their records. According to the press release about the raids seen by multiple Pakistani news outlets, authorities seized currency amounting to "crores of rupees" from DD Exchange Lahore. The Federal Ministry of Information and Broadcasting said in a statement that officials expect "starting revelations" from their investigation."
According to a press release sent to Dawn and other Pakistan news outlets, the FIA arrested three people accused of holding PKR 37.5 million in rupees, dollars and other currencies. The FIA's Punjab Zone-I Lahore director ordered the arrests. The three face allegations of hoarding currencies, transferring funds illegally, laundering money, and "illegal speculation" in currencies.
Hedge Fund Launches Jump Despite Equity Market Declines
Last year was a bumper year for hedge fund launches. According to a Hedge Fund Research report released towards the end of March, 614 new funds hit the market in 2021. That was the highest number of launches since 2017, when a record 735 new hedge funds were rolled out to investors. What's interesting about Read More
The Express Tribune and Dunya News identify two of the people arrested in the case as Hassan Ghulam Ghous and Umar Dar. In addition to the two men, officials also continue to investigate DD Exchange Lahore.
Pakistani rupee de-valued
The FIA has moved swiftly since the Federal Minister of Information and Broadcasting announced their plans to crack down on dollar hoarders just last week. Citing "highly placed sources," Dawn reported over the weekend that Pakistani officials met on Friday in Islamabad to talk about the PKR to USD exchange rate. In a tweet, the information minister later confirmed their plans to crack down on dollar hoarders.
Government has directed FIA to launch a full fledged operation against Dollar hoarding, and speculative currency trade the operation is being launched in coordination with State Bank and ministry of Finance

— Ch Fawad Hussain (@fawadchaudhry) April 5, 2019
The FIA was ordered to team up with the Ministry of Finance and the State Bank of Pakistan for its investigation. Pakistani officials say dollar hoarders have been de-valuing the Pakistani rupee for quite some time. Authorities are primarily focused on speculative currency trading, which has picked up momentum recently.
Officials say the three accused people have been hoarding dollars to purposely reduce the value of the rupee while artificially inflating demand for the dollar — boosting its exchange rate in the process.
Other steps to crack down on dollar hoarders
The dollar reached an exchange rate of Rs 148 on Friday, sparking concerns about devaluation. Finance Minster Asad Umar also told the media that fake news about the rupee exacerbated the problem. Over the past year, the rupee's value has plunged by about 25%. Finance Minister Asad Umar doesn't expect the rupee to be de-valued any further and called for citizens to buy stocks rather than dollars. He also assured Pakistanis that supply and demand for the rupee against the dollar has reached equilibrium.
The Pakistan Forex Association reportedly told The Express Tribune that money changers agreed to voluntarily halt sales of the U.S. dollar and other foreign currencies to help stabilize the rupee. Only those who want dollars to spend on education, foreign travel and healthcare will be allowed to purchase dollars.
Buyers must submit documents to prove their intent when they attempt to purchase dollars. Accepted documentation includes invoices from foreign schools, hospital admission forms and visas if traveling outside the country.
PM highlights money laundering problems
In related news, Pakistani Prime Minister Imran Khan told Information Minister Chaudhry Fawad Hussain that the nation could have eliminated money laundering entirely if Pervez Musharraf had not given the Sharif family a National Reconciliation Ordinance (NRO). He added that the NRO extended in the Hudaibiya case has now been used as a precedent for additional money laundering cases.
Khan also said they expect to be able to start curbing money laundering under the newer regulations formed under the Benami law. The regulations should also discourage Pakistanis from owning properties under false names. The allegations against the Sharif family came to light after the massive Panama Papers leak a few years ago.
Updated on