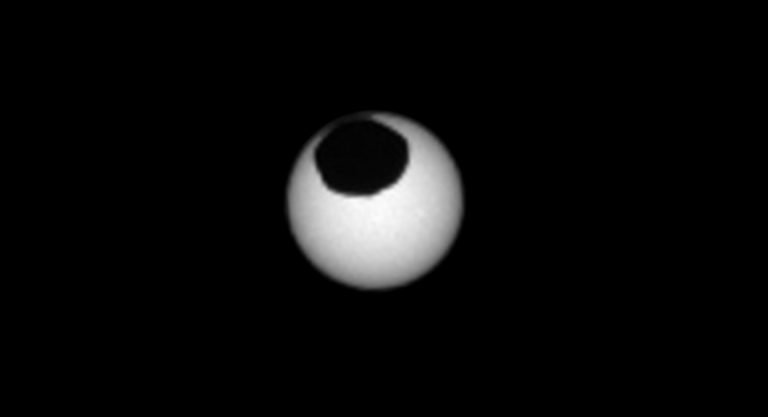 Solar eclipses are spectacular on Earth, but they can be seen from Mars too. NASA's Curiosity rover captured two solar eclipses on Mars using the solar filters on its Mast Camera (Mastcam). NASA has now received the images from the Red Planet and made the eclipses available for viewing by anyone.
NASA's Curiosity Rover landed on Mars in 2012, and since then, it has been exploring the Red Planet. Using its Mastcam, it captured beautiful solar eclipses caused by the planet's two moons, Phobos and Deimos.
Phobos measures roughly seven miles across, and its eclipse of the sun was caught on March 26 during the 2,359th Martian day, or sol, of Curiosity's mission. The other moon measures 1.5 miles across, and its eclipse was captured on March 17, which was Sol 2,350. Phobos couldn't cover the sun entirely, so this eclipse was considered an annular eclipse. Deimos is too small compared to the sun's disk, so scientists just refer to it as transiting the sun.
Despite 60% Loss On Shorts, Yarra Square Up 20% In 2020
Yarra Square Partners returned 19.5% net in 2020, outperforming its benchmark, the S&P 500, which returned 18.4% throughout the year. According to a copy of the firm's fourth-quarter and full-year letter to investors, which ValueWalk has been able to review, 2020 was a year of two halves for the investment manager. Q1 2021 hedge fund Read More
Additionally, one of Curiosity's Navigation Cameras, also known as Navcams, captured Phobos' shadow on March 25. When the moon's shadow passed over the rover at sunset, it dimmed the light slightly, NASA said in a news release.
Researchers have already captured solar eclipses using Curiosity and other rovers in the past. These discoveries enable researchers to better understand the orbit of both moons around Mars. The two solar eclipses on Mars add to to their comprehension.
Researchers were much less certain about the orbits of both moons before NASA's first rovers, Spirit and Opportunity, landed to the Red Planet in 2014, according to Mark Lemmon at Texas A&M University, College Station. He works as a co-investigator on Curiosity's Mastcam. When one of the rovers first attempted to capture Deimos as it eclipsed the Sun, they discovered it was 25 miles away from where they had initially expected it to be.
"More observations over time help pin down the details of each orbit," Lemmon said. "Those orbits change all the time in response to the gravitational pull of Mars, Jupiter or even each Martian moon pulling on the other… Eclipses, sunrises and sunsets and weather phenomena all make Mars real to people, as a world both like and unlike what they see outside, not just a subject in a book," he added.
According to NASA, the rovers observed Deimos in solar eclipse eight times, including observations from Spirit, Opportunity and Curiosity. However, Phobos has been seen eclipsing the sun about 40 times. Researchers still have a level of uncertainty when it comes to the moons' orbits, but the observations of the newest solar eclipses on Mars may help reduce it.