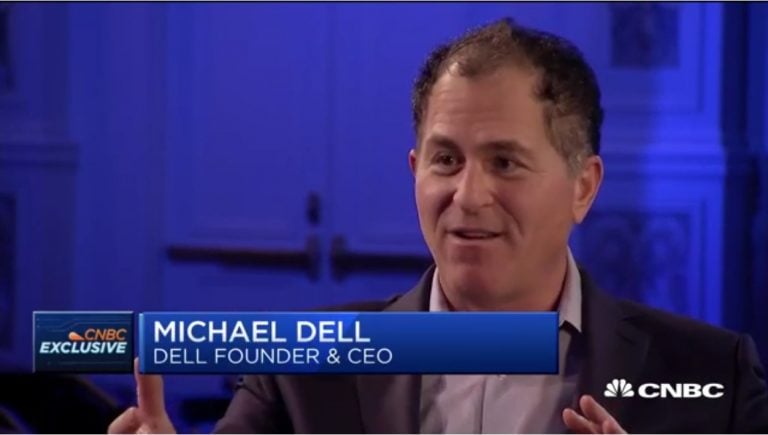 CNBC Exclusive: CNBC Excerpts: Dell Technologies Inc (NYSE:DELL) Founder and CEO Michael Dell Speaks with CNBC's Jon Fortt
WHEN: Today, Monday, April 29, 2019
WHERE: CNBC's "Squawk Alley" – at Dell Technologies World 2019 Conference in Las Vegas, NV
David Einhorn At The 2021 Sohn Investment Conference: Buy These Copper Plays
There's a gold rush coming as electric vehicle manufacturers fight for market share, proclaimed David Einhorn at this year's 2021 Sohn Investment Conference. Check out our coverage of the 2021 Sohn Investment Conference here. Q1 2021 hedge fund letters, conferences and more SORRY! This content is exclusively for paying members. SIGN UP HERE If you Read More
The following is the unofficial transcript of excerpts from a CNBC EXCLUSIVE interview with Dell Founder and CEO Michael Dell, and CNBC's Jon Fortt on CNBC's "Squawk Alley" (M-F 11AM – 12PM) that aired today, Monday, April 29th. VMware CEO Pat Gelsinger also joined for part of the interview. The following is a link to video from the interview on CNBC.com:
Q1 hedge fund letters, conference, scoops etc
Dell Founder and CEO Michael Dell: I'm the ultimate long-term investor
All references must be sourced to CNBC.
CARL QUINTANILLA: Welcome back to "Squawk Alley." Jon Fortt, as we said, is in Las Vegas today at Dell Technologies World where he sat down with Michael Dell for an exclusive interview. Jon?
JON FORTT: Carl, Dell Technologies World in large part about flexibility in this cloud enterprise area. We covered a lot of ground in our conversation, Michael Dell and I. One of the things we talked about, in the broader tech landscape – investment landscape, is founder control. And we just heard from Brian Chesky earlier in the show. Airbnb expected to come to market, the public markets, with dual class, at least two classes of shares and founder control. And we've got Slack, expected to do something similar. Lyft already in the market with dual class shares. Michael Dell has control in the new public iteration of Dell, makes no apologies for it. Here is what he had to say about it.
MICHAEL DELL: I can only speak from my own experience. A few days before our -- the 35th birthday of our company, and that is that I think having a long-term perspective and a long-term time horizon with which, you know, one approaches the development of a company can be very helpful. And, you know, last year we had 91 billion dollars in revenues. I started the company with $1,000 in my dorm room. And it's worked out pretty well. So, I'm, you know, the ultimate long-term investor.
JON FORTT: We also talked M&A and consolidation. VMware CEO Pat Gelsinger joined us. Of course, only makes sense—it's part of Dell Technologies. Dell Technologies owns 81% of VMware, though VMware's market cap is actually bigger through some kind of odd math. I asked him whether history is repeating itself in the enterprise tech cycle. We might actually see big tech companies buying other big tech companies now that the cloud is maturing. Short answer: yes. Take a listen.
PAT GELSINGER: I think there is this explosion of innovation that's going on around, I call them the four super powers: cloud, mobility, AI and IoT. And these are just causing so many new companies, investment of capital, you know, major new IPOs that are going on. And I think with each sort of wave of these innovative cycles, there's an explosion of new companies but then there's also a consolidation of existing companies. Right? Because sort of the layers start to reform. So, up here, you've got a whole new set of them emerging in many of these areas. And in the existing areas, yeah, there is some level of consolidation. So, I do believe there will be some. Because fundamentally at the infrastructure layer, I believe customers want fewer, more strategic vendors. And as I talk to CIOs, I say, 'My job is every one of your engineers that's looking down the stack at infrastructure, I want to enable you to have them look up to the application and business differentiating services. And we're increasingly going to automate, standardize, cloud deliver those infrastructure layers, so you don't have to do it. We're doing it for you in an automated, AI standardized way. So, every one of your resources gets to look up to create business differentiating circumstances. So yes, I believe both of those will be true, consolidation and explosion of innovation.
JON FORTT: Michael, assuming you agree, how long before we see that wave of massive consolidation? Not again just big companies buying small companies, but big companies buying big companies. Three years, five years?
MICHAEL DELL: Well, certainly the combination of Dell EMC VMware –
PAT GELSINGER: It is pretty big.
MICHAEL DELL: -- was the biggest one yet to date. So, that was a pretty big one. And last year we added more than $11 billion in revenue, so that was some additional industry consolidation there for you. You know, look, I think customers, to Pat's point, have told us very clearly, they don't want to be systems integrators anymore. And they are looking for fewer partners. And bringing together a broad sense of capabilities across the infrastructure, security, client devices, the cloud, digital transformation, you know, enabling all those capabilities for customers, they would much rather work with one leading company than 20 or 30 smaller ones.
JON FORTT: And this is a key theme for investors to really zero in on. Think about it, we heard it from Satya Nadella at Microsoft and the way they're trying to work with enterprises to bring their legacy systems into the cloud. We've heard it from Ginni Rommety at IBM. Look, they're trying to gobble down Red Hat. That should close in the second half of the year. I also talked to Michael Dell about VMware. He's trying to make the case for VMware as kind of a lingua franca of the cloud era allowing companies to move their workloads, their data back and forth between the public cloud, private cloud, under this hybrid model. He says that's important. Take a listen.
MICHAEL DELL: I think if you look at the rise of Kubernetes, you see clearly customers want to have an ability to move workloads around, not only among all the public clouds but into their own data centers, and into colos, and you know, out to the edge. And, you know, customers are concerned about sending all their data away to somebody else and then rendering it back. And so –
JON FORTT: Not because of security but because of performance and convenience?
MICHAEL DELL: I think it's going to be performance, cost, regulatory concerns, you know, latency for sure. So, a variety of concerns won't dictate that all your data and all your applications will end up in one place. The debate is over, Jon. It's no longer is it the private cloud or is it the public cloud? It's both.
JON FORTT: And that's the story of the next three years that investors are going to be paying attention to. Can Amazon adjust to -- not just Amazon, say Google, adjust to that legacy enterprise reality of holding customers' hands through regulatory issues, all of that, can they get that together faster than the likes of Dell and others, can move into the cloud era with flexibility, new technology and keep those enterprise customers. The battle is on from so many different directions in tech and that's a big theme here at Dell Technologies World that makes for a lot of competition and interesting alliances, guys.