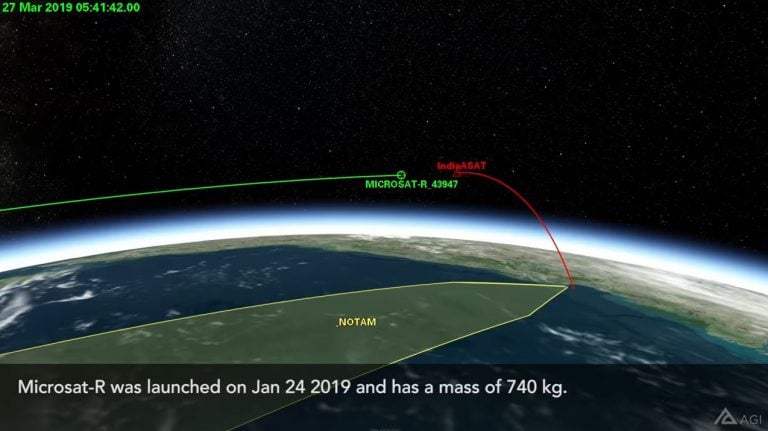 Last week, news about India's destruction of one of its satellites spread around the globe. Experts are now worried about the damage the space debris left by the destruction could have on the International Space Station and the astronauts who are currently on it. NASA calls India's satellite destruction a "terrible, terrible thing," warning that impacts by the space debris could threaten the ISS.

Last week, India intentionally blew up one of its own satellites using a missile. The act was warmly embraced by Prime Minister Narendra Modi, who said it makes the nation a "space power."
However, in a press conference streamed by NASA TV and posted to YouTube, NASA Administrator Jim Bridenstine said it's an "unacceptable" threat for the astronauts who live and work on the ISS. He said India's satellite destruction broke it into pieces large enough to threat the ISS but too small to be tracked by NASA. According to him, it's still unclear how many pieces were created when the satellite was destroyed.
London Value Investor Conference: Joel Greenblatt On Value Investing In 2022
The first London Value Investor Conference was held in April 2012 and it has since grown to become the largest gathering of Value Investors in Europe, bringing together some of the best investors every year. At this year's conference, held on May 19th, Simon Brewer, the former CIO of Morgan Stanley and Senior Adviser to Read More
"What we are tracking right now, objects big enough to track — we're talking about 10cm (four inches) or bigger —about 60 pieces have been tracked," he said.
He said the explosion was strong enough for the debris to reach the ISS, which orbits Earth at about 250 miles above, while the satellite that was destroyed orbited Earth at 185 miles above.
"That is a terrible, terrible thing to create an event that sends debris at an apogee that goes above the International Space Station," Bridenstine added. "That kind of activity is not compatible with the future of human spaceflight."
More importantly, he added that there's higher risk of collision between the ISS and debris, which has increased by 44% over 10 days days.
"It's unacceptable and NASA needs to be very clear about what its impact to us is," he said.
Right now six crew members are working onboard the ISS and may be threatened by the space debris. To demonstrate how much the debris could threaten the ISS, software-engineering firm Analytical Graphics Inc. developed a computer simulation of India's satellite destruction and posted it on YouTube.
However, according to G. Satheesh Reddy, chief of India's Defense Research and Development Organization, the lower altitude shooting position was carefully selected. He told Reuters that their selection should reduce the risk of space debris flying everywhere, adding that it should clear within 45 days.
"That's why we did it at lower altitude, it will vanish in no time," he told Reuters. "The debris is moving right now. How much debris, we are trying to work out, but our calculations are it should be dying down within 45 days."
Updated on