Multiple studies of crowded stocks are conducted every year with different goals. Simply knowing which names are more crowded than others has enabled some hedge funds to earn a tidy profit during times when momentum plays are down. However, there is more than one way to take advantage of opportunities presented by crowded stocks, and that's by paying attention to the movements in these names and the types of hedge funds which hold them.
Watching crowded stocks
In a note this week, Jefferies analyst Steven DeSanctis advises investors to watch crowded stocks going into the second quarter because some significant activity may be just around the corner. For his study, he examined the five best- and worst-performing hedge funds so far this year based on their holdings at the beginning of the year.
Q4 hedge fund letters, conference, scoops etc
Crossroads Capital up 55.8% YTD after 32.5% in 2019 explains how it did it
Crossroads Capital is up 55.8% net for this year through the end of October. The fund released its 2019 annual letter this month after scrapping its previous 2019 letter in March due to the changes brought about by the pandemic. For 2019, the fund was up 32.5% net. Since inception in June 2016, Crossroads Capital Read More
He added that the biggest risks will be crowded stocks which are heavy in underperforming funds and also in his "high turnover bucket." Such stocks will be ripe for selling because underperforming hedge funds are likely to sell them to raise funds to cover redemptions. We've been watching investor redemptions soar over the last few quarters, and this trend isn't likely to end any time soon.
DeSanctis also said that underperforming stocks which are crowded could be pressured simply because they are widely held by underperforming hedge funds. On the other hand, high turnover funds which captured strong returns during the first quarter could buy up more assets, keeping "hot names" hot.
Crowded names in the biggest hedge funds
As the end of the first quarter approached, DeSanctis began to examine the performances of the 100 biggest hedge funds to identify the five best- and worst-performing funds. He explained that these funds could see major inflows or outflows to begin the second quarter due to their excellent or subpar performance. Of course, he also notes that the analysis isn't without error because most investors don't hold their portfolios static. However, the data is still quite interesting.
He highlighted high-turnover funds with both good and bad performance so far this year based on their beginning-of-the-year holdings. The stocks held by these high turnover funds could pop suddenly around earnings because they don't trade as much as other stocks. As a result, if high-performing funds receive sizeable inflows, these little-traded stocks could rip higher. On the other hand, they could plunge if underperforming funds must liquidate positions to cover investor redemptions.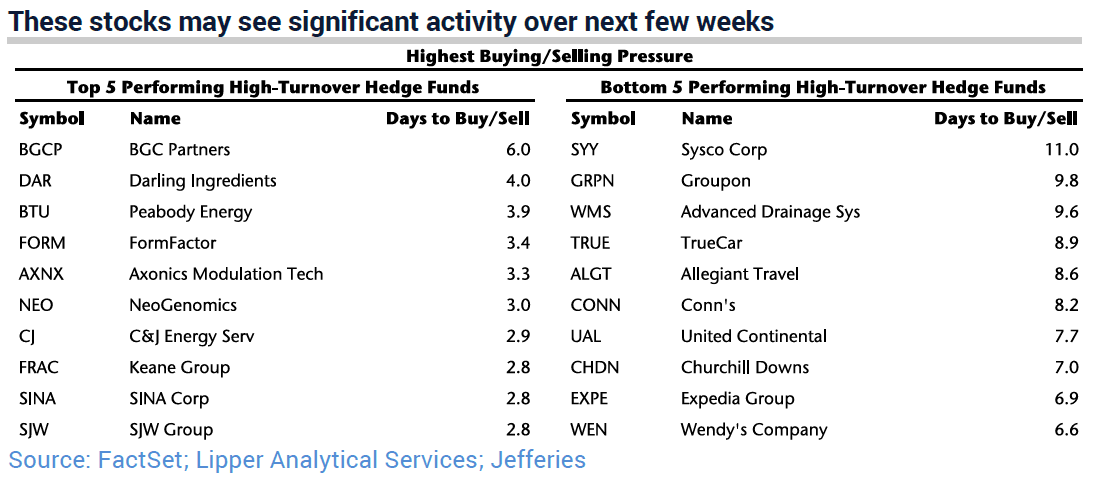 Health care stocks boosted strong funds
The Jefferies analyst first examined the top 100 hedge funds according to assets and then broke the list down into best- and worst-performing stocks held by each group by weight. Since these are small-cap names, trading volumes tend to be lower. As you can see, funds which have done well so far this year hold quite a few health care stocks, while funds with a lot of travel stocks have lagged their counterparts.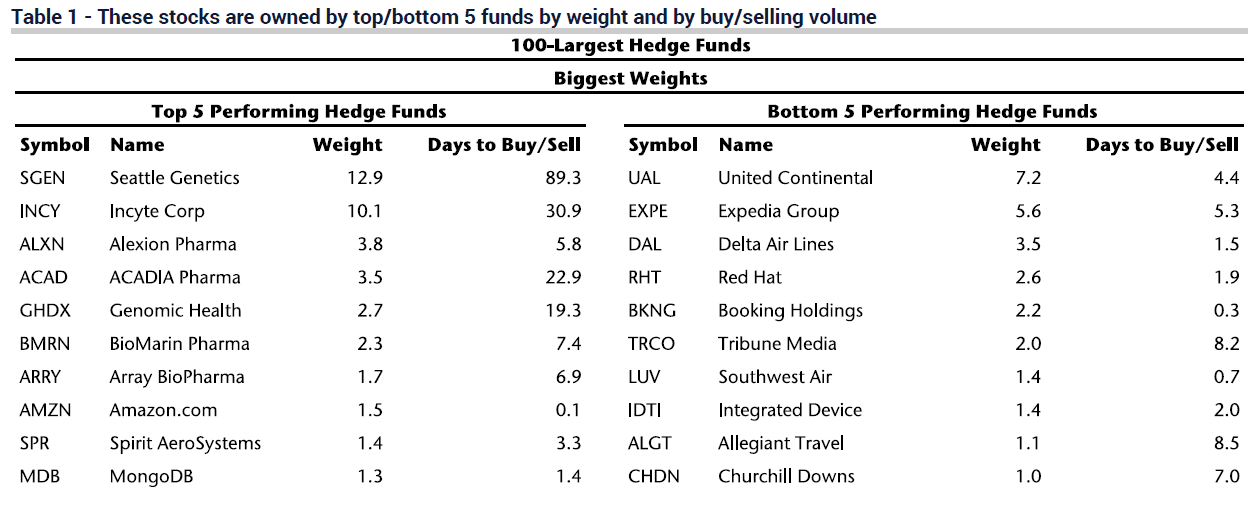 Jefferies also listed the stocks at risk of the greatest buying or selling pressure:

High-turnover stocks held by high-turnover hedge funds
DeSanctis added that investors should especially focus on the stocks in his bucket of those with the highest turnover. Top-performing funds which see significant inflows could boost their winning positions even higher to ride the wave of momentum. On the other hand, funds at risk for hefty redemptions will be more likely to sell their high-turnover stocks to cover outflows.

These are the stocks in the high-turnover bucket which are at risk of strong buying or selling pressure:

Long-term opportunities with low-turnover hedge funds
The Jefferies analyst also looked at the opposite end of the spectrum: stocks held by funds with low turnover rates. The stocks in this bucket typically have lower volumes, so any selling will pressure them.
"Investors that want to build position [sic] in these names could be patient in stepping up and owning or adding to their positions," DeSanctis observed.
He also noted that once again, health care stocks dominated this bucket:


This article first appeared on ValueWalk Premium