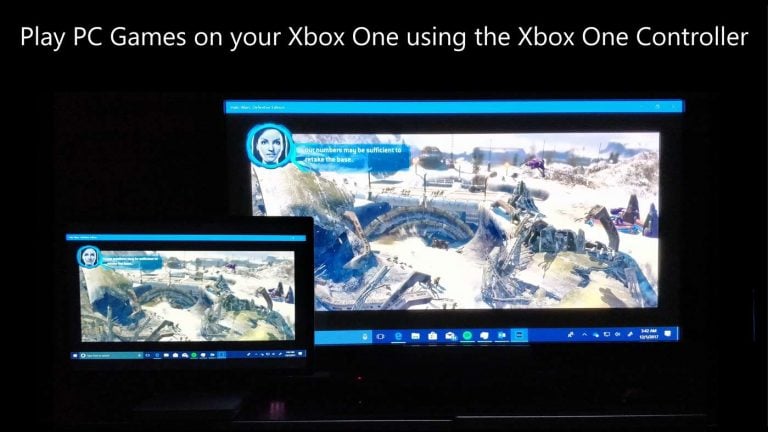 Microsoft is allowing video game streaming by updating its Wireless Display App, previously known under different names, to support playing PC games on Xbox One. Moreover, users are allowed to use their traditional Xbox controller on the Wireless Display App to play PC games on the console.
The Wireless Display App allows users to play Steam titles on Xbox One but it's not limited to other PC titles. The app is already available on Microsoft's online store and can be downloaded for free. To allow streaming and create a reliable connection between a computer and a console, the Wireless Display App uses Miracast, and to enable streaming, users can use the combination winkey and P.
According to The Verge, the app, once connected, allows users to choose between different latency modes eligible for gaming and watching videos from the PC, allowing content to be mirrored from PC to Xbox. Unfortunately, the app doesn't support streaming content from Netflix or Hulu, and is limited mostly to gaming.
Crypto Hedge Fund Three Arrows Blows Up, Others Could Follow
A few years ago, crypto hedge funds were all the rage. As cryptocurrencies rose in value, hundreds of hedge funds specializing in digital assets launched to try and capitalize on investor demand. Some of these funds recorded double-digit gains in 2020 and 2021 as cryptocurrencies surged in value. However, this year, cryptocurrencies have been under Read More
According to the report, the app has already been tested for months before making its appearance publicly, with Microsoft using different names to present it. Nevertheless, now all Xbox One users can own it. Previously, the app was known as Connect on Windows, beginning its career as support for the Microsoft Surface Hub. Back then, Microsoft provided support for mouse, keyboard, touch and stylus to connect to another PC. With the new update users can play PC games on Xbox One and connect with a controller. Microsoft has spent significant years competing with other giants in the gaming industry, such as Sony, to bring the streaming service to users. The Wireless Display App might currently be the best attempt at it.
At the moment, users can't play using the keyboard and mouse as input, but can only play PC games on the Xbox One using the controller and other Xbox One traditional inputs. However, this could change as last year, Microsoft announced a partnership with Razer on providing support for the mouse and keyboard for Xbox. Also, there's a list of games that currently have support for Xbox mouse and keyboard input, so it's anticipated that Microsoft will take a step forward and give a new update to its app to support more titles.
Here's what the app currently supports:
Instantly share photos you've just taken with family and friends without having the photos sync through a cloud service.
Share video clips you've recorded with family and friends
Project your favorite websites with Microsoft Edge to the biggest screen in your house
Mirror your Android games to your TV so your friends can watch
Play your PC games on your Xbox while using the Xbox controller as a gamepad
Use your PC on your Xbox One and use the Xbox controller as a mouse/keyboard
Updated on