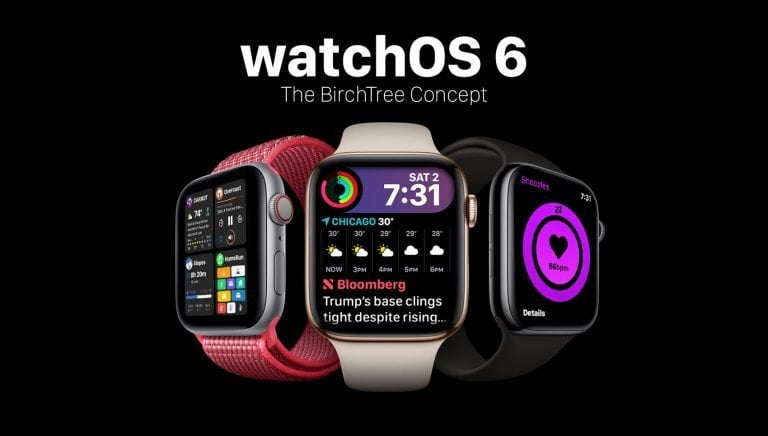 Apple isn't expected to reveal the next version of watchOS for several more months, but as is always the case with the company's products, artists are taking a crack at guessing what it will look like. One artist recently released a new watchOS 6 concept which focuses on Siri integration.
watchOS 6 concept designed for Siri
The watchOS 6 concept was designed by Matt Birchler and spotted by Redmond Pie. Birchler noted in a blog post about his concept that the next version of Apple's smartwatch operating system is expected to be a smaller one since it's an even number. Apple usually saves the major updates for odd-numbered versions. Based on that trend, his watchOS 6 concept basically just offers suggestions for ways Apple could enhance what's already there.
The first suggestion is for the Siri watch face, which he said was one of his favorite new features from watchOS 4. He thinks the Siri face needs to be updated to be "a little cleaner and a little more useful." His watchOS 6 concept replaces the unpopular blue and purple cards with an infograph and complication style. His design provides more space for customized app user interfaces and eliminates much of the color that made the card design unpopular.
Roubaix Performance Update; YTD Net Return +13.93%
Roubaix Fund Composite commentary for the month ended May 31, 2021. Q1 2021 hedge fund letters, conferences and more Roubaix Fund Composite Performance Update The Roubaix Fund Composite is a fundamental long/short equity strategy focused on small and mid cap U.S. stocks. On a year to date basis, Roubaix has generated a net return of Read More
Improvements for sleep tracking and the Apple Watch dock
Birchler also suggests improvements for the sleep tracking data, which he said currently isn't "easily-parsable." Although his watchOS 6 concept doesn't add any detail as far as how to make sleep data more usable, he does suggest the creation of new "Well being" rings, which he said could display sleep and meditation information. He notes that Apple has offered its Breathe app for a few years, and it could be added to the "Well being" ring, which he said should fit in with Apple's activity rings.
He also designed improvements for the Apple Watch's dock. He liked the original horizontally-scrolling version rather than the current vertical card design, which he feels doesn't use space very efficiently. He suggests that Apple change the dock back to the original grid system. In his design, he could fit four apps on the watch's screen at a time.
Other improvements in the watchOS 6 concept
Birchler also suggested new functionality for the iPhone and Apple Watch together. For example, he suggests that opening the camera app on his iPhone could automatically open the companion Watch app. He also would like to see always-on watch faces so that the time can easily be seen even though he knows it would use up the battery faster.
He also wants to see third-party developers be allowed to create their own watch faces. This suggestion would also help with something else he wants to see, which is an increase the number of new watch faces. He noted that the faces included in watchOS 5 are basically the same as the previous version or just slightly modified versions. He suggests that it would also be a good time for Apple to add watch faces which are "more about looking nice than getting as much data on screen as possible."
Apple is  expected to reveal watchOS 6 this summer at its annual Worldwide Developers Conference, so until then, fans will just have to be satisfied with concepts like the one designed by Birchler.