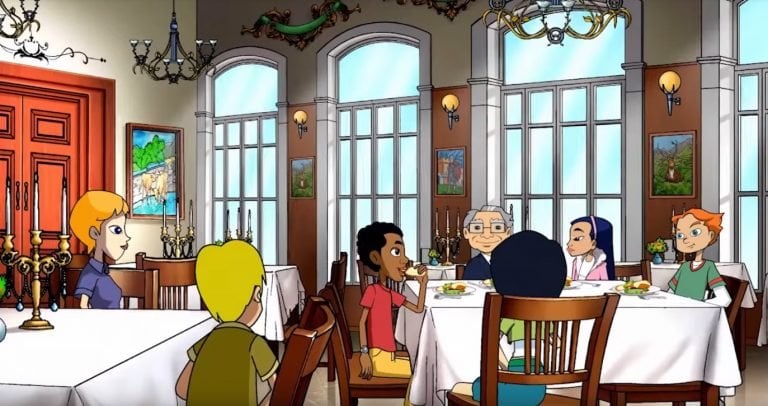 Warren Buffett and Secret Millionaires show the hockey team how to adapt for success.
Warren Buffett: The Fast Food Business Competition
Q4 hedge fund letters, conference, scoops etc
GrizzlyRock: Long Thesis For This European Travel Company [Q1 Letter]
GrizzlyRock Value Partners was up 16.6% for the first quarter, compared to the S&P 500's 5.77% gain and the Russell 2000's 12.44% return. GrizzlyRock's long return was 22.3% gross, while its short return was -2.9% gross. Compared to the Russell 2000, the fund's long portfolio delivered alpha of 10.8%, while its short portfolio delivered alpha Read More
Transcript
Mmm this herring meal is delicious.
Yeah, father is an amazing chef. If only he could catch up to Arnie seniors fast food business.
But this is fine dining. The other is fast food.
Maybe your dad just needs to speed things up a bit.
He could change his restaurants image. The happy herring made us... Well.. Happy.
Speed things up?
Make it happier?
How can we do that?
I've got some ideas.
Why me? Why not you?
As Mr. Buffett says every business needs to promote itself. Who better to promote Dahlquist than someone so cute and charismatic.
Are you trying to get back at me about making fun of you not being sporty.
No. Dahlquist just might need fun promotion. Hit it Alayna.
I am fanny fish, and here's a little twist. Whenever you are famished, just go to Dahlquist.
Okay. I'll stand out in front of the restaurant but to compete with the fast food business, we need ideas for serving your customers even faster than the happy herring.
I have just the thing and it's all thanks to watching Betty practise. Ready, set, order up. Three point five seconds. Now that's fast food but that's just beginning. With my plan would cut 53 percent of the time it takes to prepare a meal paring away. Mashed potatoes.
[inaudible].
I can't wait to show father.
How can you make my restaurant fun and the faster.
I am fanny fish, and here's a little twist. Whenever you are famished, just go to Dahlquist.
Hering away.
Go go go.
It was faster but it just doesn't seem like Dahlquist this way. Faster.
Faster. Maybe that was a little too fast.
I want to speed up your team this much. Isaac Yes I need you. News team is the fastest on the ice. What other choice to be have. There are other strategies in the 1972 World Match. Radley we've got to finish practice tried again guys. I want to see fast.
Maybe going fast isn't the best idea.
BRADLEY You wanted to speed up the restaurant and now you want to slow down the team. I'm good at analyzing games and please I know you're a fan but you just don't know that much about playing. That doesn't mean I'm not right.
Rather remember you're not really a sports kind of guy.
Alina I know Brandy and Isaac knows his team dude. If he says fast his best and he's right Amando. Maybe I should sell to our senior. I can't compete with fast food.