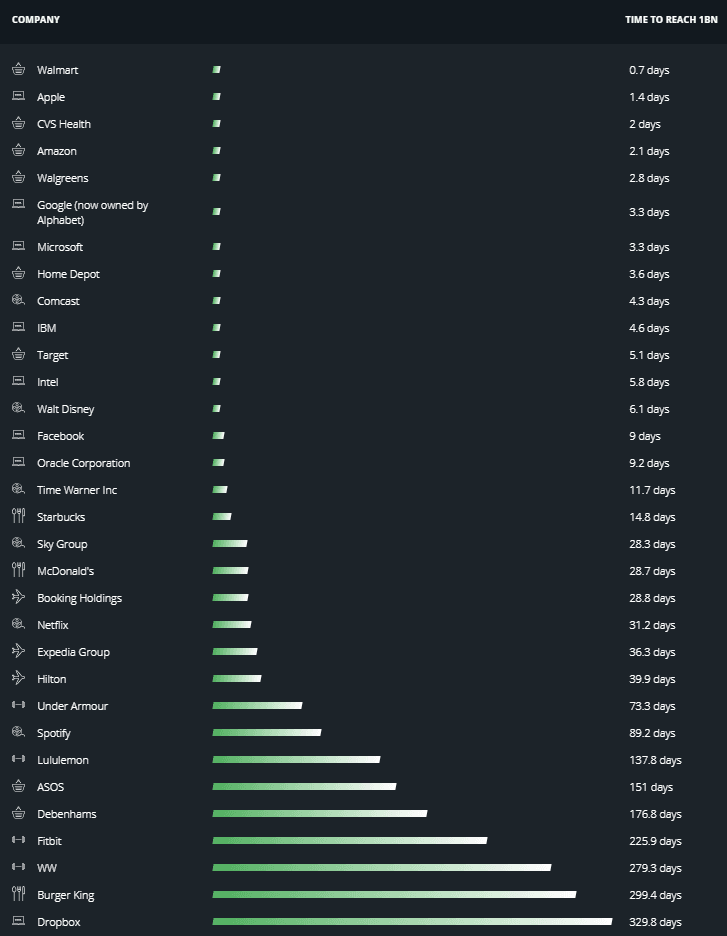 A study by City Index analysed the financial reports of the following brands to reveal exactly how long it took each to make their first $1 billion in revenue.
The Race to a Billion campaign compares Amazon to Walt Disney, Google to Burger King to see which industry has been able to make $1 billion the fastest as well as how fast they make it now.
Q4 hedge fund letters, conference, scoops etc
This Hedge Fund Believes The New Real Estate Cycle Is "Well Underway"
Chilton Capital's REIT Composite was up 6.1% last month, compared to the MSCI U.S. REIT Index, which gained 4.4%. Year to date, Chilton is up 6.3% net and 6.5% gross, compared to the index's 8.8% return. The firm met virtually with almost 40 real estate investment trusts last month and released the highlights of those Read More
In 2 years, Walmart will be the next company valued at $1 trillion based on how fast it makes a billion today. It took Walmart 18 years to make its first billion and only 0.7 days to make that same amount now.
Take a look what other businesses we featured in the ranking here and who won the race to a billion.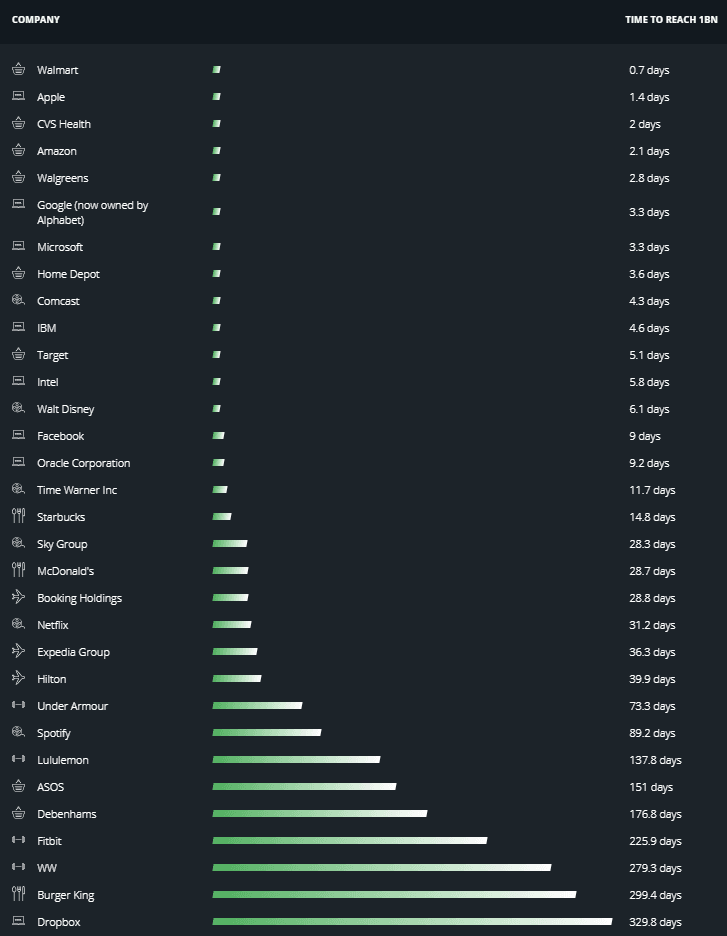 They've then analysed this data to reveal how long it will take these companies to reach their next $1 trillion in revenue (based on how fast they currently make a billion):
Walmart – 2 years
Apple – 3.8 years
CVS Health - 5.4 years
Amazon – 5.6 years
Walgreen's - 7.6 years
Google - 9 years
Microsoft - 9.1 years
Home Depot - 9.9 years
Comcast - 11.8 years
IBM - 12.6 years
Target - 13.9 years
Intel - 15.9 years
Walt Disney - 16.8 years
Facebook – 24.6 years
Oracle Corporation - 25.1 years
Followed by Walmart, the next trillion dollar companies will be CVS Health in 5.4 years and Walgreen's in 7.6 years. Apple will take 3.8 years to make its next trillion followed by Amazon in 5.6 years. This is quick in comparison to Spotify (244 years), Fitbit (619 years) and Dropbox (903 years).
......
The top 10 slowest brands to make their first billion in revenue:
Debenhams - 215 years (176.8 days now)
Walgreens - 110 years (2.8 days now)
Target - 87 years (5.1 days now)
IBM - 79 years (4.6 days now)
Hilton - 78 years (39.9 days now)
Walt Disney - 69 years (6.1 days now)
Burger King - 48 years (299.4 days now)
Weightwatchers - 41 years (279.3 days now)
Comcast - 35 years (4.3 days now)
CVS Health - 31 years (2 days now)
Despite the first billion taking a long time, data reveals that they are much faster to make a billion now. It takes Walgreens just 2.8 days and Target 5.1 days to make 1 billion in revenue.
While faster than 200 years, it takes Debenhams a sizeable 176 days to make 1 billion in revenue. This could be a sign of changing consumer habits on the high street, as online companies don't see the same revenue struggle that traditional businesses do.
Although companies in the travel and communications sector were the first to hit this milestone, tech companies such as Apple and Amazon are making multiple billions in revenue every single week. 
What is the fastest brand in the world to make 1 billion in revenue now?

Now that these brands have built up a global presence, who makes their 1 billion in revenue the fastest now?
Walmart tops the chart, reporting 1 billion in revenue every 16 hours. 
The top 10 quickest brands that make 1 billion now:
Walmart - 0.7 days
Apple - 1.4 days
CVS Health - 2.0 days
Amazon - 2.1 days
Walgreens - 2.8 days
Google - 3.3 days
Microsoft - 3.3 days
Home Depot - 3.6 days
Comcast - 4.3 days
IBM - 4.6 days
Fiona Cincotta, a Senior Market Analyst at www.cityindex.co.uk, said: "The markets have changed dramatically over the past 30 years, not just in composition, but also how quickly a firm can grow. From the data, the earlier the business was founded, the longer it took to reach its first billion in revenue.
"While firms founded at the turn of the last century, such as Walgreens or Target, have taken over 100 years to hit the $1 billion mark, more recently founded companies such as Facebook or Amazon have hit the milestone in next to no time. Potential for growth in today's market is significantly greater than before.
"It also comes as no surprise that while tech firms and retailers are among the quickest companies to hit $1 billion in revenue, but traditional retailers are the slowest. This is yet another piece of evidence highlighting the struggles that more traditional retailers on the high street are up against as shopper's habits move away from bricks and mortar stores to online shopping and technology".