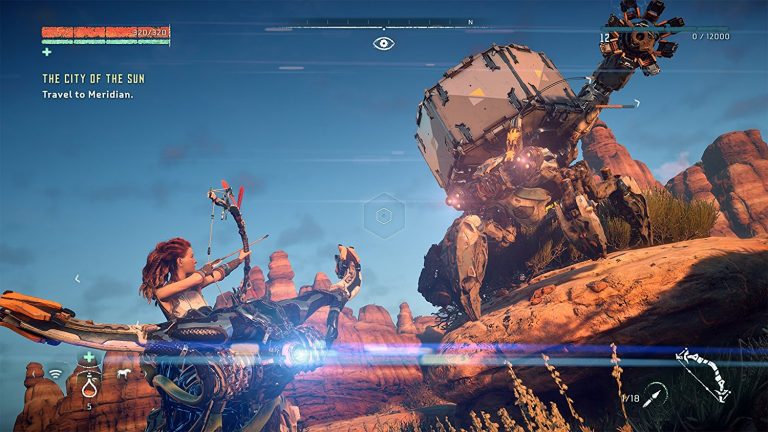 Smooth Gaming' is a new column to ValueWalk which will discuss various aspects of the video game industry. From AAA titles, business aspects, and independent developers who often go under-reported. 'Smooth Gaming' will take a multi-pronged look at the world of gaming. This week we look at the popular games I'd like to play featuring Horizon Zero Dawn.
Last week touched on my favorite gaming franchises including Dragon Age, Final Fantasy, Mass Effect, and Total War. Within that post highlighted by the wonderful Final Fantasy VIII. This week we're going to switch things up a bit and touch on a few of the popular games from the past few years that I would like to play.
Q4 hedge fund letters, conference, scoops etc
Carlson Capital Thinks The SPAC Boom May Be Over [Q1 Letter]
Carlson Capital's Black Diamond Arbitrage Partners fund added 1.3% net fees in the first quarter of 2021, according to a copy of the firm's March 2021 investor update, which ValueWalk has been able to review. Q1 2021 hedge fund letters, conferences and more At the end of the quarter, merger arbitrage investments represented 89% of Read More
Let's get this started!
Horizon Zero Dawn
Just the beginning of the Gamespot review has me hooked:
A society with a foggy past and an uncertain future is truly lost; such is the reality for the denizens of the world of Horizon Zero Dawn. Roughly 1,000 years from today, tribal communities lead primitive lives, surrounded by mysterious high-tech fossils of the Old Ones–the fractured legacy of our real world, the result of technological advancement run amok. Diminutive animals like rabbits and boars still roam the wild, but they trot in the footsteps of imposing mechanical beasts that dominantly stride through dense jungles and lurk on snowy mountain tops.
If that wasn't enough, the reviews from outlets and fans are largely extremely positive. While I'm not a graphics snob, Horizon Zero Dawn looks amazing. Every video I've watched of the gameplay shows a flawless presentation of stunning visuals.
Horizon Zero Dawn is a series I definitely want to play and become immersed in. The sequel is expected to drop in 2020 sometime, yet it's likely the date gets moved back. The spectacle of what would be the successor to a critical and financial hit will be well worth the wait if it's of equal or greater quality than the original.
The Last Of Us
Another game with an upcoming sequel. The Last of Us has always appealed to me due to the post-apocalyptic setting, the quality reviews concerning the narrative, and what I read about the combat system. What can I say games with a mutant fungus strain start off on a good foot with me. While I'm not sure if The Last of Us will be one of my favorite games of all time, it is definitely worth a play. Gamespot's review also doesn't do anything to turn me off to the game:
The downfall of civilization redefines moral boundaries. No longer do labels like thief and murderer mark you as a criminal; everyone must steal, must kill, must do whatever it takes to survive. Humans roam in packs like feral dogs, claiming their territory and killing anyone who encroaches on their turf. Paper-thin alliances link individuals together for mere flashes, their connections severed once their mutual needs are met. Life is bleak, brutal, and exhausting. Tomorrow doesn't exist when the stench of death lingers like a fog and hope was extinguished years ago. There is only today; there is only right now. Morals? Morals won't put food in your mouth or a roof over your head. Morals are for the weak. And you're not weak.
Beyond: Two Souls
How about we lead off with what Gamespot has to say:
There are spirits all around us. Are they ghosts or demons? Malevolent or nice? What matters is not their nature, but rather how we react to their presence. In Beyond: Two Souls, Jodie's life is colored by an invisible force who never strays from her side, and we follow her down a volatile path in which her identity is constantly in flux. Those around her grapple with the existence of these entities, trying to use them to fulfill their own selfish needs with little regard for the ramifications of their actions. Jodie is the one link between the human race and the mysterious apparitions. And through the struggles that she undergoes, you examine the fragility of human nature and develop a strong bond with the beleaguered protagonists.
From what I've seen around the internet, Beyond: Two Souls generates mixed feelings from fans. However, upon my own investigation into the game — I feel that I may really enjoy what the game has to offer.
Why? I'm glad you care to inquire.
Ellen Page and William Dafoe are extremely talented and their involvement is what first brought the project to my attention. Secondly, whether the vertical be book, gaming, or film — I'm mostly drawn in by the narrative. While some in the gaming community seems a bit down on the game due to some of the narrative elements within Beyond: Two Souls, I generally count that as a plus.
Life Is Strange, The Walking Dead (Telltale Games), Game of Thrones (Telltale Games), and other story-rich narrative titles have a great way of drawing you into the plot and a deeper meaning. Often times First Person Shooters fail in this aspect (boo, I know), which is why I don't enjoy a lot (but some) of those titles.
Not every title is for every gamer. Yet, without playing Beyond: Two Souls, I can only give an educated guess that it is a game which I would thoroughly enjoy playing.